HOME NEWS FEATURES LIVE BOOKS SHOP WISH LIST SPECIAL GUESTS LINKS CONTACT US MAGAZINES
The Stranglers, Wembley Stadium, 18.08.79
StubsInBlack was there…

The Stranglers, Wembley

18/08/79

Nuclear Device

Genetix

The Raven
Dead Loss Angeles
Baroque Bordello
Tank
Threatened
Shah Shah A Go Go
Ice
Down In The Sewer
Bring On The Nubiles
Duchess


Strangled magazine's editor Tony Moon already predicts the rise of Mod in the issue I got at my first gig – JJ's Euroband at Ilford – and this fourteen year old finds himself on a three hour train journey to Wembley Stadium with his Mod mates from the arse-end of Kent (no reference to this web editor!) here for The Who – and me, for The Stranglers.


It's a hot summer's day when we arrive: other acts include Nils Lofgren, famed for playing guitar bouncing on a trampoline and unknown Aussie rockers AC/DC who are so loud, they blow the speakers. Third-on-the-bill The Stranglers take the stage at seven as the taped intro of Meninblack fills the hall. As a young UFOlogist I'd just read an article on MiBs a couple of weeks earlier - shades of parallel development between The Stranglers and me – something that continues to this very day. It's the first day of the footie season and we're here at Wembley – and Hugh cannot resist a footie quip:

'Any Brighton fans here? Well - you lost 4-0. Any Australians here?'

In reference to AC/DC perhaps? Or the ferocious opening number Nuclear Device?! Seguing into the sci-fi sounding Genetix, Dave's vocals are eerie. I just wish he'd sing more, especially as I've never seen Peasant live. Next up is the bright and breezy, whimsical forthcoming album title track, The Raven. JJ alludes to this track in Strangled when he says the next Stranglers animal is heavily connected to the Vikings and imbued their spirit of exploration and adventure. (The track still haunts and inspires me to today which is why I have a full Raven tattoo on my right arm.) Also, it says the other two tracks are aired in Japan. So now it's three songs into my inaugural MiB gig and three singers! What an introduction! Now it's another newie - Dead Loss Angeles – and once again it appears in Strangled. But seeing both Hugh and JJ play bass guitars on this track is mind blowing.

Now I'm really looking forward to The Raven LP out in six weeks time as everything so far is simply awesome. Then – another new track - Baroque Bordello – whose picturesque decay fills the stadium with lilting guitar and melodic keyboards soaring into every corner and crevice. Tank breaks the run of new songs and it's a vicious rendition that takes a scattergun to the crowd and hammers mercilessly to surrender. The urban decay of Threatened with darkness to come in the political musings of Hugh's Iranian history lesson - Shah Shah A Go Go - which in turn melts into Ice - a song that changes my life forever. I get the book that inspires the song straight afterwards, influencing the way I live my life ever now. At the time, I mistake 'hagakure with perfume' for 'the cat was wearing perfume'! Down In The Sewer - my all time favourite Stranglers track – with Hugh shouting; 'YOU CAN SEE THE WHITES OF THEIR EYES - ABOUT 80,000 OF 'EM!' It twists and turns almost classically with epic neo-Wagnerian keyboards. (This song is sorely missed by fans of late, although Hugh does wonders in the absence of keys.) Suddenly fighting breaks out in the terraces – JJ catches sight of it – and points out to Hugh, who sends out a warning:

'If you want some bother on the terraces - go to a football match.' With a mock walky-talky in his hand, he adds: 'Right - the police have told me it's all over on the radio so…' Hugh continues in an accent attuned to a German SS officer accent: 'BRING ON ZE NUBILES!!!'

Dave's takes control with his keyboards as the band fire on all cylinders for a frenzied, bitchy rendition of Nubiles. New single; 'About My Ol' Dutch…' is Duchess, and familiar to the crowd who welcome it warmly. Hugh points to Wembley's scoreboard displaying next song as Hanging Around. A cheer goes up – and the band play Toiler! Ebbing and flowing round the tide of humanity, drowning in their sheer artistry and all round brilliance. They blow The Who away on two counts: firstly by the firework explosion that is so loud, locals complain and ban the headliners from a similar pyrotechnics display. And secondly, by a triumphant show of The Stranglers in full flow – airing virtually the entirety of their forthcoming fourth LP.

The night ends with The Raven logo lit up to the sound the bird calling in the night. Rave reviews ensue... ACDC's Bon Scott dies… Nils Lofgren joins Bruce Springsteen's E Street Band (spruce spring clean?)… I get a Raven tattood on my upper arm… while The Stranglers are in their thirty-fourth year with 16 studio albums ender their belt… Baroque Bordello is underrated, so I agree with JJ. It's also underperformed! Pete Townshend must resent The Stranglers, as he disses them thereafter – but The Who just couldn't measure up on the day. 1-0 to the underdogs! You could also say - The Stranglers take on the favourites to walk away with the honours. Personally – as my first Stranglers gig - it was an eventful and inspiring initiation into the world of The Stranglers that day at Wembley. Thank you, lads.

PS. I understand Hanging Around was originally in the Wembley set.
Strangled thanks Steve Churchyard, Chris Gabrin, Neil Horgan, Steve Howard, Donald MacKay, Dominic Pilgrim, Martin Rushent, Stubsinblack, Mark Tall & the X-File. Apologies to anyone we have omitted.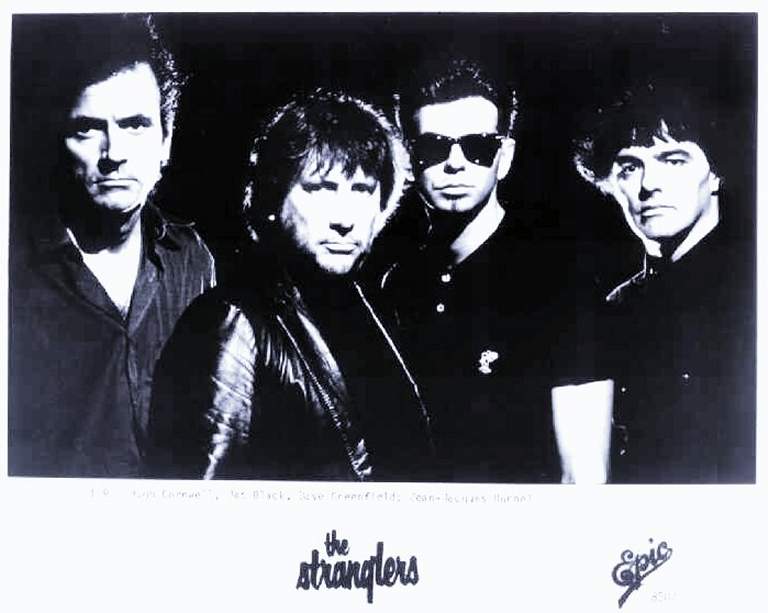 The Stranglers' 1984 and 1986 demos uploaded
| | |
| --- | --- |
| Acceptable in the 80's! | |
When The Stranglers hit the mid-80's, did the Meninblack also hit a midlife crisis? Clearly the music proliferating around them jarred: the Aural Sculpture Manifesto free with 7th album Feline became testament to that: 'the musicians of our time are harlots and charlatans…' Big words - but could The Stranglers come up with the goods?
Working on a follow-up, the band demoed Skin Deep; this came about in the classic Stranglers way, originating with JJ's bass and melody and Hugh's lyrics, the soft R&B flavoured Punch & Judy, Hugh's Head On The Line (an anti-drug song) – plus In One Door, Hitman (written about a photographer), Shakin' Like A Leaf and The Beast. The Hitman demo contains some pretty soulless gated noises off the drum machine while Skin Deep was always the brightest and strongest of the seven tracks. CBS Records MD Muff Winwood suggested they use Paul Young's producer Laurie Latham (Steve Churchyard was in the throes of moving to the US) who listened to the demo and agreed he could do something with Skin Deep. This song triggered the recording at ICP Studios in Brussels during 1984 (working on keyboards first with Dave) where it was agreed that Laurie should continue work on the bands eighth album thereafter.
Released as a single, Skin Deep got to number 15 in the UK chart. In November, the Aural Sculpture album reached 14 – and contained some fine moments - but what happened to the other demo tracksOnly ? Punch & Judy survived the passage to LP, while the rest - In One Door, Hitman and Head On The Line – became b-sides; JJ unhappy about the way The Beast turned out was recycled as an instrumental for his 2nd solo album; Shakin' Like A Leaf disappeared all together, ending up on 9th album Dreamtime, released in 1986.
Somewhere between the 1984 demos and the ICP sessions, the band came up some punchy new tunes. Who can argue the songsmithery of No Mercy, Uptown, Souls, Let Me Down Easy, Spain, Northwinds, Laughing, Mad Hatter and sheer cool of Ice Queen, written about Hugh's American fiancée? The Stranglers had pulled one out of the bag – but Laurie added not just backing vocalists and brass players, but sheen and studio sparkle, turning demos into diamonds. Unfortunately, Dreamtime wasn't going to happen in quite the same way…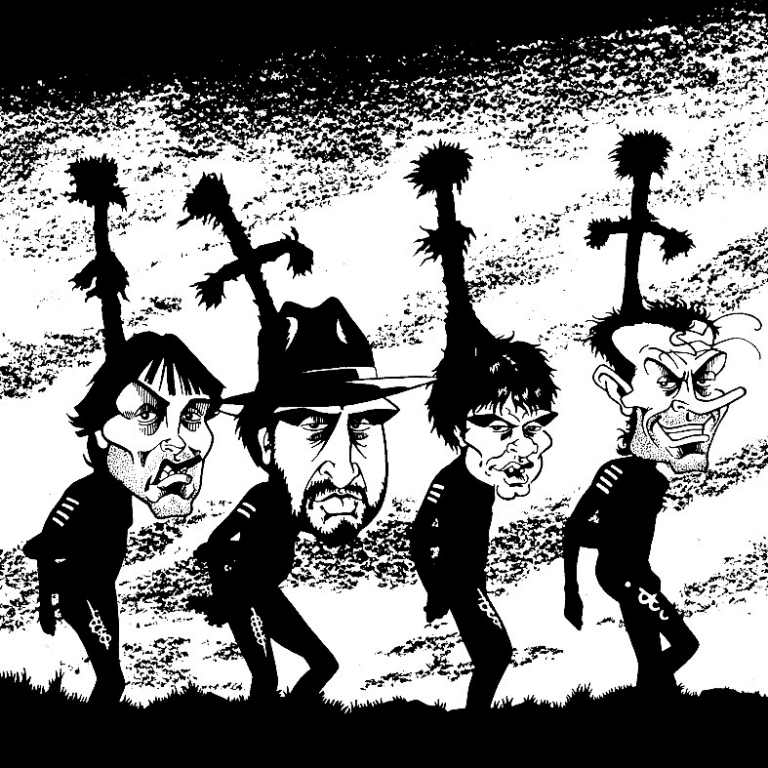 Having demoed Mayan Skies, Nice In Nice, Always The Sun, Ghost Train and You, The Stranglers were booked in with Laurie once again during 1986. By now, the band worked in two halves: Hugh would record songs at his West Country home while JJ and Dave worked from JJ's bungalow in Cambridgeshire. There had also been a defining moment in the Hugh-JJ relationship which must have affected the band: during the Aural Sculpture European tour, JJ had a spat with Hugh in Rome; 'I put Hugh through a wall… I shouldn't have done that… I left chocolates and flowers outside his door to say sorry.' For Hugh, it showed a side to JJ that he didn't like. Was this the beginning of the end? Technology hadn't helped the pair to work together in preliminary stages of songs as it was all too easy to switch on the ubiquitous '80's synth, the Yamaha DX-7 and a drum machine. Songs ended up being sent to each other by post – a far cry from those Chiddingfold summer afternoons sitting in the garden, jamming on acoustic guitars.
The demo of Always The Sun is sonically, the most alien compared to the finished product. Hugh has since conceded the band weren't ready to return to the studio as the material wasn't strong enough. One strong song rejected early was One In A Million, a beautiful piece of melody Hugh released as a solo single on Portrait Records the previous September.
Now reconvened with Laurie in Brussels once more, the sessions became problematic: an entire week was spent recording You, an ambitious, lacklustre track that never made any album. Laurie believed the songs were half-baked, with demos that were sketchy and with little pre-production. He suggested the band regroup when they have better material as he felt he was being left to turn these tracks into songs. Meanwhile, songs were penned in the studio, increasing the studio expense sheet. Studio trickery altered the demos into shapelier models, and at one point, the snare used for the sessions was an amalgam of samples taken from Bowie's Let's Dance and Otis Redding's Dock Of The Bay. Things came to a head during Always The Sun during it's commercial metamorphosis when Jet told Laurie they'd had enough of working on the 'Laurie Latham album.' It didn't take long before rumours began filtering through to the music press that CBS were unimpressed with their fruits - and ordered some serious re-workings. Another story laid the blame on lost tapes causing the delay.
Several months of Always The Sun continued, but the band were now back in Blighty, minus their producer. Replacement Mike Kemp was based at Spaceward Studio close to JJ and Dave, where the Dreamtime sessions continued in earnest: Was It You?, You'll Always Reap What You Sow and the eponymous track helped bring up the rear in the song department, along with the sprawling Too Precious. Chart-wise, Nice In Nice was a return to singles form in the same way as Skin Deep two years prior, but only reached a disappointing number 30 in September. Newly improved Always The Sun also stalled at 30, despite massive media exposure and the brace of cool promo videos. Was there no justice in this world? Or was the world simply running out of patience for The Stranglers? Big In America followed, but failed to dent the Top 40 singles despite Paul McCartney's thumbs up on Saturday morning kids telly. A re-jigging of 1984 demo, Shakin' Like A Leaf followed as another 45, but suffered the same fate. The Dreamtime album peaked at number 16, spending just six weeks in the charts, and for the four horsemen, the apocalypse was on the horizon. They rode the eighties 'style over content' ethos and stayed together as a unit – but for how long? Answers on a postcard…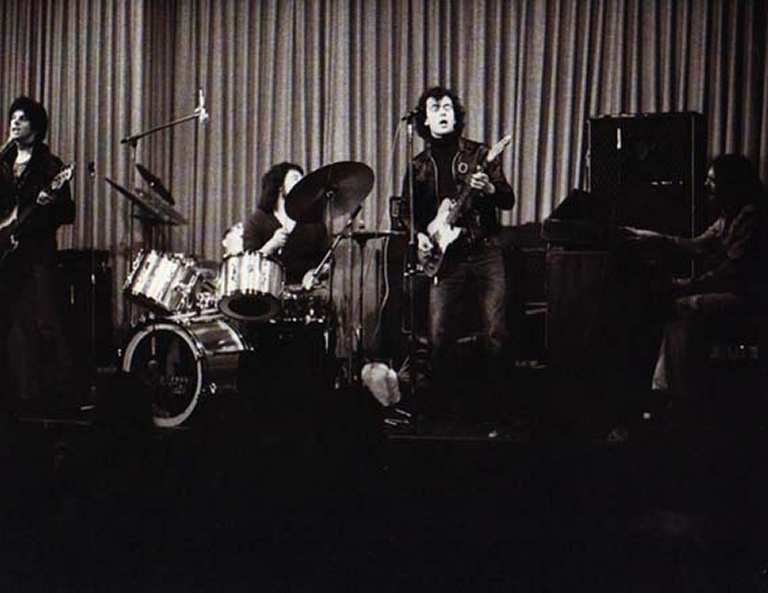 The Stranglers 1974 demos unearthed…
| | |
| --- | --- |
| Some Charlie for you! | |
| | |
| --- | --- |
| | A very different Guildford Four where creating some incendiary noises back in 1974. The earliest songs from The Stranglers' set – Charlie Boy, I Know It, Make You Mine and Chinatown - were committed to ferrous oxide that very year, forming their first demos ever. Thanks to a recent discovery in an attic by one of our readers, we dusted it down and made them available to you... All you have to do is find them – enjoy! HERE |
The Stranglers cut demos with Ian Gomm.

Gary Kent tracks him down.

Gomm with the wind

LONDON'S GIG CARTEL OF 1975 was slowly but surely being infiltrated by The Stranglers. This came about after signing up with Albion Management's Dai Davies and Derek Savage in a deal lubed by Hugh Cornwell's cunning cartoon campaign aimed at the duo's Putney office. With sticky headline slots at the Nashville Rooms, Red Cow and Hope & Anchor by night - writing and rehearsing by day - a nascent Stranglers honed the tunes that would later become their first two hit LP's, spawning three Top 10 forty-fives, including the chart smash, Peaches.

With a demo already under their belts, (Wasted, Strange Little Girl and My Young Dreams recorded in 1974 with Alan Winstanley at TW Studios), the all-important recording contract remained elusive. Punk was to prove the catalyst for The Stranglers success, but yet to ignite. Meanwhile, they struggled amid the existing middle-of-the-road mould set by fellow pub- rockers on the live circuit. Early in 1976, they packed their gear into drummer Jet Black's ice cream van and set off for a recording studio in the wilderness - mid-Wales to be precise - in the verdant valleys of Welshpool. Here lay Foel's Studio which partly set up by Ian Gomm - erstwhile guitarist of Brinsley Schwarz – a band whom music hacks first tag 'pub-rock'.

The Burning Up Times was keen to test Ian's Stranglers recall: first time we called, he was on his way out to a piano-tuning – and a second occasion he was outside, up a ladder on a very breezy autumnal day painting the conservatory of his Welsh abode. Hence the dubious strapline – which also happens to be Ian's 1979 solo LP in the States.

"Gomm with the wind is a good title - or Going, Going, Gomm!" Quips a chipper Ian during our third time lucky later that day. "…Or even Gomm but not forgotten!" The Burning Up Times certainly hadn't forgotten him.

Chiswick-born Ian spent much of his youth in bands – right through his five year electronic engineering apprenticeship at EMI Records at Hayes. "The Beatles paid our wages." In 1970 he quit the day job after answering a Melody Maker classified to join Brinsley Schwarz: the following year, New Musical Express brand him 'best rhythm guitarist'. In 1973 the Brinsleys open up the very first Old Grey Whistle Test - on bass, future Rockpiler Nick Lowe – and turn down a Top Of The Pops appearance when they're not permitted to play live. After a dozen LP's and a staggering 21 singles over their five-year span with United Artists Records. Manager Dave Robinson exits to form Stiff Records and future Stranglers manager Dai Davies takes over. Following a decision to relocate Stateside, (UA reject the plan in favour of more UK vinyl), a final albums-worth of material is unreleased. The band break up in 1975: two members join Graham Parker's Rumour, while Ian is left bandless and jobless. Ian:

"Dave Anderson used to help out Brinsley Schwarz. He played bass in Hawkwind – Lemmy's predecessor. He'd gone into partnership with Lord Roote's son to buy this old farmhouse - back when you could pick up a farm and a cowshed for three and a half grand. It needed wiring and finishing off. Of course, wiring up a studio was what EMI trained me to do, so I knew how to do it. Even in the band I brought along my toolbox to fix the Hammond C3 before gigs. I was at a loose end and so I was the man for the job."

Taking his family with him, Ian embarked on the transformation into a fully functional recording studio. He also learned how to engineer and produce. Now all he needed was a band to test out the workings. The phone goes. It's Dai.

Ice cream men cometh…

"He said he'd got this band called The Stranglers, and they wanted to do some demos. He said he'd send them down, and so The Stranglers became our first paying clients – not that they paid! That's why they drove 250 miles up to get there – because it was free! But the funny thing was when they arrived - don't forget we're in the middle of nowhere, surrounded by hills and sheep and the road from the village runs down the side of the valley and drops down quite steeply. I look up and there's this ice cream van coming. I thought someone can't be selling ice creams here, surely. I didn't know it was The Stranglers until they parked up and bundled out the back of the van. Jet was driving. I said: 'what's this all about? Have you borrowed it?'

'No,' he said, "it's my van!'

I didn't believe him at first - until he put the bloody jingle on! And that sounded really weird in the middle of nowhere. It was very loud!"

Ian harnessed the sound of a band in their transitory stage between punchy pub-rock and punk. The four songs – three of which ended up on their first two LP's – included the Top 10 hit that broke the band:

"Peaches, Bitching - the one about the sewer - yes, Down In The Seweeeer - and a song with JJ singing: 'tell me why - tell me why…' in this upper class accent, Tomorrow Was, which didn't fit in at all. But the rest - especially Down In The Sewer – I thought, fucking hell!

Foel's demo of Sewer is shorter than the final vinyl version: the song ends on a full stop as the last bit, Rat's Rally, has yet to be penned. As far as nailing the tunes, Ian faced a dilemma:

"I didn't know what to do with the band to be honest. So I recorded them live so the songs turned out pretty rough-sounding. I do remember the band as being very green - embryonic, shall we say. When bands record for the first time, wearing headphones can throw them. In Brinsley Schwarz we did a lot of recording and Dave Edmunds produced us, so I learned a few things along the way. But I hadn't seen The Stranglers play before. Even so the songs we did turned out quite close to how they ended up on vinyl later. Very close – and this was early 1976, spring I'd guess. It definitely wasn't winter, because the ice cream van wouldn't have made the steep driveway."

"They'd have probably hit me later on –

or JJ would have done!"

Ian adopted a strange technique to drop-in and drop-out:

"They wanted to capture what they were doing, and they had rehearsed these songs to death and so they were engrained in their heads. They didn't want to change them much in the studio. So I recorded them as they were with vocals afterwards. During one song, Hugh had a guitar overdub to do. I suggested he didn't play during the solo section, but he just couldn't do it. He kept playing in the bit he wasn't supposed to. How we got round it was I literally stood there next to him in the studio and stopped him. I grabbed his wrist to pull his hand off the strings so he couldn't play. Then I let go off it for the part he was supposed to come in. That shows you how embryonic they were – they'd have probably hit me later on - or JJ would have done!"

Foel's studio set-up incorporated an old mixing desk that used to belong to the BBC, a second hand MCI 16-track tape recorder – and a Philips 2-track tape recorder to master – that owner Dave 'Hoover' Anderson acquired from Small Faces' Steve Marriott's and Ronnie Lane's old home studio in Moreton, Essex. Coincidentally, Ronnie moved to a cottage just a short distance from Foel. Thirty-three years on, the studio is still going strong, and proud of their current analogue set-up: a check on their website shows they still have the MCI, and 'the only Trident B-series desk in Europe' – a model similar to the old one at TW?

"Maybe," says Ian. "I recorded solo stuff at TW as well. That was a bloody good studio - round the back of a launderette - but it was very atmospheric. Martin Rushent produced with Alan Winstanley. They were great. I don't know if it was the same for The Stranglers, but when I did my stuff there, Alan engineered and Martin produced. I became friends with Martin – our kids became friends – in fact, my eldest daughter had her first kiss from Martin's son. They're still in touch today. Anyway, you know what Martin's like at selling himself and telling you how brilliant he is! But during one of the early days recording at TW he said to me: 'hey - listen to what Alan's just done,' and it was Amii Stewart's 'Knock On Wood'. It was only No. 1 in the States – done at TW - behind a launderette!"

Ian recalls his own rocking days with fondness, having supported the likes of Paul McCartney's Wings for two UK tours and Dire Straits in the States, as well as performing on the opening night at London's Hard Rock Café. He recorded Alexis Korner and Peter Hammill, but his Brinsley days were never too far away: Dai Davies and Derek Savage signed him to Albion - "Savage and Ravage we called 'em." Single 'Hold On' reached No. 12 in the US while old bandmate Nick Lowe had a Top 10 hit with 'Cruel To Be Kind' – until then, an unreleased Gome/Lowe collaboration. Dave Edmunds also reworked Ian's 'It's Been So Long' in 1981, and Ian has had songs covered by Phil Everly and Glen Campbell.

While still quietly involved in music (he is currently writing acoustic tracks) Ian tells us he is compiling film footage from both his Brinsley and solo days for future release. We rave about last night's Later With,,, Jools Holland featuring Glen Campbell but diss the host; 'I'd like to slam that boogie-woogie piano lid on Jool's hands!' Admitting to liking the Kaiser Chiefs, Ian dismisses much of what he hears on the airwaves – bar one track:

Jet photo © Gary Coward-Williams
Foel's rush out

Dave Anderson still owns the studio.
Gary Kent catches him on a rare night

off from touring with his band.

"Yes I remember them arriving in an ice cream van every morning. We'd hear them coming across the moor playing the Tonibell jingle to the sheep. The paint was still wet on the walls when they arrived. I think they came to do a one or two songs, but ended up doing some extra tracks and I remember thinking wow - they are really quite good. Peaches was obviously a hit - it had a great sound - a catchy song with slightly naughty lyrics, really good. I thought Tomorrow Was The Hereafter was a really great song too, absolutely brilliant. I quite a bit of time downstairs with Hugh going through guitar bits and he was unsure of himself and the band. After the recording they wanted to use our backline for gigs because they liked the sound so much. They used to belong to the Brinsleys and I bought them when they split up - all Fender heads (amplifiers) and Allen cabinets which we customised ourselves to make them more durable –with this great sound. Paul McCartney liked them too - and we built some for him for the Wings tour. Anyway, The Stranglers had a gig at the Red Cow in London, so I ran the gear down there – but only 20 people turned up. I think they had a residency and the next time they had 200 there. It went on like that and soon there must have been bordering on 2,000 one night. The whole thing was building up really quickly and it wasn't long before the whole of Hammersmith roundabout was besieged with punks. The thing that freaked me out was the spitting at gigs - and getting back the equipment that we'd painstakingly laboured over all covered in gob! And they did have a punky sound. Their energy was more punk than anything else I guess. It all happened very quickly and it felt very special. One minute they were borrowing gear - the next - in the charts. I think we were a little disappointed they didn't come back and do the album at Foel's –we'd already captured the essence of their sound and given the time to do things properly I think we would have made a better album with a little polishing off. I really like what they did all throughout their career and they became a great pop band too. I couldn't believe it when Hugh left."

Dave 'Hoover' Anderson is touring with The Groundhogs on the Classic Legends of Rock tour culminating at Shepherd's Bush Empire on 2nd November.




"My helper working on the conservatory today heard 'Cruel To Be Kind' on the radio. 'Hey – that's one of yours, isn't it? He said. It was: I love that sound of the cash register!"

The song helped singer Nick Lowe become one of the most sought after producers. It was before a Brinsley gig in Liverpool, when a young student approached Nick to help him out:

"Nick got delayed in the bar. So we started the gig minus our bass player! Nick ended up producing this guy called Declan McManus – and I happened to be in Stiff Records' office in Alexander Street the day they renamed him Elvis Costello."

Coincidences are a-plenty: not only was Ian signed to Albion, he recorded for UA and once laid down a track called 'Black And White' at TW with Martin Rushent and Alan Winstanley: he also rehearsed at Bearshanks Lodge in 1978:

"It was owned by Ruan O'Lochlainn who played for fellow pub-rockers Bees Make Honey. We did two tours of Ireland together. Ruan liked his drink. In Dublin, he got on the wrong side of the stage to get to his spot – and with his solo coming up, he ended up walking straight past, right to the other side. He went offstage, hit something and fell over. I think he broke a bone in something that night."

The Stranglers suffered highs and lows following the Albion fallout. At the same time, Ian remains unsurprised at the bands' longevity:

"I heard a funny thing where they made more money from their Greatest Hits album than when the songs themselves were hits back in the day. Strange... I think a lot of people got ripped off years ago, and there was a time when they almost packed it all in. If you have success right away like they did - and you don't know what the game is - and you get ripped off, very few get the chance for a second bite of the cherry. I liked them a lot - they were different, even though there was a hint of Doors in there. It must have been an influence. But they were raw and exciting, and that's what I liked about them. I met JJ a few times afterwards. Once, at the Hope & Anchor - UA held a launch party for my first solo LP in 1978 – and JJ turned up. There was some aggro… trouble… and he was asked to leave!"

Ian Gomm site HERE

Ian Gomm MySpace HERE

Ian Gomm on Swedish TV in 1982 HERE

Brinsley Schwarz on OGWT in 1973 HERE

Brinsley Schwarz MySpace HERE

Dave Anderson's MySpace HERE

Huge thanks to Ian Gomm for supplying us with his Stranglers demo.
The Stranglers help out at a carnival.

Graeme Mullan celebrates the event.

Golden Crown

Artwork - Steve Beaumont ©
I remember reading in Strangled magazine back in 1982 (Vol. 2; No. 12) how Hugh Cornwell was coerced (with a little help from Jet Black) into making an appearance at a West Country Carnival – to crown the newly-judged Malmesbury Carnival Queen. Not only Hugh turned up – but so did the whole band – as local press clippings of the day portray.
But first - an eye-witness account from Gloucestershire resident and Stranglers fan, Simon Kent, who recalls the day twenty six years on.
Meninblack mania comes to Malmesbury!
'Imagine reading your local paper and seeing the lead singer-guitarist of your favourite band is about to be making an appearance in a week's time at a school just five minutes down the road from where you live?! Best go along, this sixteen year-old Stranglers fan thinks!
The event was to crown the Carnival Queen, and so - after what felt like the longest week ever - my brother and I arrive at Malmesbury School – and it was surely one of the strangest events in the band's career.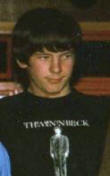 It's afternoon - and we're early. Outside there's a healthy-sized crowd of youngsters waiting for their first glimpse of the Meninblack. Inside the Assembly Hall itself - it's already half-full. We both get seats with a good view and sit patiently among the parents and kids. And not yet a Stranglers T-shirt in sight - except mine of course. By 7pm it's full. At 7.30, Hugh takes the stage dressed in black, alongside the local Mayor and Lisa McCullough - the girl about to be crowned Carnival Queen. Hugh says a few words into the mic and then gently places the crown on top of her head. He looks rather bemused standing in front of the strangest audience he's had to address in his 'punk' career. With the official crowning done - Jet, Dave and JJ join Hugh onstage for some photos with the Mayor and Lisa – now minus her crown – because it is worn by JJ. As the press cameras flash, I regret not bringing my camera. Grrrrrrr!
The band exit the school stage and make their way outside to be mobbed by literally hundreds of people, mainly youngsters, all wanting autographs. I saw a couple more Stranglers T-shirts as the crowd shout for JJ: it was like Beatlemania! But hardly anyone is going over to Jet or Dave - so I take my opportunity – and go over to get their autographs. I end up having a quick chat with both of them about forthcoming band activities. Regrettably, I miss out on JJ and Hugh's monikers, as they are still being mobbed even after half an hour!
Eventually, the band - minus JJ – jump in a black Cadillac – the very same car used by Hugh and Jet in the BBC West TV documentary they made on the colour black. Minders usher them inside and they drive off to the nearby Bell Hotel where they apparently take some more photographs and eat and drink… Unfortunately, us Joe Publics are not allowed in – and so it was home for me and my brother after a very enjoyable - but nonetheless surreal - evening in the company of the Meninblack.'
Malmesbury Carnival Times, August 1982
A Strangler in town - Strangler Hugh Cornwell is helping the Malmesbury Carnival off to a flying start. Will the others come too?? As we go to press, we understand there is a good chance that the other three Stranglers will come along with Hugh on Friday August 27th.
A member of a rock band with a record in the Top 10 at this very moment is coming along to crown the Malmesbury Carnival Queen on Friday August 27th at 7.30pm. Hugh Cornwell, lead vocalist with The Stranglers, whose latest record 'Strange Little Girl' is heading for No. 1 if there is any justice in this world, will be joining the stage party on Friday to do his bit to get this year's Carnival off to a really good start. Both Hugh and fellow Strangler Jet Black have houses in the West Country, liking to retreat to this part of the world to recover from hectic tour schedules or gruelling recording sessions. The Stranglers are in fact rehearsing numbers for their next album at the moment and are calling a temporary halt to allow Hugh out on good behaviour so that he can come to Malmesbury. Less than a week after our Crowning Ceremony, Hugh and the other 'Meninblack' will be off to Brussels to start the recording process.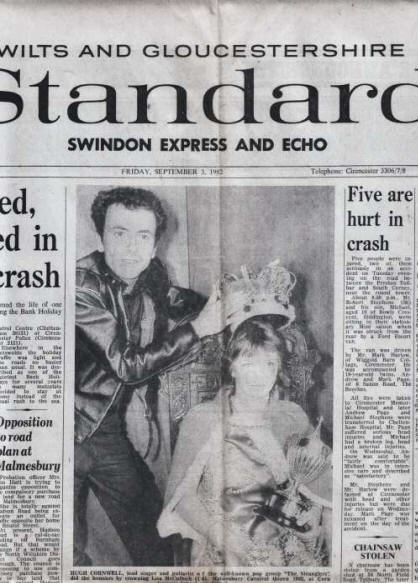 Western Daily Express, 28th August 1982
Stranglers' lead singer Hugh Cornwell crowned 16 year-old Lisa McCullough the Carnival Queen of Malmesbury. Hugh, who lives near Bath, admitted he felt nervous before the ceremony. "I've opened and closed pubs and railway lines before, but I've never crowned a carnival queen."
All three other members of The Stranglers - JJ Burnel, Jet Black and Dave Greenfield - turned up to support him. Lisa, of Great Somerford, near Malmesbury, only entered after a joke with her mother. "I was surprised to be chosen, but very please", she said. Later Lisa toured the town centre in an open carriage before being guest of honour at a Civic Centre dance.
Wilts & Gloucestershire Standard,
3rd September 1982
Sixteen-year-old Lisa McCullough was crowned last Friday as Malmesbury Carnival Queen. Lisa, a student of Somerford Cottage, was presented with her crown and cape by Hugh Cornwell, lead singer with the top rock band The Stranglers. The ceremony, which started 10 days of carnival festivities in the town, was held in a packed hall at Corn Gaston's School. Youngsters queued for the star's autograph and were also delighted to see two other members of the band - JJ Burnel and Jet Black. After the ceremony, the queen and her attendants rode on a float to the town centre accompanied by Hullarington Majorette Troupe. A barbeque was held at Cross Hayes and a Country & Western hoedown at the Civic Centre with music by Dollars and Dimes.
Standard Times & Echo, 3rd September 1982
The people of Malmesbury were warned anything could happen with The Stranglers in town for the crowning of their Carnival Queen - but they didn't expect them to steal the crowning glory!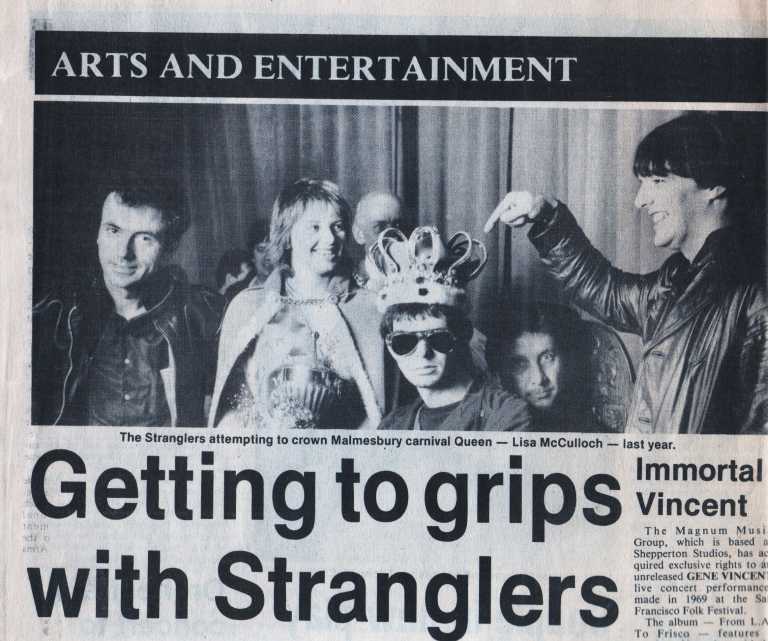 Golden Crown… A very big thank you to both Graeme and Simon for taking us back to '82… and work imminent on Feline – the bands seventh studio album – yet still high in the UK singles charts with their fifth Top 10 single, Strange Little Girl - band schedules and more songs to write fails to deter The Stranglers from attending a local event in celebration of… a European Female. (Ouch!) Here's a reminder of The Stranglers circa 1982.
The Stranglers – European Female – click HERE
The Stranglers – Strange Little Girl – click HERE
The Stranglers – Golden Brown – click HERE

Spiked 1978 Black And White exclusives - not in The Burning Up Times…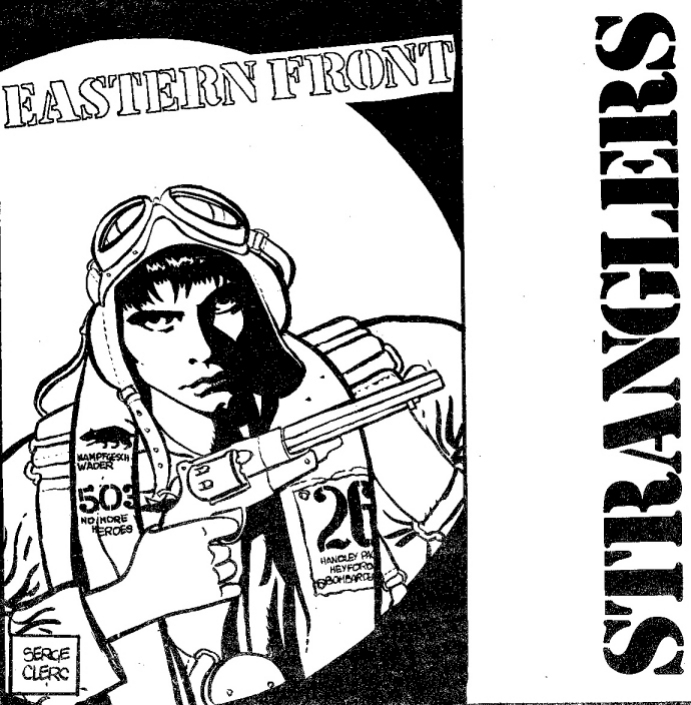 All quiet on the Xmas Front?
It was there in black and white: "We really believe in this album," insists Cornwell.
"It's the best thing The Stranglers have ever done."
Gary Kent muses the album that almost was.

T'S TEN DAYS TILL CHRISTMAS. Just look at the faces of the oncoming commuters - cloaked in gloom, choked with work, filled with doom. Enemy attempts to jam my pathway are futile as I make sure the endless City bound stampede scuff into my strategically placed shoulder-height Adidas sports bag. They think I'm going the wrong way. I am - home. I escape towards the light and leave a peppered trail of 'tut-tuts' in the drab underpass. Fuck 'em. Unphased, I unclench a sweaty fist of pennies for Ray the paper man in return for the New Musical Express. Folding John Lydon's face in two, I head back to an empty house and a turntable.
I love bunking off from school. What fifteen year old doesn't? Back home, heating on, both bars. Bag under bed, hi-fi whacked up, blaring out, loud as I like. Doing what I want. The darkest side of Black And White spins at thirty-three and a third revs as I peel off my regulation white Henry Taylor shirt and blue Renvoize tie. I mess up my hair and suddenly I'm JJ once more. The cream anaglypta walls ignite with the warmth of the Battersea gig, with chemistry rekindled as soon as 'Curfew' comes on. I've got withdrawals… When's the next tour? When's the next single? When's the next album..?
I spread out the NME and examine with forensic detail anything faintly Stranglers and filter out everything prog-rock, Bob Dylan and Boney M. Such conscientious study time wouldn't have gone amiss in double Physics, Maths, double English, History, Chemistry and R.I. had I bothered to stay beyond registration. "The Cure are to play in the capital, so too are The Clash… Peter Gabriel wants to play with Tom Robinson... Queen want to play on Centre Court... Quo want to play the UK... Kenny Jones wants to play with The Who…" But what's this on page 15? I blink. I'm blurry-eyed. I blink again. It's still there. The Stranglers new album… and controversy… Eastern Front??? Black And White's successor… but is it true what they say?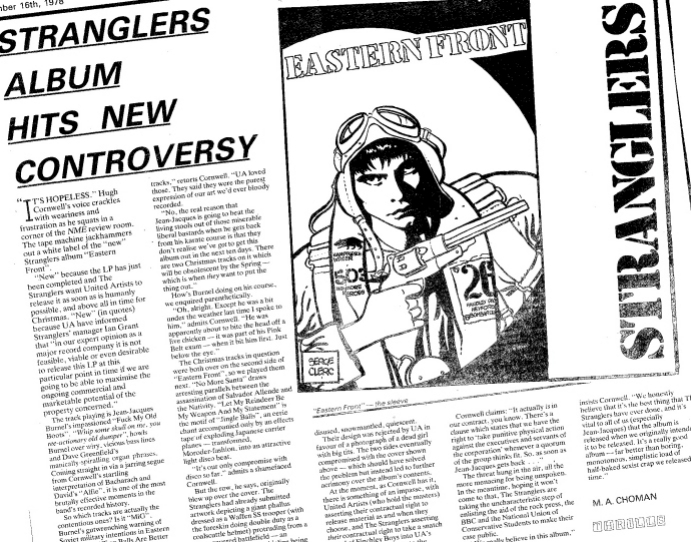 "We really believe in this album," insists Cornwell. "We honestly believe that it's the best thing The Stranglers have ever done.… the LP has just been completed and The Stranglers want United Artists to release it as soon as is humanly possibly, and above all in time for Christmas… UA have informed Stranglers' manager Ian Grant that 'in our expert opinion as a major record company it is not feasible, viable or desirable to release this LP at this particular point in time if we are going to be able to maximise the ongoing commercial of the property concerned."
My heart races as I absorb the prose, eyes darting manically between mysterious new song titles: "The track playing is Jean Jacques Burnel's impassioned 'Fuck My Old Boots': "Whip some skull on me, you reactionary old dumper," howls Burnel over wiry, vicious bass lines and Dave Greenfield's manically-spiralling organ phrases. Coming straight in via a jarring segue from Cornwell's startling interpretation of Bacharach and David's 'Alfie', it is one of the most brutally effective moments in the band's recorded history. So which tracks are actually the contentious ones? Is it 'MiG', Burnel's gut-wrenching warnings of Soviet military intentions in Eastern Europe? Or 'Two Balls Are Better Than One (Any Day)', a piece calculated to infuriate any self-respecting male feminist? Or is it the admittedly controversial 'Only Faggots Hate The Sight Of Blood'?"
"It certainly isn't any of these tracks," retorts Cornwell. "UA loved those. They said they were the purest expression of our art we'd ever bloody recorded. No, the real reason is that Jean Jacques is going to beat the living stools out of those miserable liberal bastards when he gets back from his karate course what they don't realise we've got to get this album out in the next ten days. There are two Christmas tracks on it which will be obsolescent by the Spring – which is when they want to put the thing out."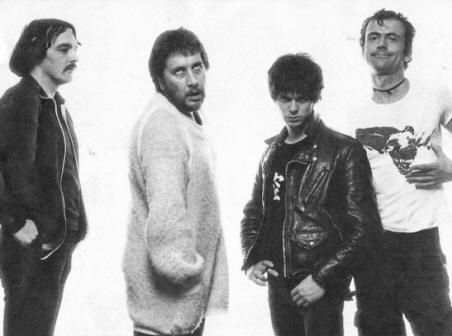 How's Burnel doing on his course, we enquired, parenthetically.
"Oh, alright. Except he was a bit under the weather last time I spoke to him," admits Cornwell. "He was apparently about to bite the head off a live chicken – it was part of his Pink Belt exam – when it bit him first. Just below the eye."
"The Christmas tracks in question were both over on the second side of 'Eastern Front', so we played them next. 'No More Santa' draws arresting parallels between the assassination of Salvador Allende and the Nativity. "Let My Reindeer Be My Weapon And My Statement" is the motif of 'Jingle Balls', an eerie chant accompanied only by an effects tape of exploding Japanese carrier planes – transformed Moroder-fashion, into an attractive light disco beat."
"It's our only compromise with disco so far," admits a shame-faced Cornwell. "…It's a really good album – far better than boring, monotonous, simplistic load of half-baked sexist crap we released last time."
I grab the page and lie back, fired up and incredulous. I was taken in by it. Weren't you?
SO, EASTERN FRONT was a fake and the article, a spoof. Why? Was it to 'top-up' The Stranglers controversy-o-meter? Don't forget what a mischievous and provocative band they were: earlier that year, they fought Greater London Council to play Battersea, and then brought on a troop of strippers onstage to outrage the status quo; at the recording of BBC TV's Rock Goes To College, they stormed off following a row over ticket allocations; they enraged Stateside record company moguls who planned an amalgam LP of Rattus and Heroes by telegramming a typical 'hands across the ocean' goodwill caption, reading: "Get fucked, love, The Stranglers."

Bogus it was. It may not be quite on par with the hoax of the Loch Ness Monster, the Hitler Diaries, or the Shroud of Turin. Nor was it so much the Great Elmyra, more Banksy perhaps? Incidentally, it was the Great Elmyra who took his own life two years ago almost to the day. But this cunning piss-take allowed The Stranglers to revel once more in some outrage and rebellion without even lifting a finger. It smacks of a publicist or journalist, especially since, several clued-up references sit neatly within the text. Cited are: Walk On By's famous song writing pair, Bacharach and David; a Stranglers cover version in the shape of 'Alfie', however dubious-sounding; and familiar record company friction all pointing to recurrent themes of the band. Even the titular 'Eastern Front' is swiped from Black And White's 'Sweden (All Quiet On The Eastern Front)' – itself once mooted for a single release. Not forgetting the 'weapon and my statement' line from Death And Night And Blood; manager Ian Grant; and last but not least, the Finchley Boys… It's someone who knows The Stranglers. Furthermore, JJ had returned from Japan where he studied for his Black Belt, followed by an early December weekend session at Eden to lay down new tune Two Sunspots – yet another single never to see the light of day. So, like all good falsehoods, it was actually based on fact.
Compounding all this, NME the week previous published this: "The Stranglers, who have been keeping a low profile since their bust-up with students after walking out of a gig at Guildford Surrey University, have announced major plans for the first half of the year – including two albums, a new single, overseas tours and British dates. The latest single – recorded last weekend, and co-produced by Martin Rushent and the band themselves – is a brand new song, not taken from any previous album, and is set for late January release.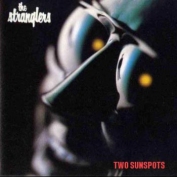 In truth, The Stranglers required more than a phoney festive half-page - they needed to pull a trick out of Santa's sack: momentum had waned in the light of punk and new wave's demise, bands were splitting and the knives were out for The Stranglers. A single was the cure. Instead, the Two Sunspots session became the catalyst for producer Rushent's exit: he disliked the changing direction of the band as they worked on the b-side, 'Meninblack'. The proposed late January single idea was ditched, leaving a void in vinyl offerings: it was to be a half-year hiatus from August's 'Walk On By' until February 1979's 'Live (X-Cert)'. Live albums were such a rare commodity in the late 70's, and so the mix of the capital's Roundhouse and Battersea gigs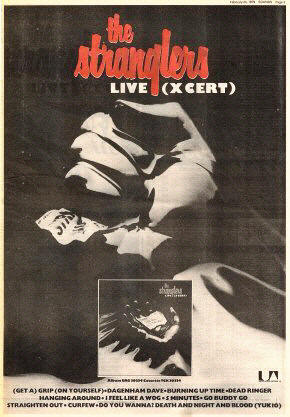 should have got the juices going. Instead, many fans thought it was rushed and scrappy. Hugh referred to the album as "the end of an era," which it was in a way, but it just sounded ominous. JJ told fans not to buy it, adding "it's an inferior product," while plans to release a live single, or maybe an EP were scuppered.
Even the most ardent fan began to question whether a wheel had come off The Stranglers' wagon, especially with the news of solo projects from the two front men. But when Duchess came out that August, suddenly the world seemed a better place. I bounced up to the counter at Small Wonder Records where I still clearly envisage the look of distain on hippie Pete Stennet's face when I asked for Duchess.
"You don't want that, do you? It's shit."
"Can you play it?"
"Why? It's shit."

Actually Pete, The Stranglers pulled it off more like! Advertised as their first single in over a year, and thanks to a newer commercial sound, it made No. 14 in the UK charts and Top of the Pops. The shelved Two Sunspots failed to make The Raven, instead finding it's way onto the next album, whereas 'Meninblack' left a trail to a future black hole. Perhaps it was no coincidence to now discover a double-page spread on disco-producer Giorgio Moroder and his Bavarian studio complex just a few pages on from the Eastern Front hoax? Fake author M.A. Choman must have been inspired, but what came first - the art or the article? A Serge Clerc 'google' links to Eiffel Tower gaffer-tape JJ victim Phil Manoeuvre. Perhaps he was the author?
Still no nearer the truth, an email arrives from Belinda, a Stranglers fan and authority on Clerc's work. She verifies the authenticity of the sleeve design: "The drawing is definitely by Serge Clerc. He is very well known for his drawings of 1980's pop artists like Blondie, Comateens and Joe Jackson. Both Serge Clerc and Yves Chaland have made imaginary records and comic albums which created quite some confusion amongst collectors."
Oh, really?!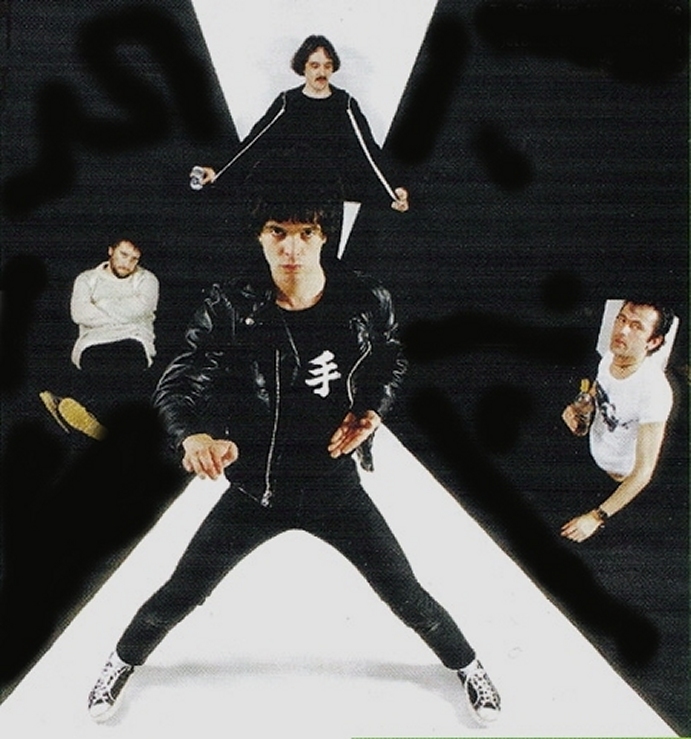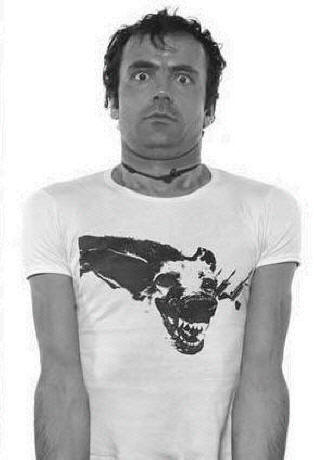 Is it a dog?
Stuart Bolton gets to the bottom
of Hugh's top.
HUGH'S STRIKING T-SHIRT DESIGN - what's that all about? Last worn in the late 70s, most famously at 1978's Black And White-era photo-shoot. More recently it appeared on the front cover to Hugh's book, 'Song By Song'.
But it was his 'A Multitude of Sins' where he referred to it directly; "I started to find great images to put onto T-shirts …. one of a wolf bearing its fangs with some bloodhound missiles in the background."
Hugh may appear a little unacquainted with its origin, but I can reveal the precise source of the canine image. It's taken from a picture by Norwich artist Colin Self, titled 'Guard Dog on a Missile Base, No.1.'
Self came to prominence with the Pop Art scene of the 1960s. He is now recognised as an important and innovative artist from the decade of supposed free love. He first attended Norwich School of Art and then Slade School of Fine Art where David Hockney and Peter Blake first came in contact with his work before becoming collectors. Self's engagement with the threat of nuclear war gave his work a political edge that made it stand out from the Pop Art mainstream. At the time Norfolk would have apparently been one of the prime targets for a nuclear attack (don't ask me why!), and this resonates in Self's art. In fact, he was one of only a few British artists to look at the horrors of the Cold War and the nuclear threat. "It turned my guts and floored me, destroyed my sensibility and understanding of the world," he explained. Another defining image, 'Nuclear Victim' is on permanent display at the Imperial War Museum.
'Guard Dog…' was drawn in 1965, and purchased by the Tate in 1974. Its monochrome design was a fittingly stark image for the album's Black And White period, particularly given some of the LP's content, particularly on the Black side: opening track 'Curfew' paints a horrific picture of the Cold War becoming reality, while closing number 'Enough Time' meddles in the fall-out of a nuclear war. So, Stranglerphiles - the next time you pick up 'Song By Song' - or spot another picture of Hugh in this T-shirt – or indeed, dig out Black And White… spare a thought for the originator of the canine design… and show some 'Self' respect!
ROUND: Burning Up Times geometric collage featuring the shirt.
BOUND: Hugh on the front cover of Song By Song.
HOUND: Colin Self's Guard Dog.
Not read it? Issue One, The Burning Up Times HERE
BLOW JOB!
How Walk On By and a cult 60's film took
Gary Kent
to a park in southeast London
<![if !vml]>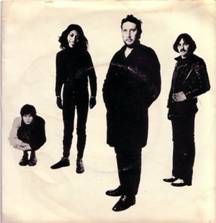 <![endif]>
HE STRANGLERS knew a delicious slice of 60's music when they heard it: they did their own mind-blowing version of the Dionne Warwick classic Walk On By – and it's still a hit in the present day live sets of both The Stranglers and Hugh.
Originally part of the Guildford Stranglers pre-fame repertoire of the mid-70s, The Stranglers finally laid down Bacharach and David's bittersweet symphony during the Black And White sessions at TW Studios in March 1978. Following on from Nice 'n' Sleazy, Walk On By became the bands seventh 7" single, reaching a creditable 21 in the UK charts that August - quite an achievement considering three months before, 75,000 copies were given away gratis with the album!
Unsurprisingly, the much-lamented and foremost DJ of the day John Peel was the first to spin it one night in May, giving us a tantalising prequel of to the groundbreaking third album. And what a night it was! From the other side of London, this 15-year old boy secretly tuned in under candlewick bedcovers, where Walk On By brimmed with Dave's fantasticly wicked keyboard wizardry: he almost made the Hammond talk - in tongues, naturally. Each arpeggio run transmitted icy shivers up my backbone, and in just under six and a half minutes, I was utterly and thoroughly hypnotised, mesmerised…. blown away. My mind was awash with the riffing fluency, not to mention Hugh's scratchy Telecaster ripping through the track like a buzz saw through balsa. Throbbing and pulsatile throughout, JJ's pernicious Precision chivvied and chased Jet's freeform, no frills, drum filling. It was an unforgettable experience.
Walk On By was their calling card, their hallmark signature noise of the bestest band in the land. But the cheek of it all - mauling up an old rave from the grave, right on the crest of the post New Wave nuance: it was light years ahead of Whitney's favourite aunt's hit of 1964. The way Hugh mangles the vocal track, his atonal, laconic timbre never sounded this threatening, menacing, and nonchalantly splenetic – and this was a fucking love song! Brooding yet ballsy, Hugh's acidic vocal quirk is glued down with Dave's anodyne backing harmonies. But just before the gorgeous instrumental passages kick off, Hugh suddenly lands his leading line on the vocal track:
"…Just going for a stroll in the trees."
I often wondered why Hugh sung that – it wasn't in the original. But here it is, right before the lysergic solos swallow him up. It's only now I think I might know. On the day it was decided on an accompanying promotional video, film buff Hugh was the one who jumped at the chance make it, and where it all starts to unfold. In 2005, Hugh told me: "I based it on the film Blow Up, which is one of my favourite pieces of cinema... It's very eerie."
Hugh's photographer friend Chris Gabrin helped direct it using low budget Super-8. "He took our very first photo on a record sleeve – Get A Grip... For the Walk On By video we used the exact same location they used for Blow Up – a park in southeast London." For the shoot they got a Dionne Warwick lookalike to accompany larger-than-life jazzman George Melly for the walk through the trees of Maryon Park in Charlton in 1978 - and for the record sleeve: "That's because we couldn't get the real Dionne Warwick!" Meanwhile, mouth-organist and Southend jail-bird Lew Lewis leaps around serenading the couple. Melly and Lewis also appear on the jazzy tongue in cheek B-side, Old Codger.
Reminiscent of McCartney zooming off to Paris on his own to shoot Fool On The Hill, I wonder how Hugh gained almost full cinematic rein – in the light of the band's Four Musketeers democracy within. They evenly split song writing credits into four, irrespective of who writes the songs. But the year before, JJ posed for John Pasche for the front cover of No More Heroes – on his own on top of Trotsky's tomb. The band rejected it and a red wreath was chosen in its place.
LOW UP was shot in London by Italian film maker Michelangelo Antonioni in 1966. In the world of cinema, where the use of the words 'cult movie' can sometimes be overused, Blow Up really does deserve its mantle. When Mike Myers needed a photographer for his Austin Powers pastiche, he borrowed an ample piece of Blow Up's main character, Thomas. Antonioni selected the youthful and handsome David Hemmings for Thomas, a successful and thoroughly arrogant fashion photographer, in 'Swinging 60's London'.
Antonioni dabbles with our minds, messes with our perception – much in the way our poor affluent photographer Thomas finds himself transported. One afternoon, away from snapping at future Twiggys and Shrimps, he ends up with his trusty Nikon in the obscure, secluded Maryon Park. It is here he spots Jane, played by the elegant Vanessa Redgrave, who appears to be trying to playfully lure her elderly beau towards the trees… a stroll in the trees… Thomas innocently captures the couple on film from the glade until Jane sees him and suddenly her mood changes. She runs up to confront Thomas and demands the roll, accusing our voyeuristic snapper of invading her privacy.
He refuses, and smells a faint hint of rodent. Later on, Jane tracks him down at his trendy West London studio, where Thomas fobs her off with a different film. She leaves satisfied - and Thomas is intrigued by both her and her motive. So he starts to develop the real film from the park, and exposes something sinister in the process.
In a quest for answers, Thomas blows up each scene, frame by frame and hangs them up. Sleuth-like, he magnifies each dot until he his gruesome find is confirmed. Thomas returns to the park that night, where he is left with more questions than answers. He returns to the studio to discover it has been ransacked. The film has gone, and so too, have all the blow-ups. Antonioni's striking imagery combines the existential and abstract, and reality becomes blurred by the surreal purpleness. Many questions are posed, namely - do we really only see what we want to see? And is it really true the camera never lies?
Antonioni also hints at a lower end subculture among the upper classes. He is at odds to dodge the fashionable 'Swinging London' zeitgeist characterised in the media. In the outside scenes where Thomas drives through Central London, archetypical red London buses are carefully dodged. So too are red telephone boxes, pillar boxes and Big Ben, and as if the optical illusion isn't playful enough on the eyes, Antonioni jazzes up the cinematographic visual tone: he has both sides of a High Street shopping parade painted in bright red.
Ali Catterall and Simon Wells, authors of 'Your Face Here', suggest the reddened Pride & Clarke shop fronts to have once existed in Woolwich Road, prior to the redevelopment of the through road. Admittedly it points to a likely location, considering Charlton Football Club's 1966 cup success, with their Valley Ground literally overlooking Maryon Park, and whose home kit happens to be red: the owners might have been willing participants to the makeover. Contrastingly, on John and Brian Tunstill's website 'Reel Streets' the location is revealed to be Stockwell Road, in Stockwell, just a few miles off. Evidence shows the 1966 red grinning through today's flaking masonry paint.
But it's beyond the black wrought-iron gates that the profound, oblique intrigue harbours – as I was about to discover for myself. As Thomas steps along the Tarmac pathway blackened by Antonioni's set handymen, we are faced with the possibility of suffering from deceptive perception. Paths painted blacker? Grass painted greener? Trees painted browner? Shops painted red, and the overlooking backyards whitewashed – Antonioni must have had a colourful time in London in 1966! Having so far researched from the confines of my computer, I feel drawn to Maryon Park. I had to go there to see for myself…
t's an icy morning, over the Woolwich Ferry and along Woolwich Road when I spot the daunting tree tops poking at the clear blue sky over Charlton's frosty rooftops. Up the dead-end and through the gates, the path climbs a little, before Maryon Park suddenly opens up, invitingly.
The well-kept secret garden reveals a brace of tennis courts in the centre of a huge flat lawn that reaches out to the woody periphery and rose beds. The courts are quiet today, like they were when the rag-ball student mime artists perform their surreal game of tennis minus balls and rackets in the closing cuts of Blow Up. Taking a left up the steep steps leads me to Cox's Mount, the flattened out, grassy plateau where Thomas makes his dark discovery. Little has changed since sorely missed Hemmings hopped over the fence to secretly click-click-click at the odd couple. The once whitewashed backs of houses lie hidden behind overgrown trees over to my right, and to my immediate left, One Canada Square dominates the City skyline. It's tranquil, yet the chilly ether is charged with a profound melancholic calm. The rustling leaves overhead and the muffled traffic below never quite match the motions of the trees swaying above or the busy road I've just driven along below. It's as if the sound has been turned down, muted. Or at least, that's my cognizance. Deception is rife.
Upon my descent a geological clue lies to Maryon Park's ancient pre-existence as a chalk gravel pit, long since filled in and levelled out. Before that? A Roman settlement. A shiver comes crawling up my spine like the night I heard Walk On By through the ether in the dead of night - when I'm told the place has it's own ghost. I also sense my privacy has been silently and sneakily invaded… like I was being studiously watched the whole time by Thomas, and his Nikon.
Suddenly a forthcoming and astute park keeper points me to a place on the wall where a commemorative plaque once sat. "Vandals..." he said, "they kept spoiling it so we took it down. It was in our hut but I haven't seen it for a while. We often get people here because of the film... What was that film called again?"
When I told Hugh during a Burning Up Times interview I had been there, he was intrigued. He also added it was a shame the Walk On By video was never shown, "apart from once at the ICA, that is." I momentarily relay the deceptive nature of the trees in the park, and mention the one thing missing from The Stranglers coolest promotional video – The Stranglers: "Oh - they're in it," Hugh adds with tongue in cheek. "But only as cardboard cut-outs."
Your Face Here: British Cult Movies Since the 60s - Ali Catterall and Simon Wells (4th Estate) ISBN 0-00-714554-3 2002
Reel Streets: British Feature Film Locations: www.reelstreets.com/blow_up.htm
The Walk On By video can be found here: www.stranglenet.com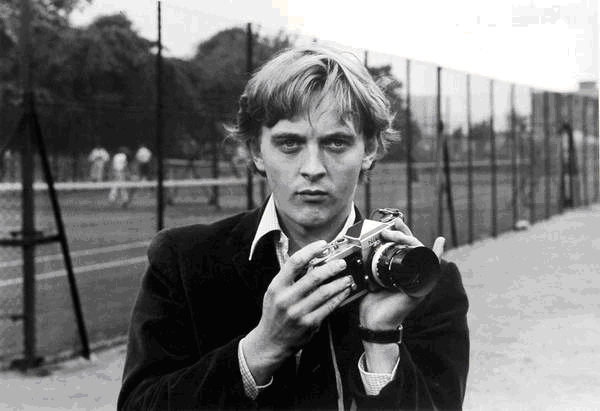 JJ Burnel in France
The Bare, Naked Truth!!!
On the eve of launching PDF issue one - I called JJB on his moby to clarify the 5 Minutes French ad-libs for the final piece, and left him a message. He duly got back to me that afternoon to spill the beans, but then I had an idea to ask him some really cheesy questions. In fact they were so aux fromages, Dom, nearly went and bought some Jacobs Cream Crackers to go with them! Needless to say, my work suffered the mighty editing sword. It was outed. So I stuck them on here for you...
10 things you need to know about JJ Burnel while
he rips up the autoroutes in the south of France.
Out the way of get!
What's in your pockets right now?
Actually, nothing. I don't have any pockets… I'm completely naked. I've been skinny–dipping in a pool so I'm standing here dripping wet! I'm on my holidays. After all the summer festivals, it's holiday-time.
What's the last thing you bought?
A cup of coffee for 2 ½ Euros. Before that? Petrol.
What's your favourite tipple?
Wine.
What's your favourite meal?
The first one I have with my mother when I return. Usually simple Normandy fare: soup de Poisson with stuffed tomatoes with minced beef, pork and veal, a big green salad with vinaigrette and a nice bottle of rose.
What's the last book you read?
The Famous Five from my mother's library, and The Unfettered Mind by Thakuan Soho.
What's the last CD you played?
Manu Ciao when I was in Nantes.
What's your favourite place?
Inside a juicy ******! Ha! Don't put that! Put on the seat of my motorcycle.
What's your favourite motorcycle?
Triumph RS Sport, which is what I've got.
What's your favourite Stranglers song?
I usually say the one we're working on… but the one I think is very underrated is Baroque Bordello.
What's the ringtone on your mobile?
Something by Tchaikovsky, think. The other phone has gone now. What was that ringtone?
Copyright © 2005-2016 – Planet Earth, www.strangled.co.uk All Rights Reserved