57 Varieties of Talk Soup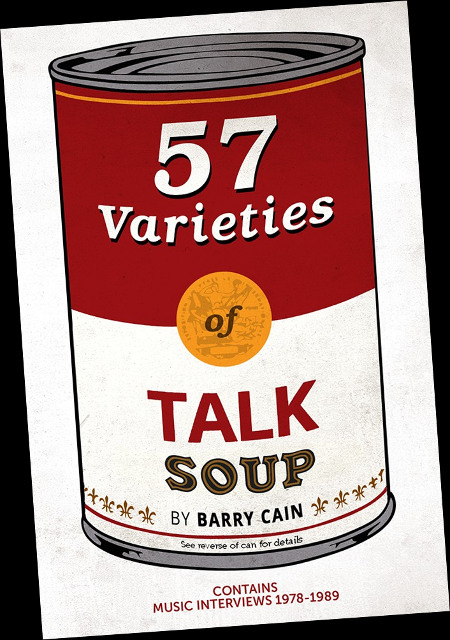 Barry Cain
© 2016 Red Planet Books
Does what it says on the tin...
BARRY CAIN IS a soup-erstar! Here he continues his tasty music memoirs on from '77 Sulphate Strip with his enviable and unique knack for bashing out a smart sentence as others waste paragraphs trying. Again at breakneck speed, Barry rips through the late Seventies to the late Eighties as Record Mirror and Flexipop journalist, publisher and PR man to the stars with insightful interviews as Barry self-deprecatingly and hilariously lifts the lid on the rock, punk and pop entities of the day. What's more, you feel like you're there. Once again with a cool title - christened by Mr. Lydon - Strangled can't recommend 57 Varieties of Talk Soup enough. If Life's a Minestrone, then this is a filling, satisfying 362 pages of Heinz Big Soup. Go out and get it. You won't regret it. It's hard to put down, once shaken vigorously and opened with care. Strangled's BOOK OF THE YEAR!

Ingredients: The Stranglers, 10cc, Andy Williams, The Damned, Bethnal, Blondie, Boney M, Bob Marley, Dan Hartman, Bruce Springsteen, David Essex, David Johansen, Don McLean, Devo, Earth Wind & Fire, Dr Feelgood, Frank Warren, Ian Dury, Gerry Rafferty, Inner Circle, Joan Armatrading, Kevin Keegan, Madness, Malcolm McLaren, Meat Loaf, Mike Oldfield, Mink De Ville, Motorhead, Paul Cook, Pere Ubu, Public Image Ltd, Queen, Smokie, Sham 69, Squeeze, Steve Jones, Sting, The Beach Boys, The Buzzcocks, The Clash, Bill Shankly, The Jam, The Selecter, The The Shangri-Las, X-Ray Spex, Thin Lizzy, AC/DC, Alex Harvey, Barry White, Blue Oyster Cult, Hot Gossip, Iggy Pop, John Miles, Linda McCartney, Marc Bolan, Paul McCartney, Ronnie Wood, Sex Pistols, Sylvester, Spandau Ballet, The Hollies, Adam and The Ants, The Specials, The Village People, UFO, The Who, Wayne Fontana and Whitesnake.
Available HERE