Jean-Luke Epstein
9th May 2017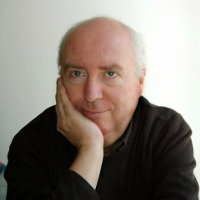 News has just come to us overnight of the sad death of Jean-Luke Epstein. J-L was art director and photographer on many Stranglers records and CD covers, as well as many other artists. J-L was a friend of the band and a friend of Strangled: years back, he kindly got in touch to tell us how much he had enjoyed reading one of our PDFs. J-L was himself involved in Stranglers between 1984 and 1992. J-L was also a confirmed fan of The Stranglers, when he told us:
"I've pretty well been a Stranglers' fan from the vinyl outset. Never got to see them though until Wembley supporting The Who - a ridiculous state of affairs given that I lived three streets away from The Nashville and, irritatingly, kept hearing, each time I missed them, glowing accounts of how brilliant they were when they played there. As a former Who fan, I left Wembley after the MIBs' set, such was the affirmation of their prowess."
J-L was a talented and charming man who will be sorely missed by everyone who were fortunate enough to have met him and knew him. Our sincerest thoughts go out to J-L's family and friends Rest in peace, Jean-Luke.