BLOG: TIME TO FLY
2nd March 2017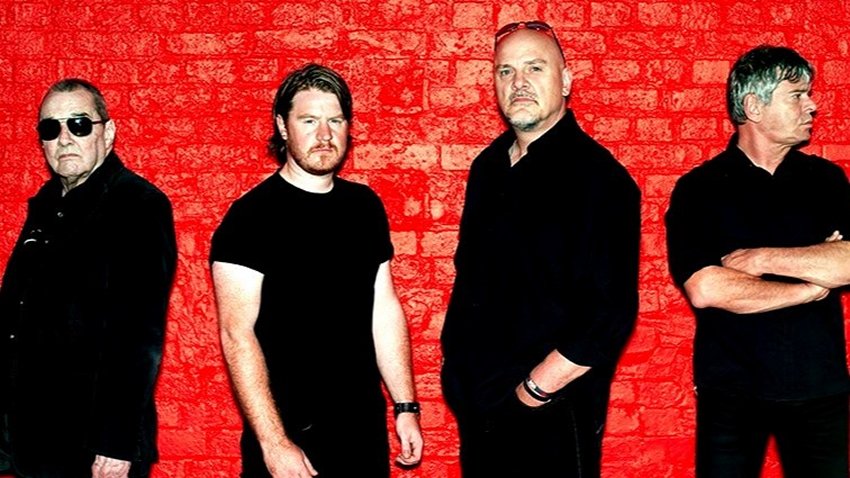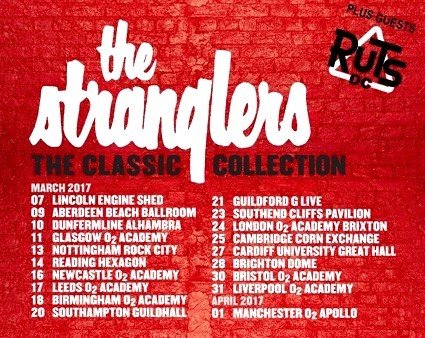 BLACK AND WHITE swept the UK like Hurricane Kate earlier this year. Doesn't seem like a year ago, does it? But performing that third album was something we championed yonks back in the Wish List. Fans can be so demanding can't they? But now there's more to be demanded, but that's later. Meanwhile, thanks must surely be in order for drummer Jim Macaulay for making some mighty meaty bangs and crashes at the back. The recent official image for this year's Classical Collection features our new tub thumper, yet there's no word on Jet Black's place in the current line-up. Or whether this UK tour - which features the mighty Ruts DC - is named from a future greatest hits release. Not that the world is short of a best of The Stranglers CD!
What has been made absolutely crystal clear is how the band sound so on-form – and clearly enjoying themselves onstage – and a myriad of fans are already making noises about touring their brilliant fourth album. The Raven is the LP where the band really stretched their wingspan with their most accessible album to date. Notwithstanding the recent re-release of The Raven on vinyl. Don't forget they re-released a vinyl Black And White and gigged that. So can we get to relive another landmark trip down memory lane? Longships, The Raven, Dead Loss Angeles, Ice, Baroque Bordello, Nuclear Device, Shah Shah A Go Go, Don't Bring Harry, Duchess, Meninblack and Genetix… Or will it be Shah segued into Ice..? And Fools Rush Out? Bear Cage?
Now there's some food for thought, even if it is porky meat heeeeeeeeee…. And let's not forget the stage setting. What could that possibly look like..? Mmm… (thinks).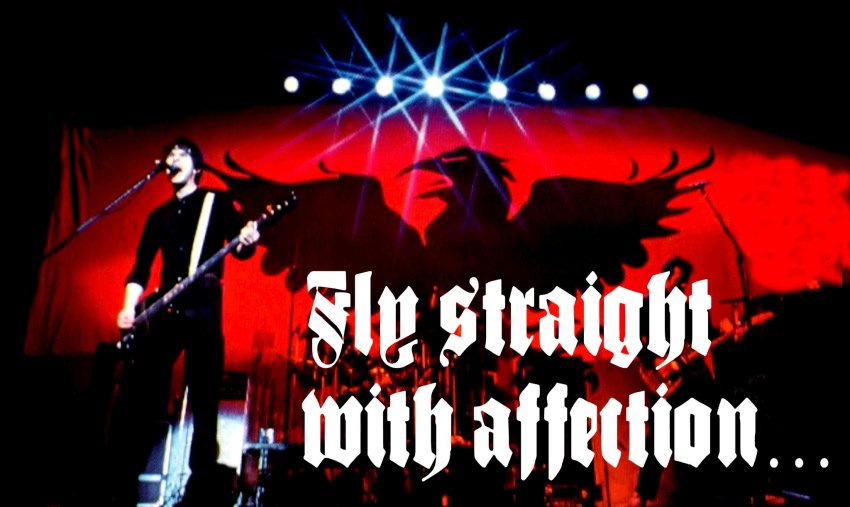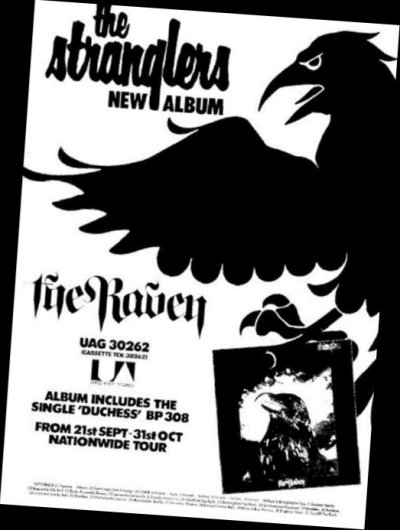 The Raven is every fans favourite Stranglers album. With style and panache - with a magnificent canvas backdrop gracing the stage - striking, very Viking and vaguely malevolent.

Gary Kent

ponders the possibilities of resurrecting it, phoenix-like.


THE BOLD BLACK bird straddles with beady eye peep-hole bursting with blinding white strobe. This immense ornithic icon sagely oversees the band being magical, mythical and menacing.




There is nothing permanent except change' - Heraclitus.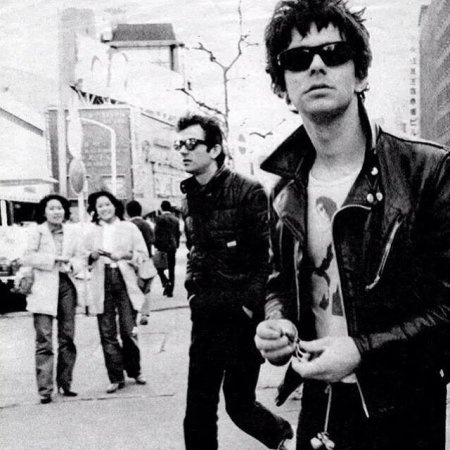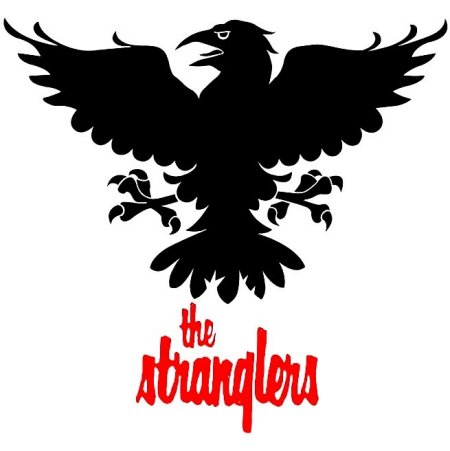 'Something better change! Something better change!' - The Stranglers.
It's a sea change for the Meninblack. Yesteryear's pub rock and punk gobbing is binned in a post-punk hinterland of unknown pleasures. Black And White makes the leverage but The Raven is the leveller.
'To improve is to change; to be perfect is to change often' – Winston Churchill.
Fly straight with perfection, find me a new direction…' – The Stranglers.
The Raven is rammed with new directional musicianship up another level and almost unrecognisable from the burbly organ / big burly bass of their punky past. Is Hugh Cornwell right when he says the band seem to be playing different parts all at the same time? Maybe that's the beauty of it. JJ Burnel and Jet Black both say it's probably their best album, although JJ says the same for The Gospel According to the Meninblack. Or is that the Diamorphine memory?
Elegant, ebullient and fluent, The Raven is stacked with shiny new keys courtesy of Oberheim OB-X, Korg Vocoder and Eventide Harmoniser. Hallmark Hohner Cembalet is obsolete. Lyrically, the likes of Dag Dave, the Finchleys, Choosie Susie and favoured pub landlords are outmoded. Now we are wet with Australian gerrymandering, Abo's and nuclear urania, the Shah of Iran, Gregor Mendor's peas, LA's Tar Pits, Class A's, Japanese suicide, blue-blooded love - a bird within a bird - a rococo brothel plus Unidentified Flying Objects, aka the Men In Black. The Raven is surely a Hitchhiker's guide to the globe.
If Nostradamus stood in the Nashville alongside Dagenham Dave in 1976, neither could have foreseen such a sonic shift of quantum teleportation. A far cry from those heady halcyon nights loading up Jet's ice cream van. Now a fleet of Tonibell's and Rossi's couldn't contain The Stranglers gear.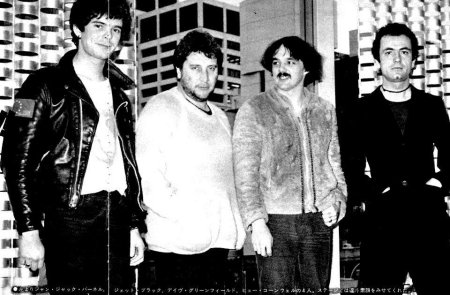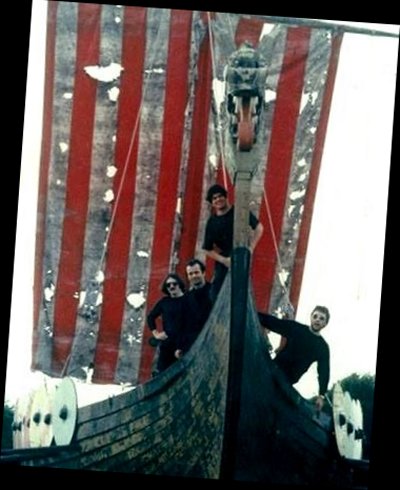 It's a gloriously classy time at school to be a Stranglers fan in 1979; a live Stranglers LP, JJ's Euroman Cometh album, a summer time Stranglers single on Top of the Pops, a gorgeous fourth album and a sell-out tour… Oops. Meltdown comes one night in November for the band; the car with Hugh in gets a tug by the police. It's a Hammersmith horror when Hugh's hold-all reveals a stash of coke wraps, dope bags, resin, grass and a little Heroin. The magic mushrooms get ignored and Hugh's a funghi to be with as one copper cops Hugh's autograph. The Raven lands, landing Hugh in jail in early 1980, and the law won by teaching naughty boys drugs don't work. For the band, it's a seriously sinister start to some seriously sinister malevolence and misfortune:
Stranglers logo man Kevin Sparrow dies on Christmas Day with a bottle of booze and some pills, and his art mysteriously goes missing; former manager Charlie - as in the early tune Charlie Boy - dies at the age of twenty-four; tour manager Alan suffers a heart attack at twenty-eight; the loaded-up lorry full of Stranglers equipment disappears after a gig; it is not insured, apparently. There's more behind the scenes, but strange forces lurk and remain unsaid.
Out of jail (second coming for Hugh following the Nice riot) is when I get the phone call and it can't come at a better time. It's Jet Black. We chat, he's interested in my letter about a new direction for Strangled magazine. He invites me to Stranglers HQ the next day. I'm wearing what I believe passes as a Man in Black when it's more Man at C&A. I pass John Cooper Clarke (man in black?) at the cathedral gates and find New Hibernia House in Winchester Walk. I'm in, I call. It's Jet. We shake, and I'm shaking! He is so friendly. I'm in awe. We discuss artwork for the next issue. But now the blank paper Jet piles in front of me is staring back at me even blanker. But when I unclick my black Pentel felt tip, I'm on a run. Each Man in Black sketch is duly sliced and pasted, not forgetting the Snopake round the edges for the print copy. Before we hit the lunchtime - and the tarnished Scotch Egg incident - I've done enough for a brace of Strangleds and Jet is made up. I'm there the next day and continue my new direction with Jet's son Anthony, brother Paul, and Steve Thompson but it's always best when Jet's there.
One day, Anthony's at the post office, Paul's out somewhere, Steve's not in and I'm left in sole charge of the Strangled operation. Stretching my legs, stepping past pallets of posters and sacks of unrequited fan mail, I spot an archway in the bowels of this former Thames warehouse. I turn a door knob, half expecting it to fall off in my grip, not expecting to be allowed inside. To my shock, the door opens, so I push my luck into the dark dank space. A shaft of light beams across a dusty vision of an extremely impressive Raven backdrop for the gigs. It hangs suspended, tied to rusty hooks. My heart skips a beat as I beat a retreat back into fan mail and a ringing phone, just as Paul returns to his desk. I decide not to mention what just happened and keep it to myself in case I get read the riot act, so to speak.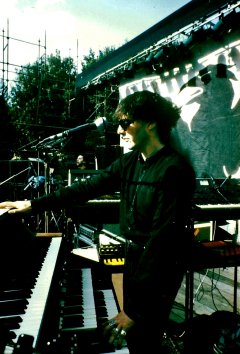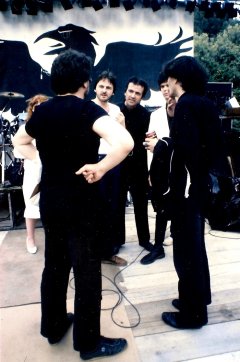 Doing the European: The Stranglers with that iconic back drop during sound checking at Castel S. Angelo, July 2nd 1980, just five days after JJ, Hugh and Jet are released from jail in Nice;
Record Mirror's Barry Cain joins in the discussions; and Dave has a Wasp at his side. More images from the era can be found in 'Second Coming', the Meninblack PDF on the Strangled home page.
Now I'm wondering whatever happened to that Raven backdrop. Like I said, hanging around New Hibernia House was pretty fantastic back in that golden summer of 1980, but to see the backdrop was...
I'm guessing it must have been July 1980…
It was there at the Lyceum gig, Sunday 27th July...
In fact I think it was there on the whole Who Wants the World Tour up to August...
Why don't I remember much after that?
I do recall that the band weren't around after that September... after the SIS party... and I didn't join any tours.. Nor did I get to snoop round the back of the poster stacks. That's because I think the band were back in the USA by then. And I had to get a proper job. Cut to now, I spot an online chat on the subject of the backdrop and I'm enthralled as the story unravels and I trace its creator, Geoff Davidson for a chat.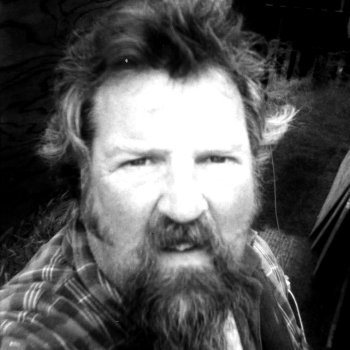 'Yes, it was me. I painted it...'


'Yes,' says a very jovial Geoff, 'it was me. I painted it! ! met the lighting tech for The Stranglers - a mad Irishman called Martin Mulligan – he was quite a character… I'd only just started doing backdrops the year before. My first was for the Boomtown Rats and it was Bob Geldof who nudged me and said: 'dat's fookin' great'. Anyway, Martin Mulligan gets my phone number and it is arranged that I come down to the Roxy in Harlesden where The Stranglers are rehearsing. When I get there, Martin's nowhere to be seen. But I see the band playing pool so I ask where I can find Martin. JJ looks up from his shot and says to me:

'He'll be in the nearest pub, with a dead policeman by his side!'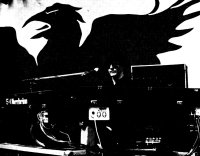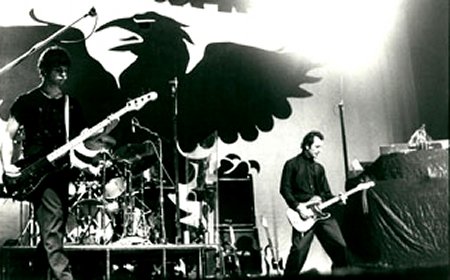 'From there, I had to draw loads of raven images and for this I took inspiration from Norse mythology and I did my research at the Natural History Museum during the 1979 May bank holiday. As soon as it was done it was couriered off by motorbike the next day. Once the drawing gets the say-so, I then had to paint it which happened one of those strange coincidences: Saturday 18th August 1979, the day The Stranglers played Wembley. I was painting it and listening to The Stranglers on Radio One on a simulcast that also featured Nils Lofgren, AC/DC and The Who. Of the gig, I remember Martin Mulligan telling me he had to be pulled off ACDC guitarist Angus Young for giving him some lip backstage. 'Feckin' speed freaks!' He ranted!'
'I remember it was a scorching hot summer's day and I spread out this 40 ft by 20 ft canvas across the garden to paint. Then suddenly my next door neighbour's rabbits decide to run riot all over it! It was chaos!'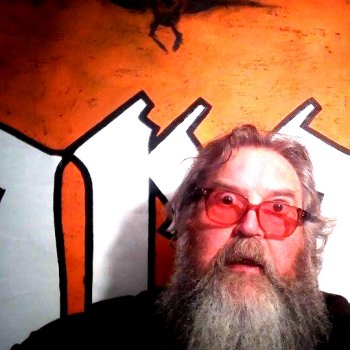 'Once the canvas was finished, it was meant to have a very discreet hole made in the Raven's eye for a strobe light to flash out from. Martin asked me to cut the hole but I left it to him for choice of size for the strobe, as I thought he knew best. He then took this knife to it, but it was blunt and he ended up being a bit, shall we say, 'enthusiastic' carving out this rather crude and very large hole! But the strobe effect looked great, and I was so proud of that backdrop. I just wish I could find the snap of me painting it with rabbit droppings sprinkled all over it! I think I lost it in one of my house moves.'
'I remember going to see Ian Grant at his office in Covent Garden to get paid. I walked in and sitting there was Jet Black who thought that I was someone else. He then told me how amazing it is to meet 'Billy Connolly'. I had to let him down easy on that one!'
'I did end up pitching for another tour - the Feline tour - as it was such a beautiful image of the cat. It was Bill Tuckey who came round to chat about it at my house in East Ham. Although I remember thinking that the meeting went a bit odd, and it was only when he got up and left that I saw one of my joke turds on the floor! Right where he'd put down his cup. Maybe that's why I never heard back? But I'd love to know where the Raven canvas went, or if there are any photos of it anywhere…'
BIG IN AMERICA: Eleven dates into 1980's US tour and disaster returns; all of the bands custom equipment is stolen following the Ritz Club gig in New York; the hired help lorry driver dives home to freshen up for the journey to Washington. He returns to an empty space where the truck was parked. £46,000 worth of gear is gone in an instant. Now it looks like the case of the missing Raven canvas seems like it's solved. Elementary, it's gone with all the gear. Thankfully, in a way, enlightenment arrives from Stranglers mega-collector Neil Horgan who reveals an extremely interesting piece of evidence appertaining to the lost inventory in the haulage heist, published below. Seems obvious now doesn't it? Talk is of the driver being on the inside, allegedly. Mafia too. Typical Men In Black madness. And still no sheet, Sherlock.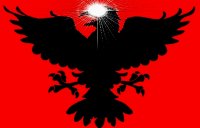 If a Raven tour ever happens in the present day, maybe Geoff Davidson will pitch for the backdrop? If it's not computer generated? True, many Raven tracks have been played in the live set, and some might say the band are more likely to tour album number five, The Gospel According to the Meninblack. Or how about a combination of the two? The Raven-in-Black Tour. To end, post-heist, JJ is more or less philosophical:
'We did get a bass speaker back. But let's face it; America is the land of free enterprise. They were enterprising - and it was free.'
Below: Some of the missing items from 1980 and a £500 sheet of canvas is most evident.
© Huge raven thanks to Geoff Davidson, Neil Horgan and Paul Davis.