8x10s mystery solved! Journos in jeopardy!
30th January 2019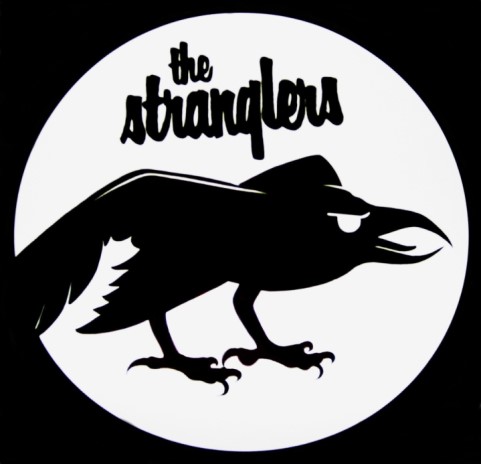 Song Sung Blue!
Gary Kent gets the measure of the mystery 8x10s ditty...
Since Strangled uploaded the cassette of a pre-mixed version of The Raven several years back, there have been many messages of appreciation from Stranglers fans globally: the audio quality of this mp3 conversion surpasses previous boots banded about over the years. For this, we are thankful to Strangled reader Jeff Curnock for unearthing it and generously sending it in for us to share.
I have to say that the opening of the Jiffy package - seeing the cassette stamped 'EMI/Pathé France' (the recording studio in Paris where the album was laid down that fortnight in June 1979,) was an exciting portal to the past. Whose copy was it? Which band member held it, played it, lost it? Around the time of the album's creation, it was quite eventful: following three heady studio LPs, the band stretch their musicality far enough for producer Martin Rushent to rush on out of the studio: he dislikes a new track - Meninblack - and has no interest working on the rest of the fourth album. Martin told me in 2008: "I went out the door. I'd just had enough of The Stranglers. They were losing it." Also, Fulham's TW Studios - The Stranglers' studio hub - closes and relocates to Putney. TW's Alan Winstanley leaves - business dives - and the new studio is shut down for good. But it's Alan who comes to The Stranglers rescue when he takes on production in Paris: "My first proper album job." He reveals when I interviewed him in 2011.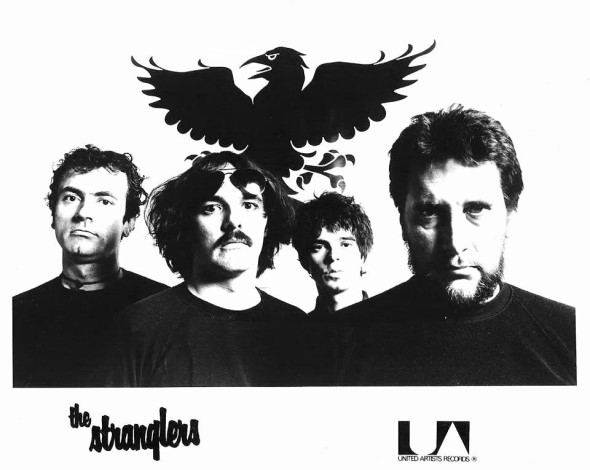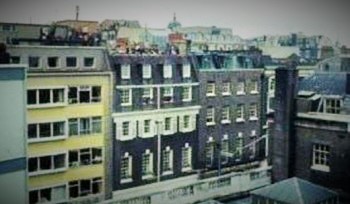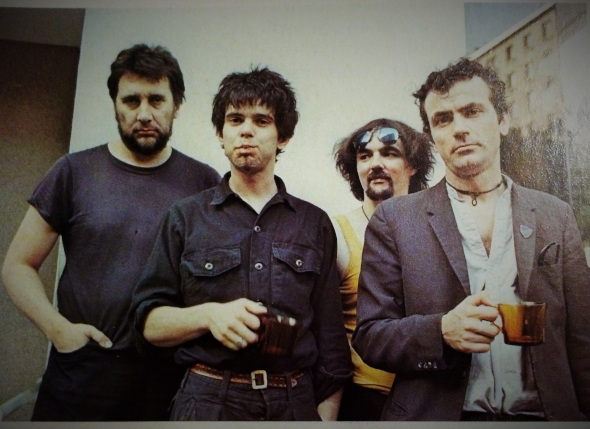 Into the cassette deck, the superior sound quality of this tape was immediately evident. But as you would expect from pre-mixed tracks, the sonic fairy-dust has yet to be sprinkled: EQ-ing, vocal-treating and cleaning up the tracks for mixing by Alan and then Steve Churchyard who continues at Air London when Alan is committed to new Ska band Madness. In comparison to the finished opus, most of these Raven tracks have a more prominent bass end, and intros such as in The Raven and Nuclear Device, have extra bass drums. Longships, with a single snare intro, Dead Loss Angeles with a count-in - to keep the band together and in-time. Nuclear Device has backing vocals throughout verse one, and a different vocal approach on Ice from JJ, as well as quite possibly, an extra vocal to be recorded to double track Duchess.
All this provides a wonderful insight into the recording of this great album. Interestingly the running order differs slightly and possibly the cassette shows the order in which they were laid down at the time. But what is most intriguing comes at the end. There is an extra track called 8x10s. This is confusing. To the tune of the Robin Hood theme, 8x10s is comical, complete with vamping organ and bum notes to boot. The vocals sound like the singer - whoever it is - pinching his nose! A hoax? A joke? Is it Dave on the synth and Hugh at the mic perhaps? Slightly reminiscent of Cocktail Nubiles - the drunken Bring On The Nubiles meets Sinatra sneakily taped by Steve Churchyard in a Meninblack session in Brussels - it is a sweet little mystery.
Sung in the style of Goon Spike Milligan, it could be a Monty Python skit. Derek & Clive, even. Maybe it was to be a b-side, like Cocktail Nubiles? Maybe there was a copyright issue on the Robin Hood theme? I doubt that. Irrespective, it's inclusion would explain the absence of the tracks that did eventually form the singles' b-sides: Fools Rush Out and Yellowcake UF6 – or Social Secs reversed with vocals muted – that were both already recorded earlier in that year in London with Martin and Alan.
An intrepid insider has checked EMI's tape listings, but 8x10s isn't logged. However, Social Secs apparently hails from December 1st 1978 with Martin Rushent and Alan Winstanley confirmed, along with Fools Rush Out and Yellowcake UF6. May 7th notes a recording session for Two Sunspots – a mooted single at the time with an acetate produced too – at Eden Studios in Chiswick. A couple of sessions in July saw Fools Rush Out and Social Secs reworked by Steve Churchyard at Air Studios in Oxford Street, with further Churchyard treatment on 15th August: no less than six versions were listed; full with vox, full no vox, halfspeed with vox, halfspeed no vox, backwards with vox and backwards no vox. No written record of Meninblack or 8x10s, though. However, there was a recording for 22nd July, but no log. But then again, the band were almost certainly still in Paris at this time, possibly returning a week later. Incidentally, an untreated Meninblack was included on Raven Roughs with it's slowed down backing track but already with Eventide Harmoniser vocals. And the track count-in sounds reminiscent of the single mix of Shakin' Like A Leaf, if you know what I mean? So if 8x10s was to have been a b-side, it was ditched in favour of Fools Rush Out and Yellowcake UF6 which backed the singles Duchess and Nuclear Device respectively.
While the authenticity of this Raven tape is in no doubt, information on 8x10s is scarce to the point of zilch. But what's it in reference to? Is it the most common dimensions of a photograph? But that's 10x8 isn't it? Or is it the measure of something else? An 'in-joke'? An in-joke that has long been forgotten?
"No, I don't know. The only track I remember recording for a laugh was the cocktail version of Nubiles." Says JJ, and manager Ian Grant can't shed any light either: "I was there in Paris for most of the sessions but I don't know anything about it."
Prior to his sad and sudden death, I was in contact with former Stranglers art director and Stranglers fan, Jean-Luke Epstein. The 8x10s song crops up in a conversation which triggers his memory. He emails me back the next day: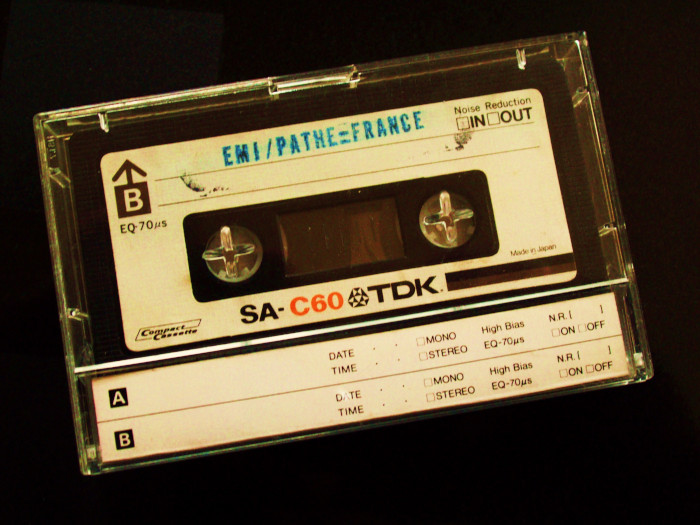 "I loved the PDFs and I loved The Raven 'demos' on Strangled. But on second listening is when the penny dropped! I could be very wrong, but while I was working on the Dreamtime album in 1986, I had the privilege of working alongside a young lady who was the then girlfriend of John Pasche, art director of The Raven. She had also been John's assistant at UA. Prior to UA/EMI, she had worked at a film processing lab called Quicksilver which processed all of John's photographic work as well as mine. Her former boss happened to be a personal friend of mine. It has to be said that this young lady was very attractive, in all respects. In fact, there's no easy way to put this, but let's say she was particularly voluptuous!
But the real point is this: she would often recall her fond memories of working with The Stranglers and, at least twice, she related to me how Hugh would call her – wait for it - 8x10. Hand on heart. I thought it was 10x8 - the expression that comes most naturally to me - because, she said of the photo format size, and how she had worked at Quicksilver. It was only when I listened to The Raven tracks - and the speculation as to what that track might be about - that the memories all came slotting into place. Several times I imagined Hugh staring at her, dead-pan, and calling her that, whilst - knowing him - speculating on the potential wind-up or irony of the nickname. Make of it what you will!"
Jean-Luke must surely have been right about how 8x10s came about. As a result, I was just thinking whether this could be the very cassette done especially for Hugh to prank the particularly voluptuous one!? It does sound a bit like Hugh doesn't it? If you have yet to detect it, the mp3 is still tucked away in The Raven in an earlier post below. You can't miss it. Just look for the bird! But first, see how the mystery 8x10s ditty is uncannily similar to this Monty Python skit at 2 minutes 40 seconds:
http://www.youtube.com/watch?v=qLkhx0eqK5w
Big thanks to the late Jean-Luke Epstein. Originally due for publication on here back in 2017, J-L had just passed away. Out of respect, it was shelved, and subsequently forgotten, until now!
30th January 2019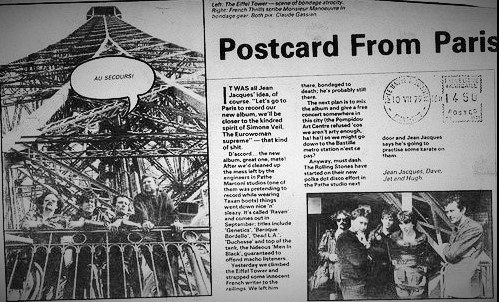 Semolina Pilchard: journos in jeopardy!
Gary Kent on Manoeuvre, et al...
Philippe Manœuvre is a French journalist. He has been a radio and television presenter, as well as editors for Métal Hurlant magazine and music monthly Rock & Folk. In 2008, he became a member of the jury of a reality show called Nouvelle Star on French television. But while The Stranglers were recording The Raven in Paris, the 25 year old Philippe was eager to get an interview.
"He was always bugging me," says JJ. "He was at our hotel one day demanding an interview. I said yes, providing we do it up the Eiffel Tower. Once we were up there on the first floor, we took down his trousers, gaffer-taped him to a girder and left him to be photographed by all the tourists!"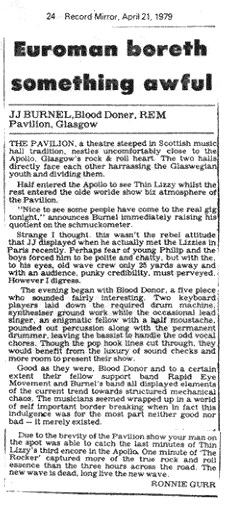 Alienation from the press is inevitable as provocation and hostility reign. Verbally mostly, but physical too. Former NME and Record Mirror writer Ronnie Gurr becomes a victim as JJ seeks his revenge. When reminded of this, JJ laughs:
"After he slagged off Euroman Cometh! Yes, we arranged to meet him in a pub for an interview and ended up bundling him onto our bus. We drove to the next gig, which was Hemel Hempstead where we took him inside and tied him to a chair. We made him sit and watch the gig. We gave him some Finchley Boys for company. A tattooed bloke called Dean from Sheffield was told not to speak to Ronnie. But Ronnie threw a can or something at him and escaped while the support band were on and ran to the police station round the corner. Next thing, the police arrived looking for me. Of course, I was nowhere to be found because I was hiding in the ladies! The police went away in the end. There wasn't much they could do."
Two years before, a new-to-London Ronnie arrives at the Roundhouse where The Stranglers will be performing later. The band come out and he approaches JJ for his autograph. JJ offers to buy him a cup of tea. He also lets him store his bag in the venue's dressing room. "You can crash at our flat." JJ tells him. Skip forward to 1979 where Ronnie is a music writer and pens a critique to seal his fate. Ronnie recalls the album being a "load of shite... indulgent." Bit harsh, Ronnie!
The same year, writer Deanne Pearson is left stranded on the Nuclear Device video shoot in the Portuguese countryside. She says she's kidnapped by the band, abandoned, and as a result she misses the plane home. Eventually a private jet is laid on for her where she sips Remy Martin. Although Deanne is disappointed when the plane lands at Luton instead of London.
1979 seems to be a popular year for Stranglers versus the media - and not just the cricket match at Maida Vale that September! In a Sounds interview, tension is apparent in the Mishima article. Photographer Jill Furmanovsky has to leave the room following a heated debate with JJ which probably explains the absence of any accompanying photographs! JJ also turns on journalist Dave McCullough, telling him:
"I want you to know that I think all journalists are pigs. You are a pig."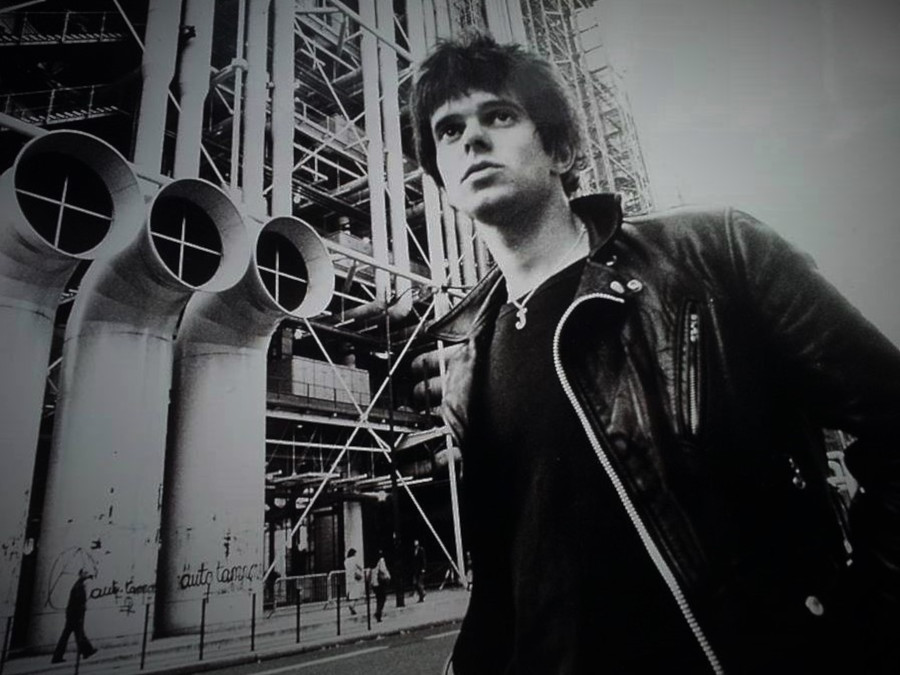 How to win friends and influence people, eh? In a local library some years ago I meet well-known author Tim Lott. Tim was once at Record Mirror with Barry Cain and together they set up Flexipop magazine. Tim's smile suddenly turns sour when I mention those words The Stranglers. Taking a step back, he asks me in a tentative tone:
"You're not an associate of the band, are you?"
"I think he's a good writer," JJ says of Tim. "I liked his articles in the Standard. I didn't have a problem with him, but he was like everyone else and jumped on this anti-Stranglers bandwagon or pro-Clash pro-Pistols bandwagon. We were selling more records than those guys, but he would write a nasty scene. I remember Tony Parsons came on tour with us at Cambridge, at the end of '77, and he didn't like the whole Finchley Boys scene, and he'd managed to recruit a few musicians to the Socialist Workers Party, and we were just toeing the fucking line. So, we weren't gonna suck up to these cunts, so it was like war, really. It's like Jon Savage - he wrote something scathing, and one of us had a go at him, and he got up to attack me and I punched his lights out in the Red Cow in front of everyone, Rough Trade lot, Jake Riviera, Andrew Lauder, our A&R guy who was lovely, Elvis Costello, Nick Lowe. All these people saw what I did. In that period, we made a lot of enemies, bless 'em, with these people who got in a lot of quite influential positions within the music industry and literature. Tony Parsons, Julie Burchill..."
Do you ne regret rien, JJ?
"I regret the long term effect it had. But on the other hand, we're still going.... So maybe that animosity gave us the strength to fight our corner. But there were one of two journalists who took us for what we were - a band trying to make a career in music - and we gave them due respect. But a lot of people came along to talk to us with a massive chip on their shoulder because of preconceived notions about what we were, influenced very often by other sectors of the industry. There are still a few writers out there with an axe to grind with us. Especially the likes of Jon Savage who is a constant pain in the arse."
Thanks to JJ Burnel, Ronnie Gurr, Donald MacKay, C. Gassian and the Walrus