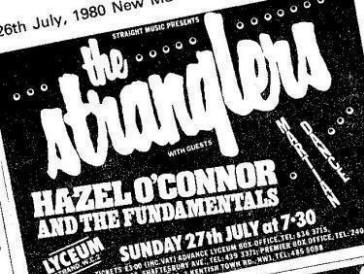 Nuts whole Hazelnuts…
HAZEL O'CONNOR was Hugh's squeeze back in 1980. Many of us fans of a certain age fondly recall her entertaining outfit supporting the mighty MiB on many occasions. Hazel was a bit or a sort, wasn't she? I bet you also made sure you were quick to take up position in the front row, to ogle those shiny black Lycra legs, past the stripey black and white bib, peroxide bleached bob, to gawp at Miss O'Connor's… robotics. Personally, I may not have known the difference between backing bands, Fundamentals or Megahype, but then, I never knew if Hazel was Hazel or her Breaking Glass character, Kate. To Hazel's credit though, she released the single, 'Hanging Around' - something The Stranglers never managed!
Hazel O' Connor HERE
Spitting image...
TRAWLING THROUGH the memory banks can sometimes bring a lump to your throat. For one particular guitarist, most of these lumps in throats ended up on the the band. Riff Raff guitarist Wiggy supported The Stranglers alongside the upcoming Barking Bard Billy Bragg. In 1978, they played Peterborough's Wirinna Stadium - and got more than just a warm reception:
"I've never had to scrape so much gob of my guitar! It was obviously a sign of appreciation!" Wiggy says. We say: no thanks, Northants!
Riff Raff HERE
It's not just phlegm that flew through the air at some early Stranglers gigs…
"If you throw one more tin can..."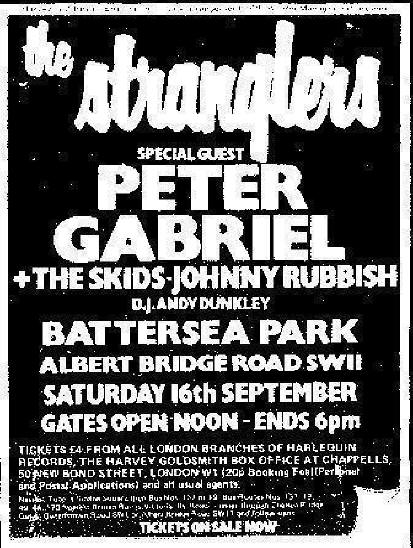 Mirth Control...
FUNNY YOU SHOULD say that, but incredibly, these humorous dudes all told their gags at gigs for The Stranglers: Harry Enfield, Jim Tavare, Robin Williams, Stephen Frost, and Keith Allen – dad of pop chanteuse Lilly Allen!
But there was only one truly 'alternative' comedian that needs mentioning here – Johnny Rubbish - a rubbish act, for sure. Also known as John Gatward, a Stranglers fan who got to know Hugh Cornwell, who in turn, became his manager.
Johnny's stand-up routine at Battersea was conducted from a dustbin, carried on by able assistants in the shape of a couple of Finchley Boys. He wailed 'Mud On My Tyre' - a joke on 'Mull Of Kintyre' and 'Living In NW3 4JR' – a posh Hampstead postcode parody of the Pistols' 'Anarchy In The UK'. The cringe-o-meter soared to 11 as the irony went over the heads of the audience, and it wasn't long before a shower of beer-flavoured missiles also went overhead towards our man of the mirth. But when you say to the crowd: "If you throw one more tin can, I'm walking off." there really is only one way to go. Exit, stage left.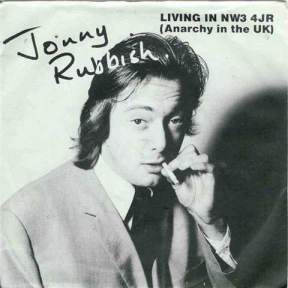 Johnny returns in 1997 at The Stranglers' Royal Albert Hall concert, where he might well have been canned off again – had any of us been able to get a drink at the bar in the first place. These days, Essex-based John 'refuses' to 'dig' up his old act having 'disposed' of his old funny business: he 'cannily' imports toys instead.
Johnny Rubbish info HERE
Thanks to Alan Hillier for this Rubbish pic

Strangled UPDATE
A very big thank you goes to former sound man Max Sillars who emailed us with his recollections of working with Johnny Rubbish – as well as Stranglers' support band, The Edge.…
Hi, I was a sound engineer thru the late 70's for a hire company called RMS. I was used to spit, blood, chaos and sometimes out and out danger on a nightly basis. However, despite all that, the worst night in my years of punk and reggae sound engineering was with Johnny Rubbish, having foolishly accepted to do a 'tour' with him on his own, as a stand up comedian in 1979.

At the first gig at the Windsor Castle pub he came onstage and immediately announced over the PA that 'he needed a crap' - and walked back through the crowd to the toilet. Initially the audience of hard-arsed punks thought this was part of a carefully crafted act. After ten minutes the crowd began to realise something was amiss, and got angry. After 15 minutes they realised they'd been ripped right off and Johnny wasn't coming back. Fighting broke out - with only me left to explain what was going on. I was lucky to get out with the gear and without serious injury.

RMS was known for taking on tough acts like Sham 69 and Chelsea, and sticking with them though gigs that definitely 'raised health & safety concerns'. But the Johnny Rubbish 'tour' stands out as the one act through all those years that the boss - Frankie Blackwell - thankfully didn't allow to continue on the grounds of safety to his crew.

PS. I don't have that Edge set list from Battersea, but I do have one from a night at the Nashville where The Stranglers were in the crowd. I could scan it and send it if it would be of interest.

Max
Anarchy in London N20
Two ex-Damned plus one future Culture Club.
Bassist Glyn Havard reminisces - on The Edge.
WOODY SUBURBAN TOTTERIDGE sits comfortably up the road to Finchley at the northwest edge of Greater London. Sprawling mansions belonging to pop stars and footballers litter the leafy lanes. Stars such as Cliff Richard, Hank Marvin, Frankie Vaughan and pop producer Mickey Most all hang out in London, N.20 in the late '70's. One imposing home lay derelict and forlorn – but a secret existed behind the huge oak doors. For this was the hide-out of a little-known post-punk band called The Edge. Bass guitarist and singer Glyn Havard remembers:

"This enormous ten-bedroom mansion was a squat. It had oak panels, tennis courts out the back, the lot. A load of dropouts lived there too - mostly bikers."

Keyboard player Gavin Povey contacts Glyn, who he knew from the Cliff Davis Band. He tells him about the new group he's getting together with two former members of an unrecorded Damned. Glyn goes to the audition and gets the gig.

"I was in Canada with another band when I got word from Gavin. He said about Lu and Jon from The Damned and I thought – wow! They did have a bass player, a Canadian chap, but he'd left. And my work permit was up and things weren't working out anyway. So I came back and found the squat in Totteridge. There in the front room was Lu Edmonds on guitar and Jon Moss on drums, plus Gavin on keyboards. They plugged in and blew me away. They sounded fantastic – I couldn't wait to join."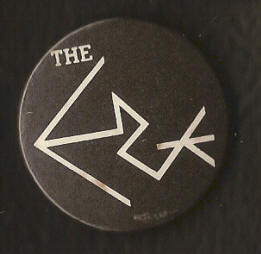 Lu and Jon are recently liberated from an unrecorded Damned line-up - sacked when Brian James rejects their songs co-written with the Captain. The pair make an instant impact on Glyn:

"Lu was brilliant. He had this great ear for melody and was really inventive. I couldn't wait to work with him. But right from that very first day, me and Jon Moss never hit it off. He just didn't like me, and he was cocky. I stormed off up the café and they came up and talked me into coming back. After that he was always trying to get me kicked out of the band. Strange. But he was also the funniest guy I ever met. His sense of humour was wicked… it was just a pity he was just so manipulative, man."

"Hugh had tickets to see Abba…"
With the nascent Edge underway, Glyn cuts off his hair the following day, in keeping with the image of a 1978 post-punk New Wave act. Their beef-edged sound forge muscular melody with a healthy smattering of The Damned and The Stranglers. Ensuing gigs in the capital are well-received and cement their reputation as one of the best new up and coming bands. At the Nashville, they break the attendance record, formerly held by another four-piece – The Stranglers. But if they were to continue, they would need a record deal - and money - to survive on. They also need a demo, and it is Johnny Rubbish who comes to the rescue.

After booking the band into a studio in Swiss Cottage, tapes are sent out. But it's no coincidence fellow Battersea act Johnny Rubbish takes a shine to The Edge: he once attended the same school as Jon Moss, and both shared the privilege of coming from well-heeled north London families. One day at the squat, the squat receives a visit from a well-known musician.

"Johnny came down with Hugh Cornwell and we all sat in the garden drinking tea. Hugh had this ghetto blasterhe's brought along – one of those huge radio cassette players – and stuck on this tape of Spirit. I was quite surprised because Spirit are so un-Stranglers. He also said he had tickets to see Abba – that blew my mind too! I mean - Abba..?!"

Hugh's flatmate, lawyer Nick Pedgrift, joins Johnny to manage The Edge, and on 16th September 1978, they appear onstage at Battersea supporting The Stranglers.

"Battersea was fantastic – it was our biggest gig. We seemed to go down well. I can remember the tank firing off these explosions during the set – and also the Army recruitment stand as well! At one point, Concorde flew right over our heads –you couldn't have planned it better! And the strippers… [LOL] they were gorgeous too, weren't they?"

In the absence of Battersea's set list, The Edge probably played most of this lot: Costa Brava, American Excess, Wallflowers, Downhill, Macho Man, I'm Cold, Hanging Man, Winning Streak, The Edge Theme, and The End. 'Macho Man' was a song Glyn wrote about from the days in the squat.

"I looked at these bikers there – thinking: what are they gonna be like when they're 60? I mean drugs, bikes, it's a young man's game, man. Not when you're old and grey. It just made me wonder what are they gonna do then? That's what Macho Man's about – not JJ as some people think!"

Debut album, 'Square One' comes out as British music is fast changing – and The Edge get left behind in the rush. An offer to back folkster Ewan MacColl's daughter, newcomer Kirsty, brings more success, and soon another invitation arrives from Akron, USA. Singer Jane Eyre needs a backing band, and The Edge change their name to The Belvederes.

"We were getting more money from being session players. In the end, I had enough. I left the band – and we went out separate ways."

Fame was slipping away, and times were changing for Glyn. Back in Ebbw Vale as a talented nine-year-old, he made his first guitar from a plank of wood and some elastic bands. Then, in his teens, he was stirred by the sight of Paul McCartney on the telly:

"I bought the same bass – the Hofner fiddle. He was the first bassist who could play and sing at the same time," London was an attraction, and he relocates in the mid-1960's, touring with fading one-hit wonders Unit Four Plus Two and Chicory Tip. He also fronts avant-garde rock outfit Jade Warrior, and later on, the Yachts. In 1980, it is time to return to his roots, and to look after his ailing mother. Nowadays, Glyn has traded rock music for stonemasonry, but memories of his heady post-punk time leave the charming, cheerful musician with nothing but warm recollections interrupted only with laughter.

"The Edge were fucking great, man. Even though Jon was a total shit - I'd still like to…[LOL] meet up with him! And Gavin, of course, who I lost touch with. He went on to join Lew Lewis Reformer, got married and that's all I know. I tried to get hold of him a while back but nothing came of it. The last I heard of Lu was he went on to play for Spizz, and also The Mekons, Public Image and Billy Bragg. He was doing up his pad in Stockwell, south London – in between travelling around the globe in search of new music. He'd go to deserts and stuff, with his portable DAT player– and record the throat warblers from Azerbaijan! But that's Lu!"


Glyn's own blog HERE

The Edge mentioned HERE

The Edge set list, possibly from the Nashville in 1979 courtesy of Max Sillars.
Hi Gary, attached is the Edge set list from - I'm pretty sure - a Nashville gig on 17th Feb 1979.

Looking back through my diary of '79 I've started to put the Edge dates in a list. Out of this list, I recall two gigs that didn't make it to the end of the set.

The 20th Jan date is where the Edge supported the UK Subs at ULU. Usually at gigs I'd have been within 50 yards of the stage mixing the sound, and would often abandon the desk to try to avoid a stage invasion escalating. It wasn't so much the trouble we cared about - but that after most stage invasions it was quite usual to find a couple of canon plugs hanging limply from the mike stands with the Shure SM 58s gone, so being on stage very quickly was essential to prevent loss of the whole nights earnings. But aside from the money, a loyal crew - even wimps like me - could hardly stand by as musicians fought off crowds who'd imbibed antisocial levels of amphetamine and alcohol.

However on the 20th Jan the desk was sited right up on the balcony at the ULU - in heavy crowds a good 10 mins from the stage. 8 numbers into the set a mob of anti-Semitic types swept up on to the stage like a wave, trashing everything in their path. I watched helplessly – not that my contribution would have made any difference - as Jon Moss was held upside down by two skinheads while a third kicked shit out of him. I had to have it explained to me quite a few times as why he'd taken the brunt of it, and others had got off more lightly. I couldn't understand how a crowd of NF supporters in the crowd listening to a band play could know Jon was Jewish - but they did.

The other Edge gig of 1979 that never made it to the final number was the 17th March Windsor Castle. We'd all seen people get electric shocks when playing guitar and touching the mike with their mouth, and usually it was nothing more than a whack. But as Lu Edmonds stepped to the mike half way through the set that night he got a full mains belt that had him frozen to the stand for a full 30 seconds before he collapsed. I can remember looking up at half interested punters supping pints, as I wondered if any of them would notice if a got the exact ratio of cardiac massage to mouth to mouth respiration wrong. As it happened Lu was still breathing, it was his brain that was now in another place. He had a thousand yard stare for quite a while, and in my view he was never quite the same person again. Still, having had a one to one with God on a mountain top is bound to change you. That and the realisation of how close you came to being dead on the floor of the Windsor Castle. Through the summer of '79 there were fewer and fewer Edge gigs, and I notice from my diary that by the 9th & 10th of October I'm doing the sound for Jane Aire & The Belvederes, so I guess it was all over by then.

Please give my regards to Glyn when you see him, and do tell him to get in touch. I'd really like to meet up with him.

All the best,

Max
Will do, Max. many thanks for your emails and set list.
Meanwhile, it looks like we have stuck oil...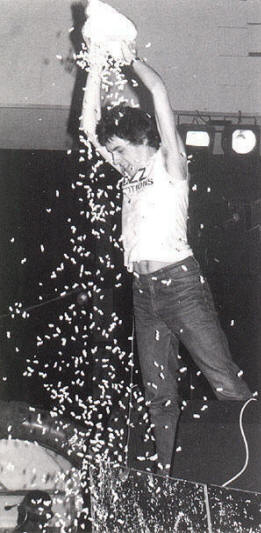 He plays Battersea in 1978 - asks 'Where's Captain Kirk?' in 1979… and releases the second best England World Cup song in 2006.
Let's get Spizzical!
FRIDAY EVENING – fresh from a five-a-side weekly workout, wee Spizz puzzles the surrounding suits in the packed boozer off Borough High Street. He ignites with zeal, recalling Battersea's infamous stripper-thon:
"Me and Pete couldn't believe it. I mean, there's us two fit and hand… well, hot-blooded young men… and surrounded by all these strippers! It would have been even more amazing if we'd known about it! You see, we came on and did our slot and had to leave right away to get to Aylesbury supporting the Banshees – it makes Phil Collins look silly – I mean, we had a car, not Concorde! So we didn't know anything about the strippers until afterwards. We were gutted when we found out - gutted!"

Effervescent Spizz is a Punk rock survivor. At 47, he still oozes energy, which is no coincidence as he still fronts the modern day line-up of Spizzenergi - with newbies Si on guitar, Matt on bass, and Jeff who has drummed for the London Cowboys. I caught them recently in London, and they were as tight as the proverbial bird's rear.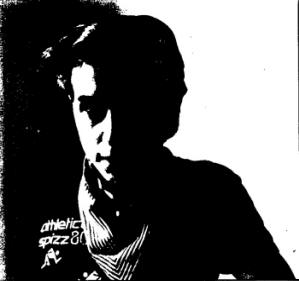 Timeless spikey classics like 'Soldier, Soldier', '6,000 Crazy' and the ubiquitous 'Where's Captain Kirk?' entertain the Luminaire's mixed bag of curious youth and middle-aged onlookers - no doubt recalling the days Spizz was the prettiest, best known alternative luminary. Clowning in the stagier songs, witty and self-effacing in-between, he works the crowd with his hilarious tuneless guitar intro lead to 'Spock's Missing' – and a bulging mystery bum bag falls from his waistline halfway through. He peels off a bright red oriental silk shirt to reveal a black sequined cabaret shirt – "£30 off Ebay. 10 quid for the shirt - 20 quid postage and packing…" Spizz likes props: "I felt I had to have other things to entertain and keep the audiences' attention, I never thought I was good enough just on my own." Onstage in his hey-day, he once showered the crowd with a bag of polystyrene packaging: "That's because they were in the shape of the letter 'S' … for Spizz!"

Spizz is a shameless self-publicist, calling BBC Radio London's football phone-in last year to vote for the best England 2006 World Cup song – exposing his own song on-air. 'We're The England' CD Is promptly handed to the station's Marylebone Road HQ by a dutiful Spizz. Entering the song race late – he still achieves a very creditable second spot after winners Sham 69. A better result than the England team, in fact! One thing's for sure, Spizz should have, most definitely, been a contender. Back in 1992, Michael Stipe's REM sought clearance to record their version of 'Where's Captain Kirk?'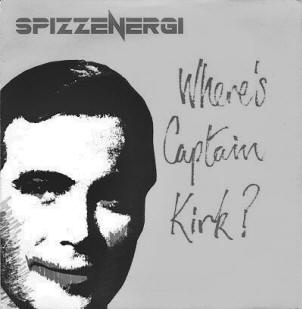 "I thought I was going to be 'quids in' - I agreed. REM then went and released it as a giveaway single that Christmas to 6,000 members of their fan club."

The comical lyrics based around Star Trek came to Spizz while sat on the bus after a rehearsal. Keyboard player Mark Coalfield's riff had infiltrated Spizz's head, although Mark's music and original words were obscure: "It was called 'Nobody's Who' then, but all of a sudden the first two verses just came at me on the bus. I got off, ran into the house and wrote verse three and that was Captain Kirk. Amazing."

'Captain Kirk' comes out late 1979, and spends most of the following year in the nascent Alternative Chart - two months at Number 1. A refusal by Star Trek actor William Shatner to appear in a photo opportunity at the London premier of 'Star Trek: The Motion Picture' fails to deter sales.

"I've always loved sci-fi and Star Trek – right from a kid. It's only now I know it's basically just Bonanza - with the cowboys and Indians dressed up in silver space suits. Captain Kirk sold stacks – but they weren't bought from the right shops. Rough Trade wouldn't go along with the BPI rules on publishing – it would have cost them a lot of money. So we never got the exposure and weren't fully recognised. Quite simply we didn't get into Top 40 and didn't get to go on Top of the Pops. I mean, the Arctic Monkeys got to Number 1 with sales of 50,000 - we had that in advanced sales for the next single, 'No Room'."
Renaming the band marks more band re-shuffles – and
Spizz has more line-ups than a Cuban firing squad!

Like the Queen's Trooping of the Colour, the changing of the band's name is an annual institution for Spizz - once known as Kenny Spiers from Solihull.

"I was Spizz 77, that's because a friend pronounced Spiers as Speez - then Spizzoil the following year, Spizzenergi, Athletico Spizz 80... Spizzoil was always my favourite. It looks good, and it's symmetrical, and the intials are Esso. I watched a documentary on huge oil rigs and thought 'Spizzoil - that's it!' Spizzenergi is the energy from the oil. Of course, a large energy company now use the same logo. With the publicity we were starting to get people where asking what's next year's name then? A lot of people would have been scared to change their name at that point, what with Captain Kirk doing so well. Athletico Spizz 80 came about as our tribute to the Moscow Olympics, because there was a fear it was gonna be boycotted because of the invasion of Afghanistan, so we were getting ready to field our own team, and that's what Athletico Spizz 80 sounds like. I did once try and get in the Guinness Book of Records for the most name changes for a band - but they said we were too specialised."

IT ALL STARTS in August 1977: Spizz watches the bands perform at Barbarella's Punk all-dayer, and the stage beckons:

"I knew one of the guitarists so I asked if I could borrow his guitar and blag a gig straight after. So I got up and the crowd thought I was part of their set. I just started singing away in front of a thousand people, totally improvised and spontaneous. I was terrible, but the reaction I got was out of this world – although the promoter wasn't all that impressed: he switched off the power and threw me off the stage."

Hooked, and minus a microphone, Spizz immediately invents a chant – 'I've Been Switched Off'. The crowd join in, and the song appears as a future live set favourite. "Very Dada – that's what punk is all about. I was terrible, but people liked me being really bad. They still do!"

After spells at Art college, on the dole and in a factory, Spizz pines for that Barbarella buzz. On his way to the station, Pete O'Dowd, an old school mate, offers a lift.

"Pete had a guitar and a car - very important, as I didn't. I had this gig lined up in London at the Vortex supporting the Heartbreakers and Penetration, and he had the wheels. We got paid £25. So from hi-jacking a gig for nothing to getting paid for a proper gig within months, I thought to myself: 'This is amazing'! I mean, we weren't good, but we were cheap!"
Symbolic of the new North Sea oil resource, Spizz 77 change to Spizz Oil, and Pete becomes Pete Petrol. As Spizz demonstrates other Spizzoil tunes, like 'Platform 3', I learn of 'oil graded' lyrics - a refinery wasted on both teenage brain and ageing stylus back then. "The 'gushy, gushy, gushing' bit is the oil rig itself," he reveals, "but it's also about the men who work there - works on two levels, huh?"

Promoter Dave Woods secures a support slot for the Banshees at Camden's Music Machine - "For £25." The first John Peel session follows, plus a Banshees UK tour. On 16th September 1978, Spizzoil appear at Battersea - "£25." wearing their customary 'OIL' T-shirts. – and miss out on the strippers after beating a hasty exit to support the Banshees at Aylesbury Friars - "£50!". Many of us who witness Spizz in those days recall the high octane wall of sound and wailing vocals, but also the excruciating noise of his kazoo.

"Oh yes - it can still make dogs ears prick up. At one gig I burst my ear drums with it. They were bleeding - I thought it was both exciting and scary at the same time!"

The call of the capital beckons, and the pair move in with promoter Dave's secretary – and Banshees' bassist Steve Severin along with Skids' singer Richard Jobson downstairs. "A punk rock Young Ones…"

Signed to fledglings Rough Trade in 1978, the minimalist duo release two EP's; '6,000 Crazy' – ("murder one, searching for, murder one, third degree…") and 'Cold City:4' – the titular track that conjures up the soulless solitude of being alone in the city like no other song can. By 1979, bassist, keyboardist and drummer are added to become Spizzenergi. In March, they lay down the formidable disco pastiche, 'Soldier, Soldier', a cover of Roxy Music's 'Virginia Plain' and 'Where's Captain Kirk?' NME Single of the Week, 'Soldier, Soldier' fares well in the charts but 'Captain Kirk?' gets the rave reviews, and Melody Maker declare it their Single of the Week. 'No Room' follows 'Kirk' to the top of the Indie charts in 1980, backed by 'Spock's Missing'. The cracks already appear in Spizz and Pete's relationship.

"We had an argument. Basically, I shagged his bird. Well, we were shagging the same bird, so he left. Then he came back, but our bass player said he was no good, so I let him sack him. But then he came back in the '90's, and he got my missus to do a print job for him. He then moved to New Zealand without paying up, so he was sacked.. again!"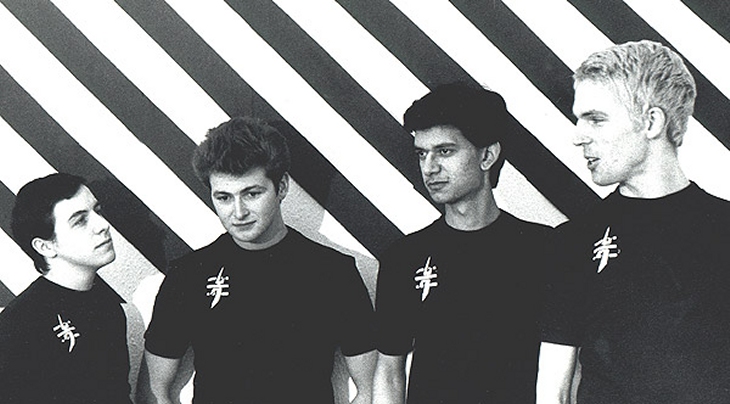 Following a brief tour of Europe, Athletico Spizz 80 return on the Spring bank holiday weekend to lay down their debut album, 'Do A Runner', which is released by A&M and enters the Top 20. While typically angular, it fails to contain singular success: up until now, Spizz released a grand total of fifteen tracks over six singles. That August, Athletico sell out a record five nights at the Marquee – plus one booze-free Saturday afternoon matinee for the kiddies. By 1981, change is in the air, and a new guitarist enters the Starship Spizz:

"By 1980, we had gone through seven guitarists and four drummers! I hadn't met Lu Edmonds until the audition… (they were both at Battersea). With Lu on board, our manager at the time said we were gonna be as big as The Beatles, and we must become The Spizzles. Sadly, we weren't. I remember when he heard rap music for the first time, he said that would never last. Clearly a man with vision - anyway, we sacked him too!"

"… as big as the Beatles."

With the release of second LP 'Spikey Dream Flowers', the band tour Germany and US and subsequently split. Spizz hobbles on in the guise of Spizzenergi 2, Spizzorwell, Spizz's Big Business, Spizzsexual and Spizzvision. In 1990, Pete Petrol returns to revive a techno version of Spizz Oil. In 1996 Spizzenergi play Blackpool's Punk Festival, Holidays In The Sun, and the line-up sticks. Meanwhile, in Covent Garden's sunny Piazza in 1999, Spizz appears clutching a fistful of fliers for an upcoming 100 Club gig. In the adjacent Dr. Marten shop, The Stranglers perform a handful of their hits.

"I thought they sounded alright, but I didn't envy Paul at all, taking over from Hugh. Although he certainly puts the work in - now JJ… he's still a bit 'scary' isn't he?"


Name More Heroes!
Spizz's busy multi-monikered almanac


1977 - SPIZZ 77
1978 - SPIZZOIL
1979 - SPIZZENERGI
1980 - ATHLETICO SPIZZ 80
1981 - THE SPIZZLES
1982 - SPIZZENERGI 2
1983 - SPIZZORWELL
1984 - SPIZZ & THE ASTRONAUGHTIES
1985 - SPIZZ'S BIG BUSINESS
1986 - SPIZZSEXUAL
1987 - SPIZZ
1988 - SPIZZORBIT
1989 - SPIZZIVISION
1990 - SPIZZOIL
1991 - SPIZZENERGI…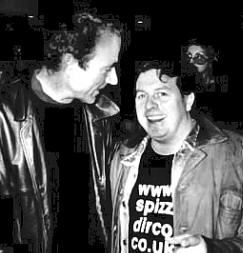 These days, Spizz's live outings are few and far between, happily spending time trading on Ebay. Although recently he performs some of old 'hits' onstage at a Punk poster exhibition at Filthy MacNasty's in London. Pete Petrol, on the other hand, enjoys a different life on the other side of the world.

"Pete's big in Microsoft nowadays. We patched up our disagreement on the Internet in 2004. He came over to see his mum as she was ill. So I lined up a gig at Filthy's and a radio interview at Resonance FM as well - and then I got in touch with him. We did it – the first gig in fourteen years - it was great. I'm hoping we can do something this year, being something of an anniversary for us. I've emailed him… several times, but who knows?"

Who knows indeed. But now it's Friday night – and chucking out time in the boozer. Our unsteady steps take us along Southwark's cobbled yard towards our separate ways. I'm left with aching jaws courtesy of Spizz's uniquely surreal humour. He strikes me as someone who has come to terms with life outside the fast lane; a happy, self-effacing, down to earth chap who went on a trajectory – and missed going intergalactic in the post-punk fallout. Fuck knows why. Surely he must be bitter of events keeping him out of the Top 40 and off Top Of The Pops? - an injustice I find hard to swallow tonight. Maybe he was too ahead of his time? Something he recommends new artists should avoid at all costs. "It just doesn't pay…" Our beery meet winds up in Borough High Street as he recalls bumping into his idol, David Bowie - and Madonna too, ending with the idiom: "…and never meet your heroes. It always ends in tears."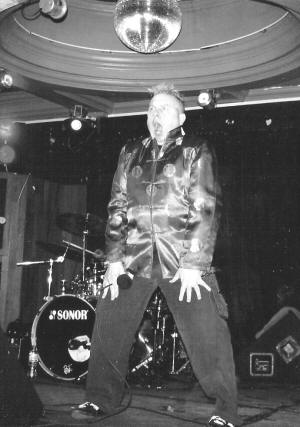 I'm convinced I've met mine. Back on the Underground, I'm filled with satisfaction, and sadness. Cult status will be next on Spizz's agenda. That and penning the next Olympic Games theme tune. I'm back home, lifting the dusty turntable lid and placing the stylus onto my cult 45 - Spizz's finest moment - a truly fantastic platter everyone should know, not just Punk and New Wave aficionados - or Trekkies, for that matter. As the words to 'Captain Kirk' dissolve into the late night ether, Spizz's long-forgotten helium-filled message fills the run-out: "Where the fuck is he? Frankly Scottie, I find this whole episode quite irrational."

Totally.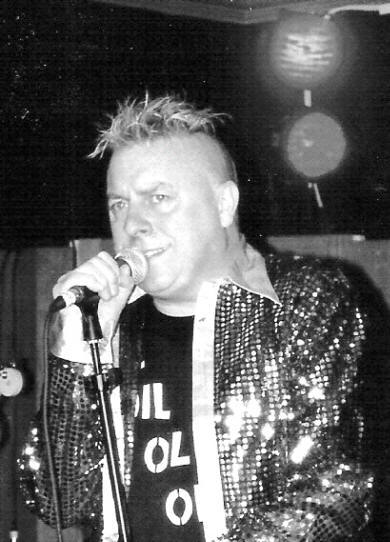 Spizzenergi HERE
Spizz TV HERE
Spizz Photos HERE
Photo credits: The Luminaire, Kilburn, 28th February 2007 © Gary Kent. Others: Jeanette Beckman, Andy Maslin & Spizz
Betroth and divine


The Skids are covered by U2 & Green Day. Richard Jobson talks about the upcoming reunion – and gigs with The Stranglers.





SANDWICHED BETWEEN The Edge and Peter Gabriel, overshadowed by headliners The Stranglers, a young unknown Scottish band nervously take up positions on an alfresco stage in a south London park.


This is Battersea Park, Saturday 16th September, 1978…

The Skids unleash their upbeat power pop, commandeering the attention of the crowd, not just by Stuart Adamson's catchy chords and the sound of his intricate riffs (that U2's guitarist Edge will go on to embrace throughout their huge career), but also by front man Richard Jobson's bobbing, weaving, Kung-Fu kicking dance style – while mangling the vernacular out from each vowel into incoherent submission. I never envisaged the impact this four-piece would have, but right away I'm buying each of their ensuing ten hit singles and four albums. Naturally, it was a sad day in 1981 when they spilt - but an even sadder day was to come later twenty years on.


It's December 2001 when film writer Richard Jobson emerges from a Soho cinema screening. He's on his way to write a review when he switches on his mobile phone to find a massive fifty missed messages:


"I knew something seriously bad had happened."


Guitarist Stuart Adamson is dead - discovered in a Honolulu hotel room. It is a tragic end for a talented musician found enormous success in his post-Skids, stadium rockers Big Country. But unknown to fans, the apparent suicide coincides with an upcoming drink-drive indictment; Stuart secretly battled with the booze.


"All these texts and voicemails were from friends, journalists and ex-band members" Richard reveals. "I started to listen to them, and I couldn't believe it. It hit me hard. Me and Stuart lost touch and we sort of went off in separate directions, separate paths. But you've got to remember as kids, we were very tuned in to each other. It was a very sad moment."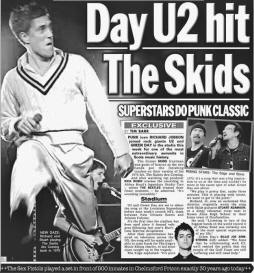 The following year, memorial concerts featuring Stuart's son, Callum on guitar go ahead, and are hugely popular with Skids and Big Country fans alike. For Richard, it's a homecoming - fronting the band that gave us the anthemic 'Into The Valley' and of course, 'The Saints Are Coming' - the song U2 and Green Day released to raise funds for the victims of Hurricane Katrina. U2's guitarist Edge is a known fan of the band, playing Adamson's guitar solo note perfect, testimony to Adamson's influence. Richard is smitten:

"I really liked the U2/Green Day version of The Saints. I'm a fan of U2 myself. Edge kindly invited me down to the studio when they were making it, to glean my approval I suppose. The Skids were long forgotten in many people's eyes, but the new recording has since brought about a rejuvenation…."

Now making movies instead of reviewing other peoples, I called Jobbo's mobile as he's getting ready for the British Film Institute screening of his latest cinematic work – 'A Woman In Winter' and Q&A session – busy times amid promotion for two new retrospective Skids albums. 'The Saints Are Coming' - a 21-track 'Best Of' and 'Masquerade, Masquerade' the 1980 Hammersmith Odeon gig with some Glasgow Apollo snippets from 1979. But he is still affable and eager to talk, despite a false start:

"Sorry, I'm on the other line. Can you call back in five minutes…? Sorry Gary, I'm still on that call, can you give me two minutes…? I'm still on the other line, sorry. Can you give me five minutes? Before finally getting clearance: "Sorry about that, I was on the phone to my brother. Okay, where do we start?"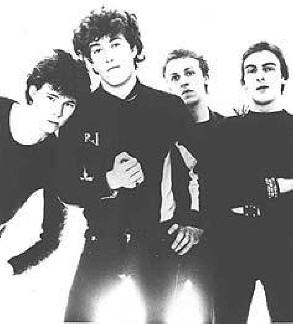 THE SKIDS story starts three miles northwest of Edinburgh in a town called Dunfermline. Exactly thirty years ago, rough diamond Jobbo joins Stuart and his bass playing school pal, Bill Simpson. Drummer Tam Kellichan comes from an advertisement and the fearsome quartet are born, making their mark on the British punk scene with 'Charles', their three-track EP. Radio One's John Peel is the first to champion them, with an ensuing session and Virgin pick them up for an incredible eight album record deal. Early gigs are supporting the big boys of the Punk scene.

"Playing with The Stranglers was amazing for us. They were on top form, and there we were opening each night for them. Amazing. Three nights sold out gigs at Glasgow Apollo, these gigs were seminal, and there was violence tool, especially with the Apollo bouncers. But they were great nights, and this is where we first forged our strong friendship with The Stranglers, with Hugh and JJ, and their fans."

'Sweet Suburbia' debuts in September 1978, but not even the white vinyl Virgin gimmickry can stop it from floundering in the charts. A support slot for The Stranglers at Battersea Park comes up, and the band jump at it.
"Having the strippers onstage… can you imagine anyone
doing that now? The furore it would cause –
it was bad enough then!"
"Battersea was the first time we played outdoors, in a festival situation. It was also the largest audience we had played to in London. I think the gig went pretty well for us – we got a good response from the crowd that day. I remember there were a lot of bikers there, and the Finchley Boys too - how can anyone forget the strippers? They were really quite beautiful – not what you would expect from seedy strip clubs or anything. I mean I was only 16 or 17 at the time, we were just boys, and The Stranglers were men, but the strippers they had on were really were classy. But it all fitted in nicely with the sexual thing they had going on, didn't it? Can you imagine anyone doing that now? The furore it would cause – it was bad enough then!"

The band play fervently, avoiding needless pretence and pose. Tunes were like rocket-fuelled attacks, thanks to Stuart's choppy riffs and fuzztone chords, and no foot goes untapped, no terrace chant unsung. With Bill and Tam holding down the backline, The Skids were well and truly on the stellar ascent. Incendiary songs played in their set were: Charles, Open Sound, Reasons, Of One Skin, Contusion, Night And Day, Sweet Suburbia and The Saints Are Coming.

Second single, 'The Saints Are Coming' from their four-track EP falls short of the Top 30, but it's enough to get on Top of the Pops. With his gap tooth, Jobbo looks every inch the thug for his BBC appearance. Swaggering and swaying, high-kicking kung fu more sparring partner on speed than martial arts expert. Highland Flinging for the New Wave, belting out his prosaic. I have to say, Jobbo's lyrics were quite often impenetrable, unless in possession of a lyric sheet. And then breakthrough hit, 'Into The Valley' comes along February 1979, storming the Top 20. Rarely has a hit merged such obtuse imagery with an anthem to end all anthems: The perfect antidote for Punk detractors.

Album 'Scared To Dance' enters the Top 20. Without a duff track, it's crafted and crammed with twisting riffs. Emotion and passion, with vainglorious Boys' Own battles. But even during the recording sessions, Stuart felt the need to escape during tense moments, and his walk-outs meant that guitar overdubs were done in his absence.

Next single, 'Masquerade' reinforces braggadocio in the shape of a Top 20 hit when drummer Tam leaves. Former Rich Kid Rusty Egan joins, with yet another solid Top 20 release, 'Working For The Yankee Dollar'. 'Charade' and 'Animation' follow in the lead up to the second album. Originally named 'War Stories', 'Days In Europa' comes out with an eye catching design that stirs up accusations of racism. The depiction of a bronzed 1938 Olympic Games winner receiving a crown of laurels and red Gothic script conjures pro-Nazi iconoclasm and Aryan sympathies. Despite being 40 years too late for Hitler leanings, Jobbo answers his critics with honesty: "They say I'm pro-Nazi which is ridiculous. I mean, I'm sharing a flat with Magazine's coloured bassist…"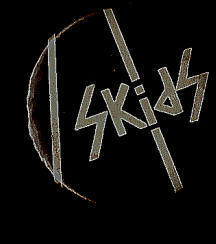 But Virgin's bottle goes, and bowing to pressure, they redo the artwork in meaningless Art- Deco. An equally needles remix is commissioned too – and it's the final straw for bassist Bill Simpson when he is omitted from the consultation process. Rusty vacates the drum stool as well, partnering Steve Strange with club nights and Visage, which features among others, Jobbo's coloured flatmate, Stuart's pal Michael Baillie fills in for Rusty – and former Slik bassist, Russell Webb, for Bill. Third album 'The Absolute Game' is bolstered by high-profile promotion and fares well, despite all three singles missing the Top 30. Jobbo inadvertently becomes fashion victim, cross-dressing Lawrence of Arabia with the Great Gatsby. In April 1980, he stands in for incarcerated Hugh Cornwell at the Rainbow. 'Bring On The Nubiles', 'No More Heroes' and 'Five Minutes' are mauled accordingly, and Jobbo parades the biggest blond quiff- coiffeur in town.

"Of course - I'll never forget that gig… [LOL] I remember it well! But it was great watching Joy Division supporting, and I met Ian Curtiss and we became friends. But I always have a huge affection for The Stranglers, especially Hugh. JJ was the cool iconic one, sometimes a bit stand-offish – even though he always had a big smile for me when I met him. Hugh - I will always be fond of, in fact I still see him and we are mates. He is someone I would love to work with on one of my films. JJ was good-looking - a bit scary at times, but he got the best looking women didn't he? I mean, they love all that animalistic quality. So you had to stick around him just in case you got any of his cast-offs!"
"JJ was good-looking, a bit scary at times - you had to stick around him just in case you got any of his cast-offs!"

Sadly during 1980, after three studio albums, the cracks already appear in The Skids armament as powerful live performances conceal the burgeoning chasm between Stuart and Jobbo:

"We weren't talking to each other anymore by the time the tour reached Hammersmith Odeon."

Stuart leaves to form Big Country, reaching global audiences and acclaim. Meanwhile, Jobbo withdraws into poetry and writing, releasing a fourth and final album under then Skids moniker, despite only involving bass player Russell and himself. A short spell fronting art-rockers The Armoury Show and then as a television presenter for late night ITV dating game, '01 For London.' He hosts a National Film Theatre Q & A for the 'Long Good Friday' DVD release, and he himself is the focus for ITV's 'Neighbours From Hell'. In 2003, he releases his own hard-hitting flick-noir - '16 Years of Alcohol' - featuring Ewan Bremner. His latest is 'A Woman In Winter'. Both are available on DVD.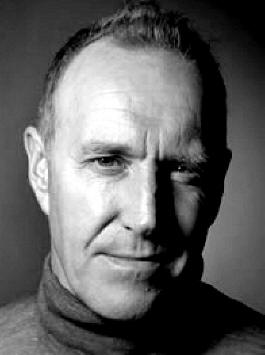 "I've always loved films ever since I was a kid. Making them is what I do best these days, cheap Punk ethic DIY films, that's me!"

Meanwhile Bill Simpson appears on BBC's 'Never Mind The Buzzcocks' identity parade while he works in an estate agency in Dunfermline. In recent years, he took a trip to Tenerife in search of his old pal, Tam Kellichan who runs a bar and plays drums in the house band. But then disaster strikes in New Orleans when Hurricane Katrina distorts and devastates the environment leaving many homeless. As a fundraiser, September 2006 sees rock giants U2 and Green Day resurrect The Skids' first single to a 70,000 strong crowd at New Orleans Superbowl, and transmitted the world over. Even up until this yea, the mere mention of reforming The Skids brought Jobbo out in a sweat. In The Scotsman, he said:

"Oh come on, I'm 46. I was in The Skids when I was 16. I was a real little punk then, quite fearless. Now I'm the opposite, and a parent. And besides, I've got my views on bands who reform after 20 years. It's always naff."

Out of the blue on 1st April, The Skids announce a concert as part of T In The Park in Kinross this July with Mike Baillie will on drums, Bill on bass, Jobbo and Bruce Watson, formerly of Big Country fittingly in place of Stuart.

"It's a goodbye celebration. Many people had forgotten The Skids had existed. it's gonna be a good way to say hello and wave goodbye... draw a line after the U2/Green Day thing. They've been rehearsing the set - but without me! I've been tied up promoting A Woman In Winter which is out on Monday, But I will be joining them in the next couple of weeks. I'm really looking forward to the gig It should be a good day. And yes, it will be a one-off – although there will be a couple of warm-up gigs… but shhhhh! Keep thatto yourself!"

Summing up, Jobbo is excited as he recalls The Skids' success from three decades ago:

"We were just wide-eyed the whole time. I was just a kid from a council estate. It was like the gates of the world had opened up for us. It was a lot of fun, and intriguing too. And wondering how we were gonna follow this up as well while dreaming of actually making a living at this. Of course, Stuart did. He had a very successful career, although I never thought of myself as a singer. But having that Top 10 hit at such a young age was an amazing and unforgettable experience."

T In The Park HERE
The Skids official website HERE
The Skids unofficial website HERE
Richard Jobson HERE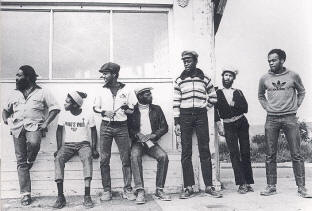 Smiley culture…
Steel Pulse also help out at the Rainbow's sans Hugh gigs. But Steve and Basil's Handsworth revolutionaries also provide support in the early days, in times when racist taunts are rife among the gigging rednecks. Jet is compelled to appear onstage during the Pulse set in Birmingham one night to tick off the audience, edifying the band as friends. Even now, the band recall "the professionalism and articulate musicianship of The Stranglers that inspire them to be as accurate as possible, making them the band they are today."
Steel Pulse HERE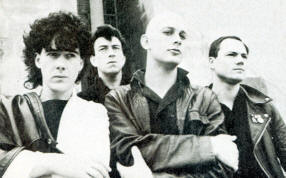 This is the modern world…
Liverpool five-piece Modern Eon are a worthy support on 1981's Meninblack Tour, and I was impressed having witnessed their set on their home turf at the grotty and grotesque Royal Court. Emerging backstage wearing Eon badges with little flashing red lights inside the 'o' bordered on posing to the extreme! But at the Rainbow on the last night of the tour, they tried a different tack of appearing totally in white, in direct contrast to the MiB - inciting the Stranglers audience to shower them in gob.
Eon's keyboard player Tim Lever later joins Pete Burns in Dead Or Alive. Former Genesis singer Peter Gabriel took the stage at Battersea in white and impressed us kids with grown-up hits such as 'Solsbury Hill' and 'Games Without Frontiers.' But when he tours the Far East in 1979, it's guitarist John Ellis who gets the gig.
Modern Eon HERE
John Ellis plays in JJ's Euroband AND the support band!
Johnny two gigs!

IT'S APRIL 1979. The Euroman Cometh tour is underway, but poorly attended. Album producer Alan Winstanley comes down to record the Hemel Hempstead gig, asking the venue's sound man where to position the ambient microphone for the audience noise. Checking ticket sales reveals only ten have sold. "Close to the front then, eh?"

Ex-Vibrator John Ellis is the guitarist - in both Euroband and his own band, avant-garde outfit, Rapid Eye Movement.

"I suppose we were very Art school. We played experimental, theatrical rock music. We also had three dancers from Hot Gossip: Penny, Dominique and Kate. I remember Dominique had a great costume. She was the wife of Daddy, one of the Finchley Boys…"

Along with keyboardist Richard Attree, bassist Alan Gruner John Mackie on drums, Rapid… includes John's school pal Daniel Kleinman.

"Daniel was previously in Bazooka Joe with Adam Ant – but more well-known for directing the ads for the James Bond films. We combined an early drum machine - the Bentley Rhythm Ace - along with real drums. I first came across that idea from seeing Kingdom Come at the Roundhouse – that's Arthur Brown's band. It was an amazing gig. Must have been about 1969. Then of course, in The Stranglers we recorded 'Fire' with Arthur Brown in a west London studio with producer Alan Parsons – a full circle, really – but it wasn't released. Rapid… didn't have a record deal. We didn't really try, I suppose. Then other REM came out by that time. But I released 'Babies in Jars' as a solo single which is basically Rapid… musicians. In fact, it's a live recording of the Hemel gig that Alan Winstanley recorded. I talked him into recording us that night as well."

Playing in two bands each night must have been quite exciting. Was it, John?

"Well, by the end I was losing interest. I mean, JJ was being a real pain... On the last night, I put him in the crowd. [LOL] I remember Blood Donor were really good, though. They had an amazing bass player (Ricki Le Gair) I went on to do some work with."

John Ellis HERE
Donor ask me…
Alongside Rapid… synth rock band Blood Donor features future members of Squeeze, Hawkwind, Flying Lizards and Toyah. With a cut-short Eurotour (pitiable ticket sales are likely causes for the pulling of Drury Lane and Hammersmith Odeon shows), the finale is at Gants Hill Odeon in Ilford – and even that's got no more than 100 people. Even with the prospect of ushers and ices, it's no blockbuster crowd. The Glasgow gig is summed up by former JJ acquaintance, writer Ronnie Gurr:
'As good as they are, Blood Donor, and to a certain extent, their fellow support band Rapid… and Burnel's band, all displayed elements of the current lead towards structured mechanical chaos. The musicians seemed wrapped up in a world of self important border-breaking, when in fact, this indulgence was , for the most part, neither good nor bad – it merely existed.'
Blood Donor HERE
High hopes for Fashion…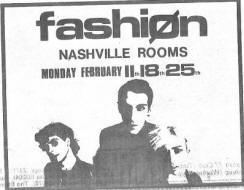 With Hugh banged up, a wide spectrum of musical talent fill in at the Rainbow gigs. Birmingham band Fashion feature Mulligan on bass, Dik on keys, and one rather tall Luke Skywalker, the 6'9" front man guitarist. Belting out eclectic reggae-tinged post-punk, with Luke's lofty frame gyrating in and out of the shaft of white light and devilish shadow on the backdrop. Or is he just dodging the bottles on the first night? Several songs into their set, they walk off. The second night passes without incident.
Fashion HERE
Joyous ode…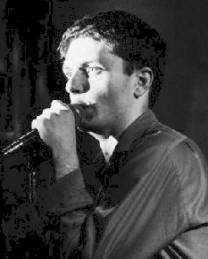 Cheshire's Joy Division aren't smiling the night play the second Rainbow gig. In a dramatic performance by singer Ian Curtis doing his signature spastic dance, he collapses in an epileptic seizure. According to eye witnesses, he had repeatedly asked for the strobe light to be switched off - thought to be the trigger. In the final song, Curtis collapses into the drum kit, and fits before being helped off stage. A mere month on, the 23 year old is found hanging in his Macclesfield kitchen by his wife. Joy Division were on the eve of their first US Tour; Curtis had just watched Stroszek by Werner Herzog – a film of someone moving to America who becomes consumed by the experience and kills himself. New Order come from the ashes, and Blue Monday is just around the corner. In May this year, on the 27th anniversary of Curtis' death, Depeche Mode video maker Anton Corbijn premiers his new movie, 'Control: The Ian Curtis Film' at Cannes.
The 1980 Rainbow set: Dead Souls, Wilderness, Shadow Play, Heart And Soul, Decades, She's Lost Control and Atrocity Exhibition.
Joy Division HERE
Joy Division biopic HERE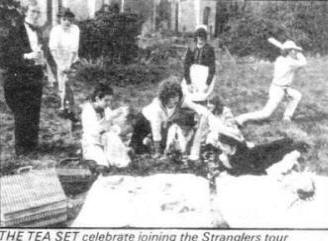 Hugh Cornwell's in jail. But he catches an unknown band on the radio. On his release, he invites them to join the Stranglers tour and offers to produce the single. What to do? Nick Haeffner recalls his days with The Tea Set
Strange Brew
NICK HAEFFNER is a Senior Lecturer in Communications at London Metropolitan University. But in 1978, he joins arty rock band The Tea Set on guitar in 1978. The Hertfordshire-based band comprises of Nick Egan on vocals, Cally on drums, Ron West on bass and Mark Wilkins on keyboards. Two years on, they're supporting The Stranglers' on their Who Wants The World UK tour.
"We didn't see a lot of The Stranglers on tour. They usually kept themselves to themselves. I was only twenty at the time, and they were relatively old for a rock band, even back then! I was also rather shy, so I wasn't witness to any rock star bad behaviour. But who knows what went on in their dressing room?! They didn't chat much really. I remember some of The Tea Set played football with them in one of the venues. I'm not saying they weren't unfriendly or superior - they were quite matey, really. We just rarely saw them. But The Stranglers' crowds were really enthusiastic on the whole, although the venues were so big it was difficult to work up much atmosphere - especially as a support band. There wasn't any hostility from the fans although it was obvious who they'd come to see! I remember one gig very clearly: it was a benefit gig The Stranglers agreed to do up in Corby. We were told that Corby had the highest unemployment rate in the country, essentially it's economy had collapsed under Maggie Thatcher's policies. I was expecting it to be pretty rough but the crowd were amazing – we'd never had such a warm welcome."

Hugh offers to produce the bands' next single, but it wasn't all rosey. Nick recalls a familiar quirk of Hugh's circa 1980 recording methodology.

"We already had a single out which was the one Hugh heard on the John Peel session when he was in prison. When he got out, he told his publicist, Alan Edwards, to get in touch with us to ask us if we'd like to have him as a producer. The band were quite excited and agreed. We went into the legendary Wessex Studios with Hugh for a day to record the single. He was very serious and very methodical: he wanted each of the drums to be recorded separately, and it took ages. I may have remembered this wrong, but I think that Keep on Running was originally going to be the B side but it took so long to do that we ran out of time and had to use it as the A-side. In any case, I'd have to say that it didn't work out as well as either of us had hoped. Hugh was still learning how to produce and hadn't quite mastered it and we weren't really cut out for the approach he had. It felt a bit clinical to me, especially having to do each drum separately. Still, I'm glad we had the opportunity to work together and Hugh was a decent guy. In other words, no big ego trips or other nastiness.
Hugh was very serious and methodical:
he wanted each drum to be recorded separately

As fans on the WWW tour will testify, Nick's band were very 'of the moment', blending in angular melodies with jaunty rhythms. To this day I recall one of their songs from their set, that went: "I'm just going outside, I might be sometime…" and Nick reminds me this is Left One Two. He also offers a freshly unearthed version that remains unreleased until now.

"Our live sound was very raw, quite chaotic sometimes – punky even, very exciting and a bit ramshackle. None of us were what you would call real musicians at the time and sometimes things would fall apart a bit but it didn't seem to matter because the energy and fun was more important – that's the punk ethic for you! Our biggest influence was Wire, who had a great sound on their three albums. Parts of our unfinished, unreleased LP were getting towards that kind of sound. However, the records tended to be done with each person recording their part separately so we lost a lot of energy and excitement of the live sound. But The Stranglers' connection led to us recording an album for EMI with Steve James producing. He was a more experienced producer but I still think that both Steve and Hugh wanted to turn the band into something which we weren't – neither the single or the album sounded remotely like the band sounded live. This led to a lot of tension in the band with arguments about our direction. The album ran over budget and EMI weren't interested in paying for it to be finished which was a bit of a tragedy for us as we'd worked really hard on it. I think we'd have made a better album with a different producer. Still, I'm grateful to Hugh for showing interest in us and for giving us some quite big breaks."

The Tea Set succumbed to the strains of pressure and disbanded a short while after. In 1986, Nick released his own album, The Great Indoors. These days his talents are fine tuned to lecturing film studies and cultural history, and recently published a book on Hollywood film maker Alfred Hitchcock.
Left One Two and Sawtooth – two unreleased Tea Set tracks
Hitchcock book HERE
Another Nick interview HERE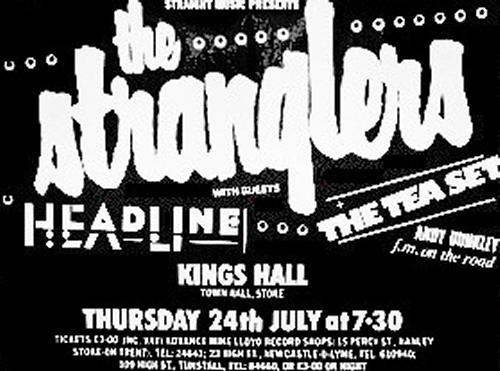 Headline add some colour
to the Rainbow in 1980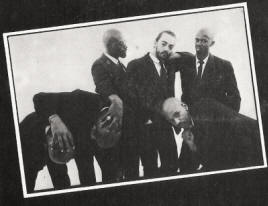 Don't knock the bald head!
IT'S JULY 1980 – and rammed at the Rainbow. Spirited, devoted black leather bomber jackets are rightly omnipresent and correct, ready for The Stranglers' first night of the 'Who Wants The World tour'. Nervy, expectant excitement is in the air: It's just ten days from their release from French jail following the Nice University riot. A swirl of dope flits across the front of the audience. The house lights fade. Support band Headline step onstage, unknown, unloved - and face to face with the headliner's audience; you can almost hear a smart silver tie-pin drop in the quiet hiatus.

Suited and booted, Headline come on from the left side of the stage, strutting linear, like a black version of Madness in Nutty Boy fashion. The thug to my right is filliped into making an informal greeting aimed at the band; "Wankers!" Myopic morons at the front boo and whistle while Headline march, march, march, chanting a deep baritone mantra:
'Don't knock the bald head - Don't knock the bald head!
Boongy boong boongy woongy! Don't knock the bald head!'

It's an unforgettable entrance. They hit centre stage, and suddenly scram in all directions to grab guitars, microphones and drumsticks. Acappella out, in comes their schizoid mesh of pop-tinged Ska. Black suits, black ties, white shirts, skanking natty dread – five black baldheads and one white guy. Lean lead singer Michael holds onto the mic stand as bassist Winston bobs about, tugging at his black Music Man bass, with Kevin skanking on guitar and synth-player Richard leering at the mob, playing bubblegum synth riffs, with knees-ups and Ska 'chikka-chiks' a-plenty. The crowd's earlier coolness thoroughly thaws as Rudi Don't Fear and Highway Hassle fill the theatre with infectious, insistent Ska - followed by Bald Head Revolution, and a return to their single, Don't Knock The Bald Head.

The press had a field day. They liked them – but with measured hatred. Lead singer Michael Riley was singled out for shaving off his Rasta dreadlocks he donned in his previous band, Steel Pulse amid opportunistic bandwagon-jumping jibes. But there must be more to his exit from Steel Pulse… was he pushed?

Ska first hit British shores in the late 1960's. Known then as Blue Beat, after the record label, it was earthy, contagious and uplifting to hear spilling from sash windows with the waft of West Indian cuisine bubbling away on the stove. I sometimes went with my dad to Dalson's run-down tenements where he built, painted and decorated to the specification of the black mommas of St. Mark's Rise: doors and frames primrose, brickwork reddy-brown, with light grey pointing in between. 'The Israelites' by Desmond Dekker – played continuously – as the Mommas filed to church in their Sunday best outfits. Dad did his dad-dance up on the scaffolding to impress, and I tapped a trowel to the beat.

Job done, the warm West Indians came out to hand us a stack of Blue Beat platters. I have still got that old Desmond Dekker 45. Then suddenly I'm 17 and looking up at Headline. Their fun and energy infectiously spread throughout the front row and beyond. In Roach's Records I collect their Bald Head single, and wonder what happened to them. I'm about to find out.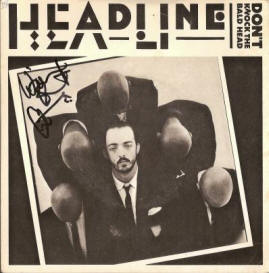 TWENTY SIX YEARS on, I meet bass player Winston at Churchill's - of all places. It's a crisp sunny Sunday afternoon not far from the seafront of Southend.

Today, Winston Blissett forms a jazzy quartet doing wild funky and chaotic covers such as Green Onions and cool version of No Woman, No Cry. But his other job is providing the bass end for ambient trip-hoppers, Massive Attack.

His old Music Man bass is now a Ken West five-string. The black two-tone outfit is today, a Puma top and white trainers. The crowd erupt at the finale, and I approach Winston with my dog-eared copy of Bald head.

"I can't believe anyone can remember Headline – I really cant!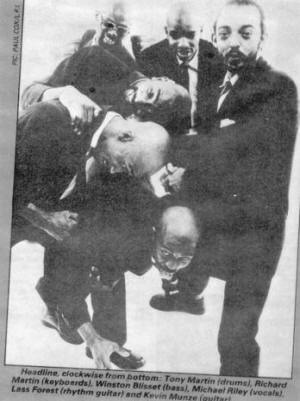 Incredulity continues as Winston admits to being part of a great outfit that never got to crack the big time.

"We were great, weren't we? I loved Headline. We actually started out as a funk band called Raw Funk – massive around southeast London - unknown everywhere else! But we'd all had enough after two years of it. Then one day, we're in the car - 2-Tone was out - all our parents were Jamaican-born - so we said: we've all grown up on Ska - why don't we just form a Ska band? Within the space of just two hours, we were Ska - we shaved off our big Afros and Headline was born."

The band soon found some luck with the help of promoter Keith Altham's publicist, Claudine. Her husband, musician Michael Riley, was eager to help.

"Mike was helping out on the management side, but he must have been getting itchy feet after Steel Pulse. He had to leave, though…. Anyway, he asked us if he could join the band. We said yes. Our first gig was at the Nashville."

At first, summer support slots bring some positive vibes from the music press, and Headline's profile was on the ascent, with gigs with Buster Bloodvessel's band. Some of them are still fresh with Winston: "Some of the Bad Manners gigs got a bit racial, I suppose. The crowd could get a bit… boisterous, but we just laughed it off at the time."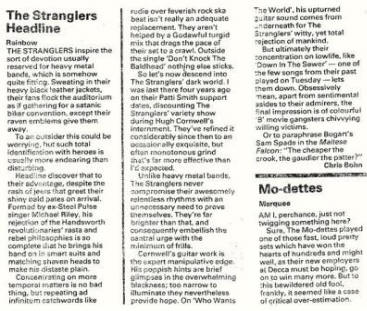 On the bill for The Stranglers tour, Winston's tells me about a raucous night at Birmingham Odeon:
"We did our set, and then watched The Stranglers do theirs. They came onstage – and the whole place erupted. It was during their set one guy in the audience heckled throughout - then he started spitting – right after Hugh told the crowd not to. So Jean Jacques karate-kicked this guy, who went flying back into the crowd. But the thing was - Jean Jacques just carried on playing, and then he turned to me, shaking his head as if it to say - "God…" Anyway, this guy who got kicked was there after the gig bragging about being kicked in the guts by Jean Jacques! I couldn't believe it!"

"The place was jumping throughout The Stranglers set. It was crazy. The vibe was terrific. But then the PA started rocking side to side – and we all held on to it to stop it from falling on top of the audience. Health and Safety was out of the window that night! Meanwhile, there was this Stranglers bouncer, a big guy… (Dino? – Ed.) who was pulling bodies out from the front row. They'd resuscitate them, and as soon as they'd come to, jump back into the crowd again! It was manic!"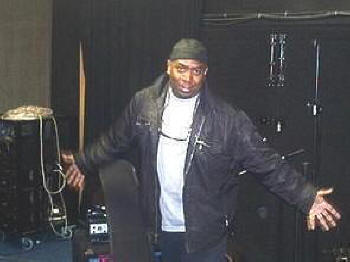 A record deal with Virgin finally came through, and in the company of the illustrious owner of the record company himself.

"It was amazing. We went along to Richard Branson's barge in Little Venice to sign this contract. There was a buffet laid on and everything. Branson was really into what we were doing. I was really surprised. We had a good laugh with him and his MD, Simon Draper, and afterwards we got a lift home in his Roller. I remember it must have been Valentine's Day because he had to deliver some roses at a doorstep – but he wouldn't do it himself: he made Simon do it. It was all very cloak and dagger, in a very posh, trendy part of London. I'd love to know who it was. Anyway, that's how I know we got signed on February 14th to Virgin Records – signed by the man himself."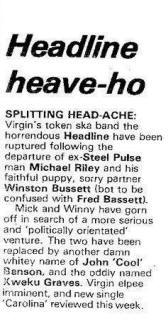 The band recorded their debut album at Roundhouse Studios in Camden. Along with the magnificient Bald Head, they covered the Folke's Brothers' classic, Oh Carolina, a song Shaggy took to the top of the charts in the early 1990's. Like a few of the other tracks, it suffered from attempting to cover all bases, to be Ska, pop, and bordering pap. This was a far cry from their spirited performances on the stages of the capital. Soon after the album hit the shops, Internal squabbles fractured the friendship of the south London posse:

"Headline was never about money, just the excitement. We had an excellent buzz. It was a fantastic band, even if I say it myself. But then it went down the path seen so many times, the usual rock 'n' roll story, where the big time just goes to some people's heads. The band thought there was a conspiracy… it was stupid, and neither Mike, myself or Claudine liked that. In August 1980, me and Mike left. It was very sad because the talent in the band was phenomena. When we split, I felt so bad for Richard Branson because I felt we'd let him down in some way. It was upsetting."

A slimmer Headline hobbled on, and released their second single without Winston and Michael who formed Bumble and the Beez. Then Siouxsie picked up on the band.

"We were recording with a couple of guitarists and a violinist. We were actually in between drummers, and our demo didn't have a drum track. One day, Michael's wife, Claudine was in her office and Siouxsie Sioux walked in. She could head the tape playing in the background and asked who it was. From there, she invited us to support the Banshees at the Hammersmith Odeon – but on one condition: that we don't bring in a drummer: she wanted it the way she first heard us.. So that's what we did, just with Mike standing at the front singing, with a bass drum at his feet, holding a cowbell, and me on the bass."

Still resident in Lewisham, I wondered what happened to the others.

"I occasionally bump into the others, but we don't keep in touch. We have a bit of a laugh about the old days. Although I do keep in touch with Michael. He's Senior lecturer in music production at Westminster University."

But did you know Bad Manners covered Bald Head ot too long ago?
"Never! I didn't know that!"

Winston is once again incredulous.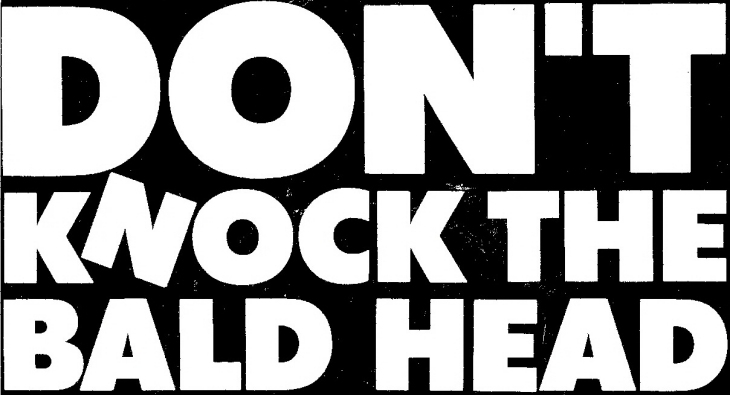 Winstonblissett.com HERE
Extra clippings kindly supplied by Stuart Bolton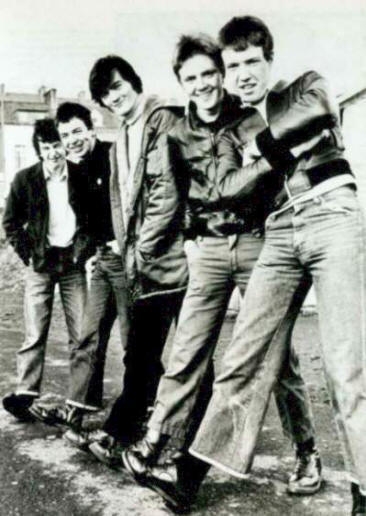 The Undertones' Michael Bradley
talks to Graeme Mullan
Teenage Kicks
It's late Friday afternoon in your typical Civil Service office in Belfast. The clock's hands tick away slowly but suddenly I overhear a conversation about music. Sadly, it's about Wishbone Ash, but I recognise a Derry accent. I turn – it's David Doherty, the cousin of Mickey Bradley from The Undertones. I jump up from my PC with rat perched on top in my T-shirt emblazoned with 'Rattus at the Roundhouse' and join in the chat. The topic of conversation soon turns to The Stranglers. Next thing, we're talking about when The Undertones supported The Stranglers – and I end up interviewing Michael Bradley for Strangled.
The Undertones formed in 1975 when the O'Neill brothers (originally John and Vinny) hooked up with schoolmates Mickey Bradley and Billy Doherty, who in turn, brought in Feargal Sharkey. Early songs were covers: Rolling Stones, Dr. Feelgood and Eric Clapton, and once Vinny left, younger brother Damian joined and influences such as The Ramones, Iggy Pop and The Buzzcocks crept in and shaped their sound. Mickey Bradley recalls the big-names coming to the University in Coleraine in 1977:
"The punk scene where we lived was just us. The Stranglers were the first big band I'd seen apart from Eddie & The Hot Rods the previous year in Belfast. They started with No More Heroes and I remember running to the front of the stage – yes, it was loud!"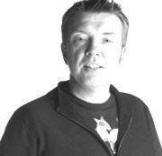 Mickey got into Grip and remembers fondly when he saw Go Buddy Go on Top Of The Pops: "It was great - but I could see this anti-women reputation from reading the NME, so it probably coloured my judgement early on. Plus - those who looked down on punk would make an exception for The Stranglers - They could actually play their instruments - was one quote, which meant some of us, as fans, looked on them as the punk band for people who didn't like punk. Completely unfair. JJ's bass was so bright and trebly, it was more like a lead instrument - brilliant riffs. Peaches was the best."
The Undertones developed their sound with new self-penned songs. playing locally as well as in support. Chester's Arcadia in Portrush brings back memories for Mickey:
"Supporting The Stranglers in 1978 was one of the highlights of the early Undertones. They were absolutely brilliant to us, and we hadn't even the record out at the time. They delayed the doors opening so that we'd get a decent sound check. We had a great show, went down really well with what was almost a home audience. But then The Stranglers came on and they were brilliant. And of course, best bit of the night was when JJ jumped down off the stage and dealt with someone who was spitting. Cool guy, absolutely."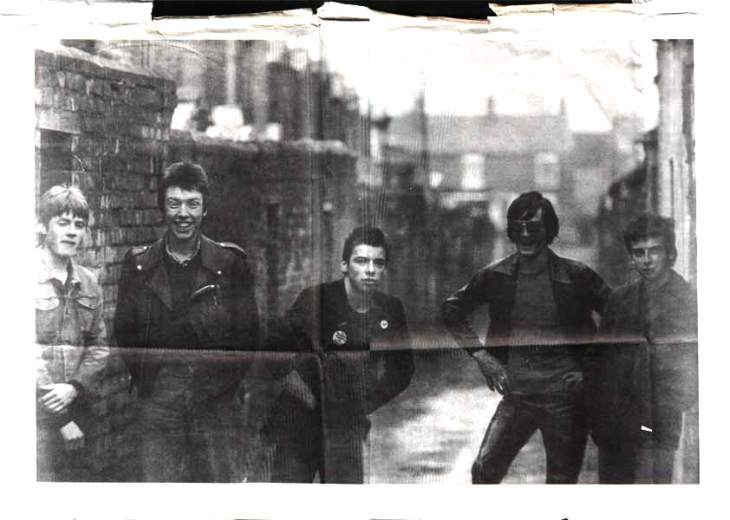 A four-track demo rejected by English record companies gets heard by Terri Hooley of Good Vibrations Records and soon The Undertones are in the studio laying down the tracks for their debut EP - Teenage Kicks. John Peel becomes the bands best known fan when he spins Teenage Kicks twice on his Radio One show. He also funds a Peel Session from his own pocket. Sire Records sign them up and the band play in London with label mates, The Rezillos at the Marquee. 1978 sees The Undertones' breakthrough with the re-release of Teenage Kicks, including the brilliant True Confessions. Following up in run of catchy singles are Get Over You, Jimmy, Jimmy, Here Comes The Summer, You've Got My Number and My Perfect Cousin in 1980.
Success comes and surpasses all band expectations. But it doesn't stop feelings of homesickness creeping in and leading to their demise. Mickey recalls the time they played a festival in France: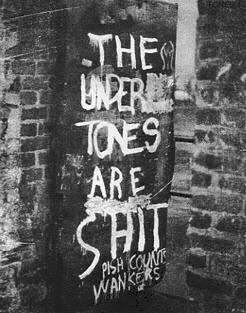 "It was 1983 and we were about to break up for the first time. The Stranglers were playing too – and JJ came straight over to say hello and talked about that Chester's gig from five years back. Then – a few years ago – we played a punk type show in Morecambe with The Stranglers topping the bill. Apparently, in an interview, someone from The Undertones said we blew them off the stage at Chester's. I don't know who said it but they were wrong. So there's JJ at Morecambe with Damian O'Neil. I wasn't there, but he brought up the quote. I don't think he was confrontational… but when JJ brings up something like that, you don't want to mess him around. Anyway, when I told the story on the Radio Ulster show, I told everyone it was Feargal. It was a joke."
Michael Bradley still plays bass with The Undertones and tours. He presents a Thursday night punk show for BBC Radio Ulster, midnight - 1am on 92-95 FM.
After Midnight with Mickey HERE
The Undertones website HERE