HOME NEWS FEATURES SPIKED BOOKS SHOP WISH LIST SPECIAL GUESTS LINKS CONTACT US MAGAZINES
Stranglers live: see the best reviews and images from the UK tour!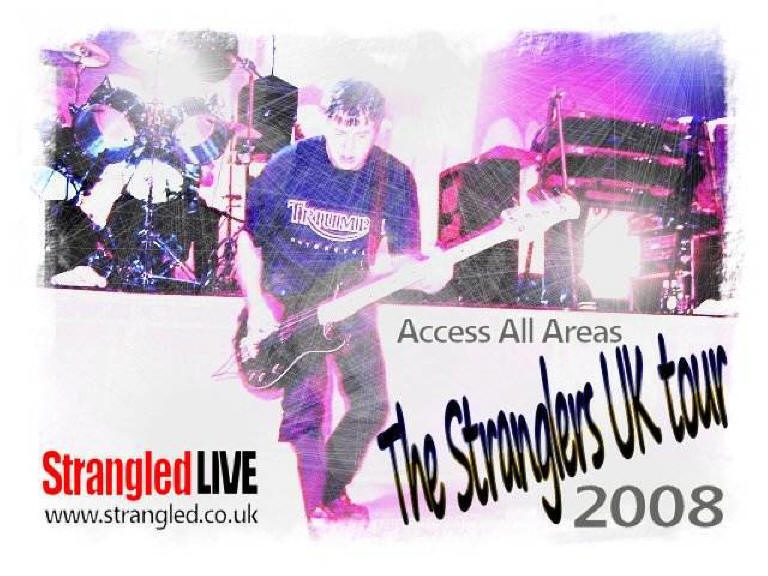 Stranglers live: Shepherd's Bush Empire 14th & 15th November 2008
It's the end of the road - Gary Kent reports…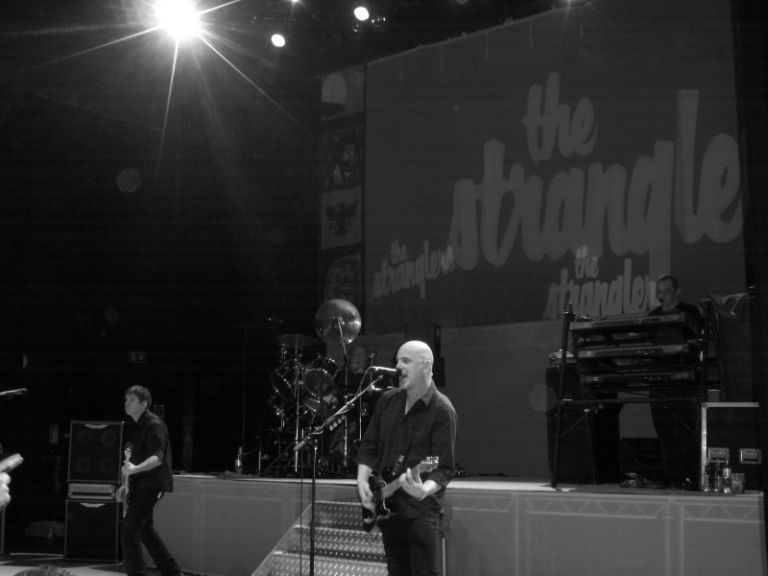 That old black magic is back…

THE CLIMAX of The Stranglers' Hits Tour comes with a brace of gigs over west London – with talk of this being the last UK tour ever. Yet at Shepherd's Bush they deliver the goods again, providing proof positive beyond any doubt whatsoever what they are capable of: powerful, high-performance melodic menace-in-black. Surely they can't be satisfied with the odd gig here and there now?

Over two sold-out nights they impress with bracing presentation, sheer stamina and inevitable staying power (in their 34th year, kids!) and who can forget their greatest hits from their rock 'n' roll rollercoaster career: Grip, Peaches, Something Better Change, Heroes, 5 Minutes, Nice 'n' Sleazy, Walk On By, Duchess... yes – all the hits and more. But this twenty-five date Hits Tour is different: The Stranglers have stumbled upon their mojo - and they're clearly lovin' it.

Just when you think in your wildest of nightmares The Stranglers might be considering a rummage around for the pipe and slippers, they dust off their Dorian Greys and blow away bands half their age – all this alongside two return-to-form studio albums, Norfolk Coast and Suite XVI. Not only that, but they survive a shift in front man personnel in between. As Stranglers fans will testify, the chemistry gels perfectly thanks largely to big Baz Warne who brings his giant charisma and humour (and song writing) to the mic spot. The exciting twist is when new blood come to watch them for the first time and realise just what a passionate band with balls sounds like live – and how. The Hits Tour reviews are in superlative overload – as these very pages portray…
Stranglers live:

sonically astonishing - visually astounding…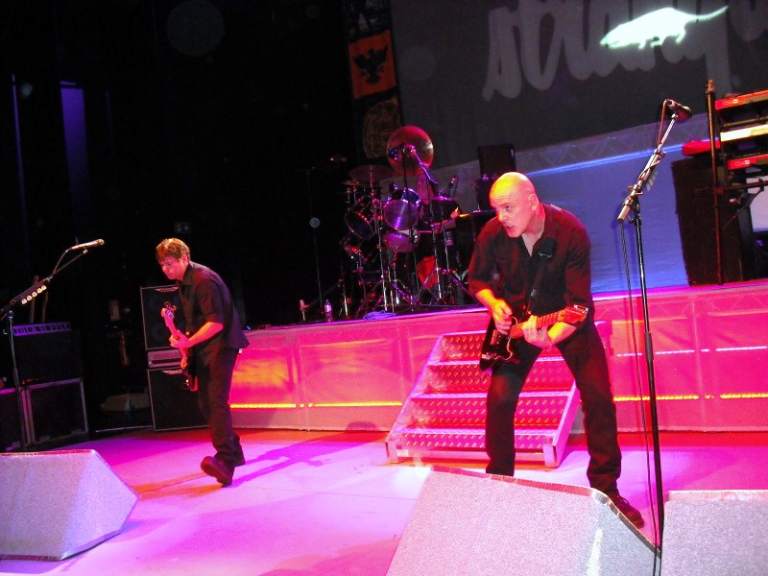 Having already caught them play twice this tour, the Bush nights did not disappoint: on Friday, Who Wants The World? gets another airing as it's crow-barred into the set. My lofty Level 2 vantage point (England U-21 manager Stuart Pierce is here) enables me to imbibe the beer-splashed ambience beneath as I quietly immerse headlong into Dave Greenfield's amazing keyboard ambidexterity and wizardry. His brilliant right hand arpeggios are flawless while his other hand cuts across with split second timing to flick another synth (that buzzing note in 5 Minutes, Sleazy and Thrown Away) before darting back in time to make the middle keyboard in front of him. Shame my studious perusing fails to detect the conniving pickpockets at work down the front as forty-one fans report stolen phones and wallets, according to Baz during the next night: "Beware, there are cunts about."

Saturday – it's back to Ground Zero: here I squash up against a packed mosh (met DJ Goldie's bro' en route) for some front line action – but with my pockets closely guarded. Like you might expect from a band at the nadir of musicianship, they are sonically astonishing and visually astounding. Playing is animated and they display telltale signs of being thoroughly 'into it' and blooming under the pink and red lights of their backdrop of LP sleeves; and you'd never guess they're suffering: according to a cheery Mrs. Jet Black, pre-gig in The Green pub, the band are, or have been, ill.

Dave might have coughed and choked on his Bacardi and Coke during the solo in Heroes and Baz's voice might have cracked close to the end, but their powerhouse performance is nothing short of brilliant. Ten out of ten. JJ and Baz dance the Thrown Away intro, scorecards for Golden Brown too. And the 'back from the dead – Jet Black' quote. Amazing JJ told me Jet was planning to start the tour – and he ends up steaming through every gig right to the end. But at the encores just before Something Better Change, I see something: JJ speaks to Baz. I turn to Baz and lip read something on the lines of: 'I'm not doing Sewer…' Instead, they end on Heroes – plus a rousing curtain call to end all gigs. Both nights became a tribal gathering with faces from far and wide, and camaraderie is further deepened pre, peri and post-gig the aforementioned Green and O'Neill's – and Paul's later on where we bed down for the two nights once we've drunkenly played out our acoustic guitars into the small hours. Earlier, top Sheffield tribute act Straighten Out make it three gigs in two days with a Saturday matinee at the tiny toilet venue – Ginglik – where they blow away 150-odd punters with their circa 77-79 set as one pal declares: it's the best fun in a loo for a fiver he's ever had!

Shepherd's Bush 2008 was the best weekend I have ever had - fact. After the pathetic pick pockets come away with their cache of cameras and cash, us fans are left with an enduring memory of being somewhere where something truly magical and unforgettable took place – and you can't take that away. My first memory was Battersea in 1978. My best memory is here – three decades on - long may The Stranglers continue, I say. Forever and ever, forever endeavour…

Waltzinblack & Grip HERE
Stranglers curtain call HERE
JJ and Baz get naked HERE
Butt… they've done it before! HERE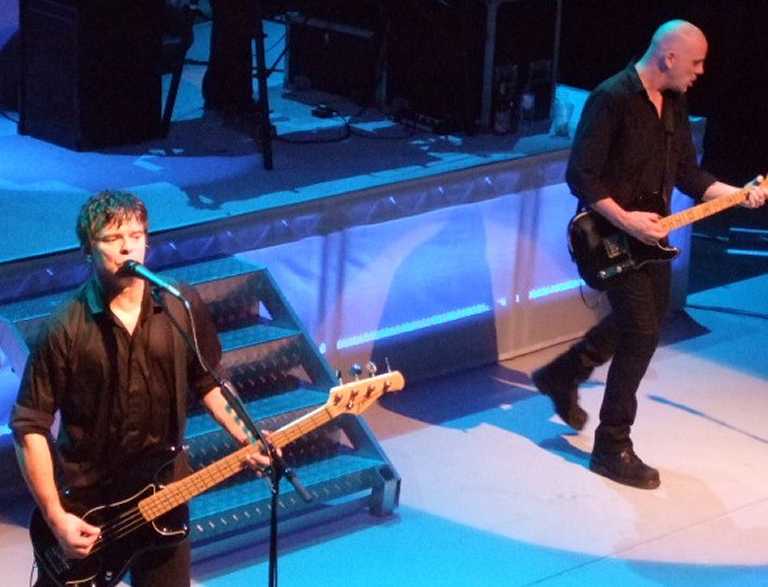 ABOVE: Shepherd's Bush pix courtesy of Colin Mace, Mike Jones, Barry Spooner, Karen P (Ice) and Paul Cooklin ©
BELOW: some more amazing SBE images from Karen P (Ice) ©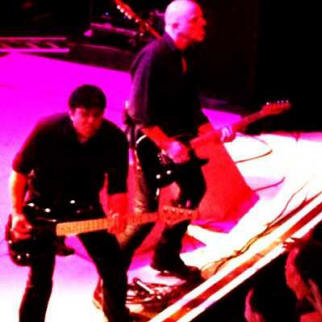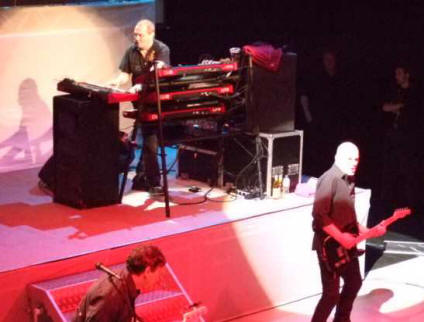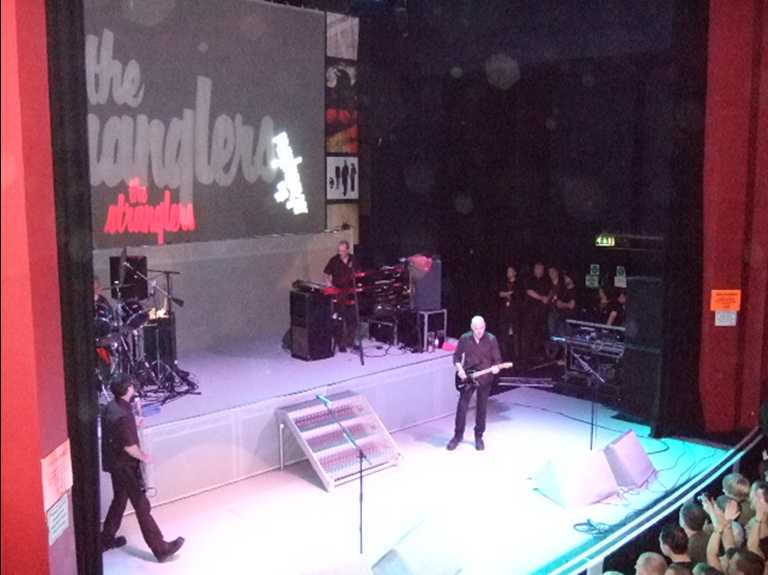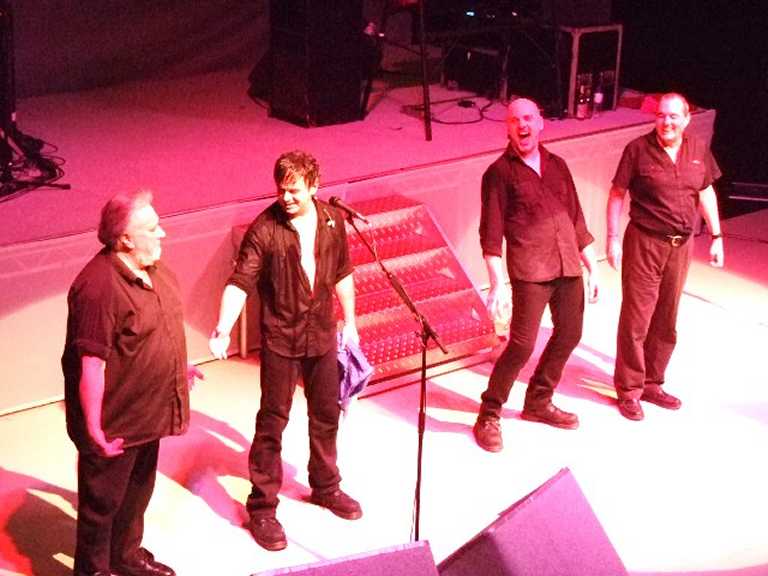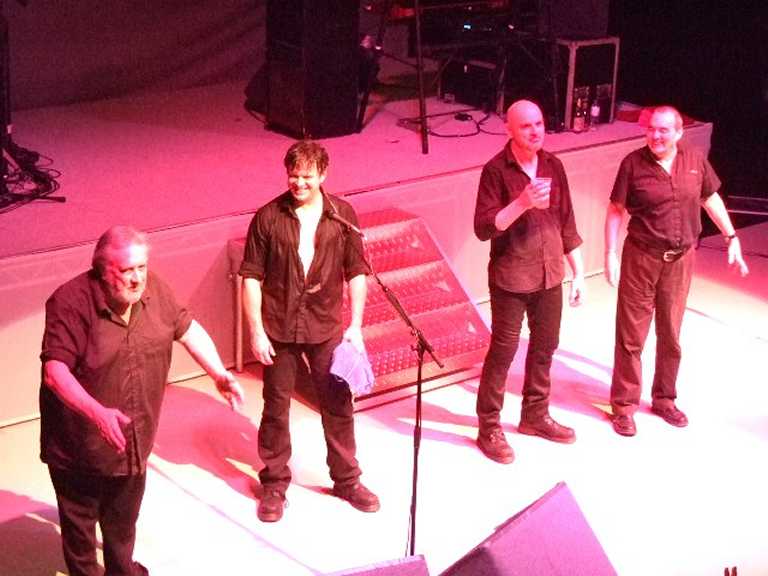 BELOW: two from Birmingham 25.10.08 -

followed by three from reading 21.10.2008

all courtesy of karen P (Ice) ©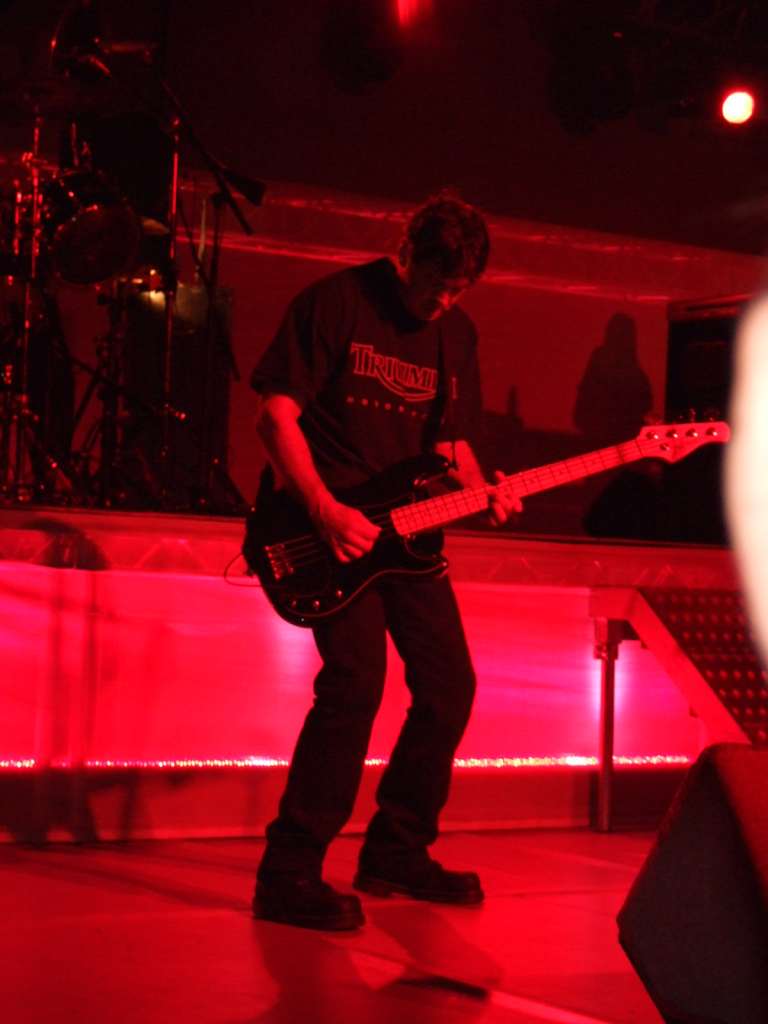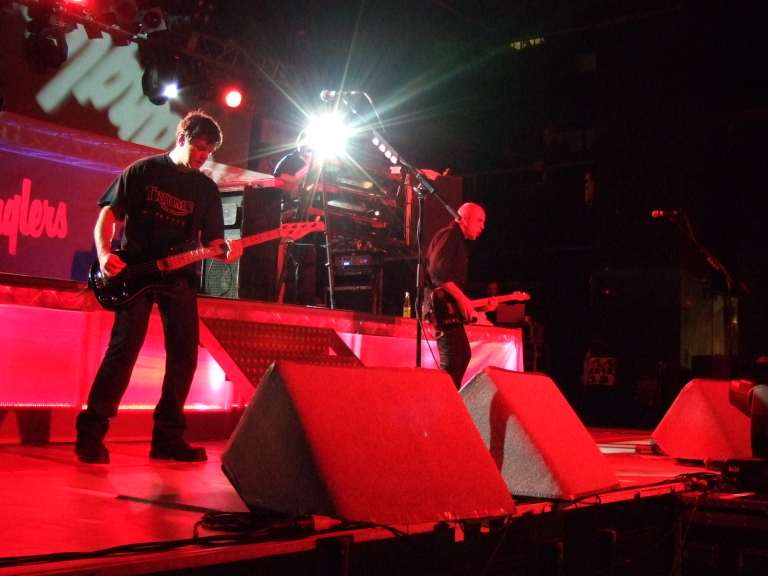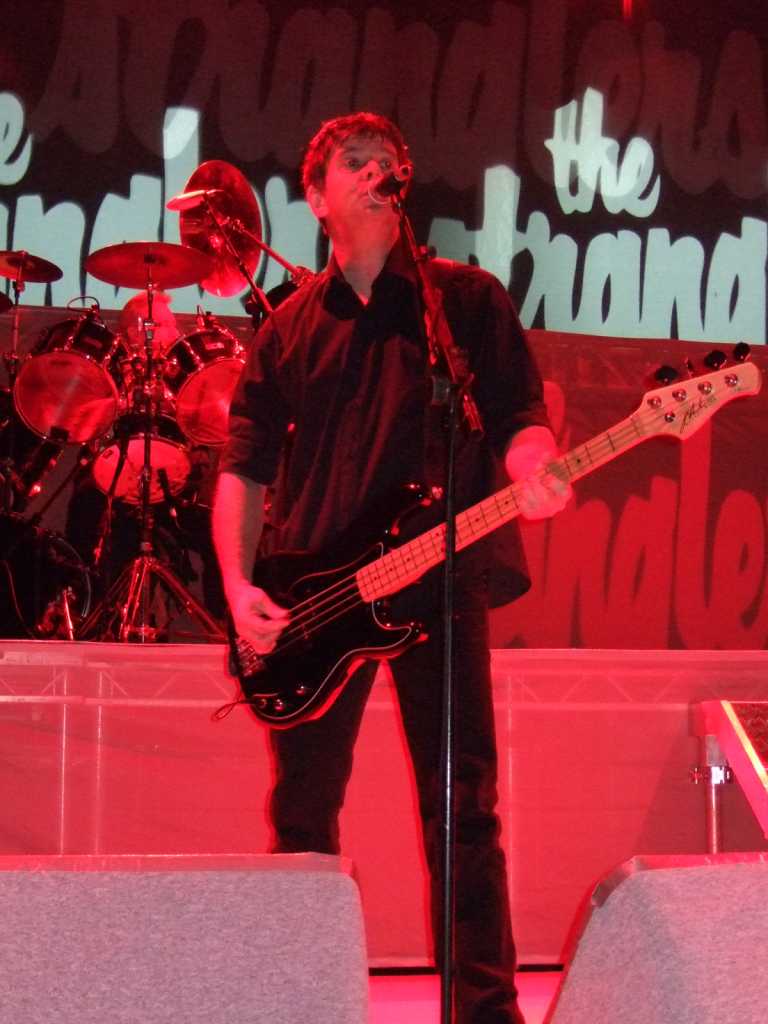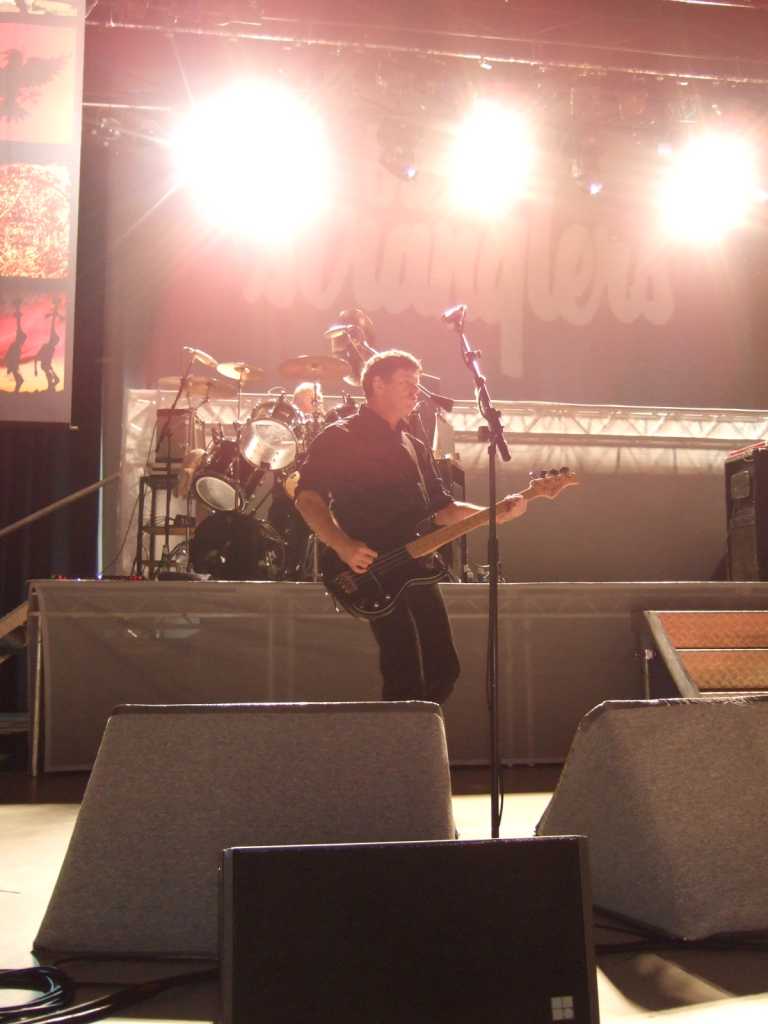 Stranglers live: Crass goes to Southend - or is it Westcliff? 11.11.08

A-sides and B-sides

at the seaside…

For my inaugural voyage to the Cliff's Pavilion – should have been my second this week had my Weller tickets arrived in time – my journey's end is met with a crimson sun melting into the Thames Estuary. The haughty Art Deco venue resembles a run aground ocean liner – built by a toddler - and bedecked with posters of the Chuckle Brothers: there are chuckling brothers gawping at me from all directions. As coldness and darkness descend and distant pier lights flicker, the pavilion is soon awash with the night crew: day-tripping Stranglers fans and lots of inquisitive locals.
Inside, it's a coke for guest Tracey (at her first Stranglers gig) and ciders for me and my pal Brian, who's yet to witness the quartet format in action following the Rat's Rally gig all those years back. These two are in for a surprise – and so am I – as the band walk on minus their customary Waltzinblack intro. 'The machine's fucked!' explains Baz in his customary vernacular. Or perhaps in response to today's two minutes Armistice Day silence? Suddenly the hiatus is interrupted by Grip's familiar synth - business as usual.

Baz: 'Is it Westcliffe – or Souffend? Souffend – or Westcliff?'

It's full steam ahead on the 4240 Greatest Hits spectacle, 5 Minutes, Peaches and Sleazy are met warmly and politely, but Spectre gets the crowd in motion, but only a little: the crowd look intrigued but not inspired. The slow numbers get them vocal – provincial towns are hard to get going anyway - but it's the mid-set Raven that warms the cockles of the heart and opens a deep and dark side to the familiar tunes: cool and note-perfect, it sets the scene and raises the bar. Southend now know what they've been missing. Close to the front, I stand motionless myself - to scrutinize the band: Dave focused, with charcoal grey shadows of his left hand on the white screen behind; Baz riffing, smiling, grinning, gurning; JJ sidestepping, leg-cocking, plucking at his Shuker bass, throbbing, probing; Jet, facing me, muscling down the beat with two tiny sticks in his big white hands – and the final coda comes with a nod from JJ to Dave for the synth washes to engulf and end the epic track in synchrony.

SOUTHEND 11.11.08

GRIP

5 MINS
PEACHES
SLEAZY

SPECTRE
SKIN
MERCY
SUN
SLUG
GOLDEN

RAVEN
THROWN
WALK
HANGING
STRAIGHTEN
BIG
ALL DAY
DUCHESS
TANK

NUKE
SOMETHING


HEROES
Live fave Walk On By is mesmeric, as is Thrown Away – but no dosey-does from the front men – although Baz is up for it as he takes a step forward, for wallflower JJ to decline. He mouths: 'I'm not doing it!' No score cards either for Baz's Golden Brown solo. But as far the mood onstage goes – it's good. Loads of visible interaction between the band – nods and winks between Jet and JJ, Baz and Jet… in fact, Jet smiles almost as much as Dave, and that's something that's hard to beat. I must stop thinking about the Chuckle Brothers… Support oddities, Starbase 109, get name checked in All Day & All Of The Night - and Dave changes the keyboard line to match their modus electronica.
One of the many highlights is Duchess – and with the final chord ringing out – straight into a mighty Tank. Absolutely awesome – and the seaside crowd finally catch up and go mental for the final fathom with animation at its nadir for last track No More Heroes.
Back outside in the cold coastal air, consensus says The Stranglers played another blinder - despite no news of this latest CD compilation release. Still, these live reviews are all unanimously superlative. Even when there aren't any surprise bonus additions to the set like tonight. My prediction is they are saving Toiler and Sewer for Friday and Saturday's gigs in the capital. Discussion turns to tonight's Pavilion sound: guitar level struggled throughout and the whole band could have been louder. However, Weller gig feedback from Saturday is that he never sounded better. Tonight, it's the only gig I've been to where my ears don't ring afterwards. Or I'm now deaf! Although there's nothing wrong with the aural ability of my two guests. Both are extremely impressed: temperate Tracey loved it and merry Brian is blown away, wishing he could make Shepherd's Bush with me on Friday and Saturday.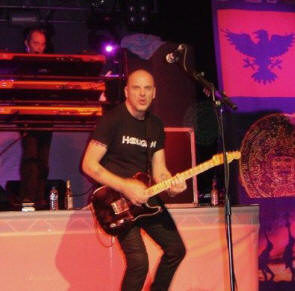 Stranglers live:
Paul Cooklin's at Lincoln, 06.11.08
Return ticket…
We approach the wonderful setting of tonight's venue straddling the shores of Lincoln's Brayford Pool and I take my mind back to the last Stranglers concert here - Friday 28th September 2007: I travelled up with Crass and had a great evening with him too, alongside Yellowcake, Gizzard, 50 Millionwatches, Ladp, The Strangler, Homme en Noir and brief hellos with ThruBeingCool and Helgy. And that night onstage, the band excelled themselves – and I am left wondering how they can even begin to better that show.
Tonight, I am in the equally fantastic company of Rodders, Ice Cube and Adrian. With an average age of 44, we are full of excitement and expectation. Parking very close to the venue, we head for pre-gig drinks at The Royal William (have one too many in here and you risk walking out and straight into the Brayford!) We are soon joined by Mr. & Mrs. Helgy, Fendale, Mr. & Mrs. Leskei, Eddy Burnel Deux and The Real One. There is a unanimous view that we wish to catch surreal support act, Starbase 109, so drinks are downed and drained pretty fast before making for the excellent confines of the Engine Shed. A brisk walk across the wooden bridge and we are into the heaving venue. Wow - it was not this full the last time the band played here. The queues for drinks at the vastly wide bar are deep and there's a buzz in the air. Like before, there are plenty of Stranglers T-shirts from over the years, worn by people with grey hair, all of whom plainly relish the prospect of seeing Jet, Jean Jacques, Dave and Baz. Other elements of the crowd are made up of a multitude of students, lovers in their late thirties, early forties and those in their mid-fifties who would never dream of wearing black. That said - the vibe of expectation is enormous – and we are not let down.
Waltzinblack pumps out the PA as the band pounce onto the stage, letting Lincoln know that they have arrived. Burnel is walking the stage like he used to in the 1980s: a shuffle here, a shuffle there, a raise of the leg and then the dart to the microphone to lend weight to the chorus. These are Burnel movements we have not seen since the departure of Mr. Roberts. Even Baz is getting down low and checking out the crowd. There is a serious sneer and an analytical approach in their manner and movement – to prepare us for Down in the Sewer perchance?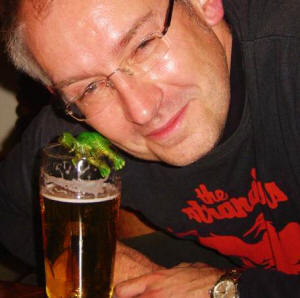 The show goes all too quickly. The songs are played with total feeling and perfection. My personal best tracks tonight are The Raven, Walk On By and No Mercy. Jet plays so well and he is so well received by the crowd and Dave's constant smile speaks volumes. One can only presume that The Stranglers are enjoying every concert of this length and breadth tour of the UK and Ireland. Outside, I regroup with Rodders, Ice Cube and Adrian amid all the other smiling people exiting the hall. Students walk past with a 'they were fantastic.' A fleeting chance to say hello to ThrubeingCool before we board the automobile to say fond adieu to Lincoln. This was yet another excellent Stranglers performance at The Engine Shed. Have no doubt, The Meninblack are on track and hopefully heading your way.
Sleazy in Lincoln HERE
The Raven in Lincoln HERE
Clips by Keith Leskei. Pix by Colin Mace ©
Stranglers live: Glasgow Academy 31.10.08

JBinBlack was there…

Glasgow à go go!

They do 'Who Wants The World?'

- but there are more shocks for the jocks!

It's a wonderful night - at a great old venue. But there are several new twists at Glasgow tonight: instead of the band coming on to the strains of Waltzinblack - accordion player Jock the Box plays it instead! Or is it a squeezebox? He's the guy who did the same in Bruge on the acoustic tour (he's on the live CD Meninblackinbruge – and seen in the flesh here - see below) and he really gets into it, going to town in his own special way. Then a topless woman sitting on someone's shoulders gave the band an eyeful of her jugs flopping about to the beat – with every guy within arms reach groping her – and she didn't seem to mind.

Then this Spiderman guy suddenly appears on a speaker stack - Baz yells out something like; well what are you gonna do now…? For the audience to start chanting; jump – jump – jump… Very entertaining! But then the poor guy is hauled down and dragged away (and maybe the shit beat out of him by the cops?)


There's a couple having a grope in the crowd too – and the gig is pretty awesome as well! Very loud, and very wild. And the audience go crazy at the encore - when Baz and JJ appear in kilts!!! And Baz declares he's going commando – spins round – and moons to the crowd! Hilarious!

With this tour more than half done – I urge all to make at least one date – as the people here tonight from the likes of Florida and Japan. All in all, I rate tonight's gig a 10 out of 10.

© Glasgow pix by David Kidd

More kilts! Jock The Box HERE
Stranglers live: Bristol Academy 22.10.08
Review by Simon Kent…
Blistering in Bristol...
Rodders, Greg and me park up in Bristol at 7pm and make our way to The Hatchet pub where there are familiar faces: Owen, Graham and 50million – the Strangler too – then NMH1965, with daughter in tow. At the venue, we gain advantage right down in front of the stage and Starbase 109 come on, by which time it's a quarter full. The looks on people's faces are something to behold. I enjoy them, although the novelty wears after seeing them last night. They still get a decent reception – particularly when they announce their last song! The stage is not as deep as Reading so the steps up to Jet and Dave are missing, but the icons either side are the same. At 9.15 the lights dim to make way for Waltzinblack – the hall is full, and The Stranglers come on to a mighty roar with a blistering Grip.

I watch JJ intensely: he is really on form tonight, and his Shuker sound is just unbelievable – indescribable in fact! Hear what I mean when you get there early and get down to the front barrier. It's truly exceptional. And years back, JJ spent the best parts of gigs not that animated. But here on this tour he is, and more so with every gig: he jumps and shuffles and plays standing on one leg – its wonderful watching him in action.

I don't think I've ever seen Dave smile so much, while Baz gets better (is that possible?) with each gig. His voice is as strong as ever.

And lastly, what can you say about Jet that hasn't already been said? - apart from being an inspiration to us all. As Rodders says; there is a spring in his step as he gets behind his drum kit. I study him too during Walk On By and it's literally poetry in motion, vigorously pounding the skins in the middle section – and I'm running out of words to describe Jet.

These are the highlights: a stunning version of 5 Minutes – Spectre, Sleazy and Peaches. The only lull (if you can call it that?) is Always The Sun, Golden Brown and Strange Little Girl – although

Always The Sun is going down very well on this tour, while it gives old farts like us the chance to catch our breath before the up-tempo ones kick in! With the gig over too quickly – we say our goodbyes – and look forward to the next night. Bristol is always a good gig and tonight is no exception.


© Bristol pix courtesy of Simon Kent
Stranglers live: Reading Hexagon 21.10.08

Damian Franklin was there…

After looking forward to Reading for weeks, I start off in the Purple Turtle to put faces to the names of forum members - Claire, Gizzard, Ravenlunatic, PaulB, Rodders, the Strangler and NMH1965 (Ian). Inside the Hexagon I skip the support band to chat with NMH1965 in the bar. The stage has a curtain in front similar to the 10 Tour. The lights go down, Waltzinblack starts up and the curtain drops to reveal a light grey stage whereupon the band come on and start the show with Grip. Sound is good and lighting and projection works well. Four songs in - Sleazy – and Baz breaks a string. Mikey the guitar tech races round the back (although it's quicker had he cut across the front) with Baz's back up guitar to swap – but that doesn't work either. Baz gestures back for Mikey to do some fiddling, but still and nothing! As Dave's keyboard frenzy kicks in, Baz takes off his guitar and dances around the stage! By the final verse, Baz gets his guitar – now fixed: he takes everything in his stride. The whole gig is really good - especially The Raven and Dave's outro sounding most excellent. Jet plays really well – it's good to see him behind the drums.

For the first encore, JJ plays a few notes of Sewer, and looks across to Baz and Dave. I get the impression it's a 'you up for it..?' but it's not to be as Dave launches into Nuke. Before we know it, that's it, as Heroes closes the night. My faves are: Thrown Away, Strange Little Girl and The Raven. My advice to everyone is see as many dates as possible – they're that good.

READING 21.10.08

GRIP

5 MINS
PEACHES
SLEAZY

SPECTRE
SKIN
MERCY
SUN
SLUG
GOLDEN

RAVEN
THROWN
WALK
HANGING
STRAIGHTEN
BIG
ALL DAY
DUCHESS
TANK

NUKE
SOMETHING


HEROES
Stranglers live: Southampton Guildhall 20.10.08: review by Paddy Walters…
SOUTHAMPTON 20.10.08

GRIP
5 MINS
SPECTRE
PEACHES
SLEAZY
SKIN
MERCY
SUN
SLUG
GOLDEN
WALK
RAVEN
THROWN
HANGING
STRAIGHTEN
BIG
ALL DAY
DUCHESS
TANK

NUKE
SOMETHING

HEROES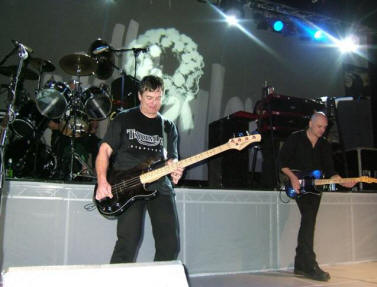 I end up going to Southampton Guildhall on my own after being let down by my friend who had an interview for a hospital Consultant's post at Southampton later this week: old Stranglers fans never die - they just become doctors and teachers! My only problem, coming from Portsmouth, is that I always get lost in Southampton. So, I end up driving round around until I eventually locate the Guildhall.
Starbase 109 are on, amusing and bemusing the crowd in equal measures with their electronica, deadpan delivery, actions and props: a prosthetic arm for a song about robots, shovels for a song about grave-digging and a hoover for a song about...a hoover! I make my pint last for their set and get into earnest discussions down the front with fellow ancient Stranglers fans about the merits of the support act and Stranglers past concerts. I feel a bit of a novice, as those around me first saw them on the 1979 Raven Tour – my gig debut was the Aural Sculpture tour in 1985 – but I'm reassured when it's pointed out I'm a Stranglers fan for well over 20 years. It's now 9.15 - The Stranglers come on to massive cheers for tonight's Jet appearance - missing from my last gig at Hyde Park this summer. Grip and Five Minutes are powerful, but the audience remain slightly mute. Suddenly – and bizarrely - the mosh explodes for Spectre Of Love, displaying the popularity of their last album, Suite XVI. The pit struggle through the strange rhythms of Peaches and Sleazy - not the easiest songs to pogo to! Mellowness descends with Skin Deep and a very well-received Golden Brown – a slightly plodding No Mercy too – and a great singalong with Always The Sun. Walk On By picks up proceedings, and then, the biggest cheer of the night - the opening keyboard salvo of The Raven; not many have heard this live.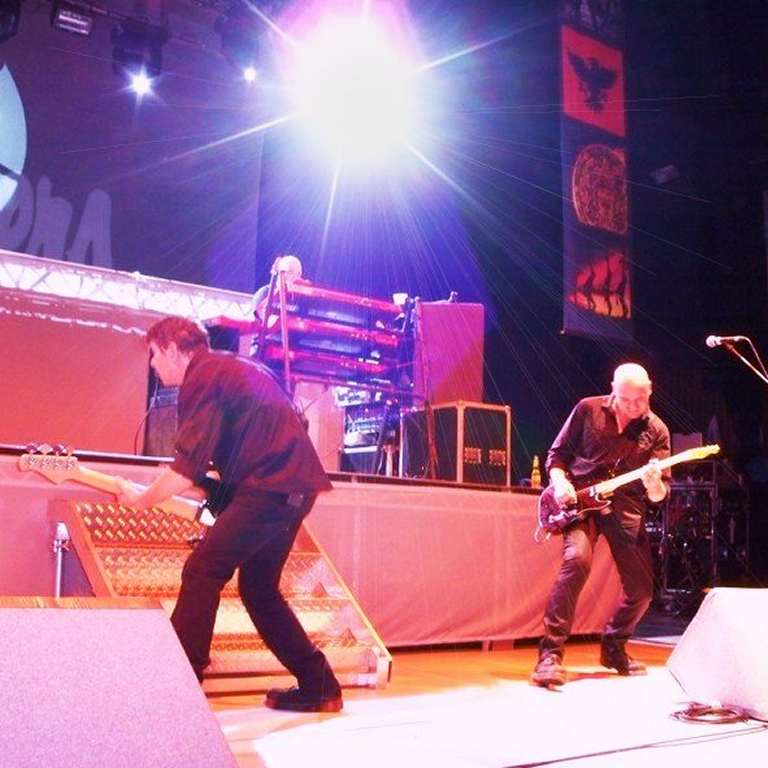 Baz and JJ retreat to their respective sides and launch themselves at each other - dosey-doeing - to Dave's Thrown Away intro while JJ looks embarrassed! No let up for the moshh with Hanging Around and Straighten Out – plus Duchess and Tank with its massive explosions, and Baz's 'it could blow a man's cock off at the count of three…' and they're gone. There's hardly enough time to chant 'Stranglers – Stranglers' before they're back with the punchy Nuclear Device and Something Better Change – and then the finale, No More Heroes with its lengthy bass solo from a now bare-chested (and only slightly portly) JJ for an extended finish until the final goodnight.
Overall, it is one of the best Stranglers gigs I have seen. Sure, the set list is crowd-pleasing, but not too obvious. And the band obviously enjoy themselves (Baz taunts the crowd with plenty of 'fucks' and also claims to be from Portsmouth: I remain silent!). The mosh here is vigorous but friendly and I get hugs and handshakes by numerous people who I am not aware of knowing - but who I had obviously spent the evening bumping into: not bad for a 41 year old History teacher with two children under 6..!
© Southampton pix courtesy of Colin Mace and Colin Pollock
Stranglers live: Manny Black's at the Cambridge Corn Exchange 18.10.08
Black hole hits England - and how!
I came down on a Saturday, somewhere in the flat lands of Cambridgeshire… With the mothership safely secured just outside the city conurbation, I hop over sun-filled cornfields and concrete to board a motorised chariot emblazoned with CamCabs: I'm soon traversing the main motor mile to the Cornex, venue of tonight's Stranglers Greatest Hits concerto. Quirk, or quark - I chance upon my old mathematician and theoretical physicist pal, Sir Stephen Hawkins. We chat long enough to discuss rogue gravitons in QFT and their effect on dark matter – plus Lagrangian mechanics in brief - but such colloquial small talk soon saps my reserves where upon I leave Steve to negotiate the ramp and fight his own gravitons while I seek out sustenance - a boxed-up chicken burger – which fails to resemble fowl in both olfaction and gestation symmetries. How do these omnivorous earthlings survive? I ask myself.
With Earth time in constant progression, I make my way inside where they brand my olivaceous wrist with cosmic goo: this must be gluon, courtesy of the Prof who is ahead of me; he's like that. I then make out a fellow MiB at the merchandising stand – he just doesn't know he's one of me (yet). Elsewhere are rotund men – all in dark matter – and from far off tribes, and they cheerfully and vociferously orotund as one, mangling bass orchestration with their atonal flaccid voice boxes, and with arms held joyously aloft. To me, their alcoholic state is an alien concept, but their unified black attire is certainly impressive - with both rodent and arachnid imagery on display - and ornithological tattoos too. These drunken disciples are clearly committed to The Stranglers – evident from the moment I spot these same icons flanking the luminescent stage banners. I watch a girl as she inserts plugs within her ears - I should have known: my own ears explode with a sonic boom from the sound system. Bang!

Waltzinblack pours out across the rammed hall as the 'other' Men In Black take to the stage. The crowd shout - the ceremony begins. It has to be said Strange Little Girl is elegiac – with No Mercy, Skin Deep and Always The Sun detouring slightly and necessarily so – but it's the early tunes that warm the audience up, such as Grip, 5 Minutes, Peaches and Sleazy. Golden Brown sees some horseplay between JJ and Dave: the former attempting a count-in, the latter deciding to not play along; JJ ends up doing a bass solo as the intro. Play nicely, boys.
I may be biased – speaking as a Man In Black – but it takes a track off the Meninblack LP to really get things going – Thrown Away – and kicked off with some disco-dolly dancing and dosey-does across the width of the stage courtesy of JJ and Baz. This track – followed closely by Straighten Out and The Raven – all form equal special gig highlights. But then, can you afford to miss out the mighty Tank? Of course not! The sweaty mosh are in full swing – and it's all good natured: a dozen rows of bodies in black are swaying and pogoing and singing their hearts out. One of the rotund topless members of the crowd sparks a Baz quip when he merrily joins the band onstage; "I didn't hear the fat bloke alarm go off!" He says, chuckling as tubs is gently ushered off to the left. Ten seconds later, a young would-be invader is expelled from the rat-run with needless brute force (and certainly no laughs) thanks to over-zealous, immature bouncer-ing. All the reptile, err - bouncer - had to do now was to look into my eyes just once – to succumb to my Stunned Intensified Stupefaction – but he refuses. Next time I'll set my pal Prof. Hawkins on him for some Quark, Strangeness and… harm!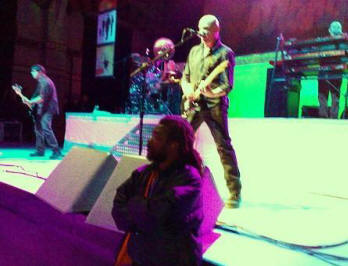 They maybe old, but their wall of sound hits like a mountain of decibels… Bands
half their age - and twice their stature - would struggle to keep up.
Baz reels out an eerie-voxed spectral vampire thing in Spectre, echoing Dave's Dead Ringer. JJ belts out Big Thing Coming for the first time in ages – but Walk On By is the big wig out extraordinaire: Baz even scales the silver chequer-plate steps for guitar soloing – very Darkness - to reach Dave who is in synth arpeggio heaven. Or Quarkness, even? This quantum leap of Greatest Hits is not only shit-hot tight (Jet's here behind the drums, don't forget), but this dynamic combo is quaquaversal: they maybe as old as hills but their wall of sound hits like a mountain of decibels. Bands half their age - and twice their stature - would struggle to keep up with them. Plus - the Greatest Hits set is apparently thoroughly palatable for those fanatics-in-black present at every single show in every corner of The Stranglers itinerary. Although the only negative to report is skipping epic soundscapes Toiler and Sewer: this left these ultimo cadres down the front feeling a little hollow for a nano second. But the pop party concludes on a high with The Kinks' All Day & All Of The Night, Duchess and No More Heroes to make this a very special start to the English leg of the UK tour. This Man In Black certainly goes away most sated!
Then it all goes awry: I escape the crowds to return to the mothership by moonlight – to discover I have left the landing lights on – which in turn, attracts a rather large audience surrounding the now energy-depleted UFO spectacle. This ain't no Roswell… I dissolve the craft into the ether - erase each witness's recall with my SIS - and send them all home dressed in Shrek jim-jams.
Fly straight with… a new battery for the winter, I guess.
© Cambridge pix courtesy of Colin Mace, Sebastian Crass and Martin Penny

| | |
| --- | --- |
| Stranglers live: Mandela Hall, Belfast, 14.10.08. Review by Graeme Mullan. | |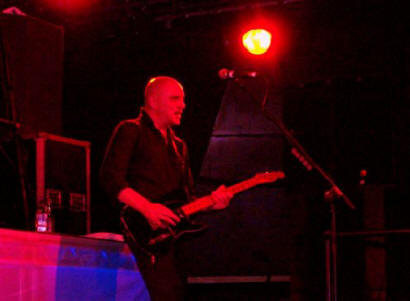 Fly straight with…
And the First Commandment reads: thou shall not play soft solos in Belfast! It has to be said Baz Warne received a lukewarm reception after his party-piece Golden Brown solo – and then stepping from centre-stage looking across to JJ – and a lip-pout and shrug of his broad shoulders.
Belfast has a proud punk history and, thanks to our recent troubled past, we have a reputation for liking our rock music like our women - fast and in your face!
There's a reasonable proportion of the Mandela Hall crowd here for the big hit singles - it is The Greatest Hits Tour after all - and there's a reasonable majority made up of balding, middle-aged punks here tonight reliving their golden youth and dying to hear those malevolent punk Stranglers classics live. The mosh may not be the largest or most energetic ever seen, but the front line's reaction to 'Grip', 'Hanging Around' and especially 'No More Heroes' is proof there lies a heart of punk still in this old City.
Before the gig I'm at the mandatory meet-up in The Parlour, situated conveniently across the road. I know the English Contingent fresh from the Dublin gig are on their way. Although, it's unusually empty at 6.30. I look around to find I'm the only Strangler T-shirted individual here. Suddenly I'm joined by Andy, Sid, Brian and last but not least Barry Spooner trudging along the bar towards me.
Formalities over, round of drinks in, and conversations dart around obligatory topics such as Dubai, Dublin, set lists – and has Baz sung all the back catalogue yet? Who are the 'Sensitive Six'? [forum bollocks – Ed.] And who is going to Barcelona in 2009? Pat and Michael join in after intros and more quaffing of preferred beverages, soon regale their tales of their Stranglers past while comparing Raven tattoos. A few other MiBs (sorry didn't catch your names) from the locale gravitate to our merry crew as the pub fills up – more likely candidates for the concert – and some familiar faces from a bygone age of punk gigs. A quick check of our (50 Million) watches - and it's time to make our way to the venue.
At the entrance to Queens University Student's Union, the bouncer quips the gig is cancelled. Obviously a good sense of humour here, but my heart still skips a beat. Downstairs to the Mandela Hall. The support band are on, but I get my priorities right at the merchandise stall. How much money have I got? What can I afford! What do I get? As my wallet empties, I smile as I grab my red Rat Bag full of Strangler goodies, while Azinblack has trouble with Northern Irish banknotes: "I'm only English!" our befuddled vendor moans!
Through the side doors and into the hall itself, I'm at my preferred 'Owen-station' – that's left of stage, JJ's side – while the CrewinBlack remove all traces of support act, Hoarsebox and set up the myriad of cables and equipment necessary to produce the Stranglers sound. Levels are checked, guitars tuned to perfection. I'm taken with the new stage set-up. Of course, one look at the drum-kit meant Jet was in town – excellent! But I'm not sure whether it's due to the venue or a new stage rig, but the backstage was taken up with one long riser set atop a bank of Ashdown amplifiers covered with translucent white sheeting. Jet's drums are side-by-side to Dave's keyboards which seem to grow with every tour! Gone is the usual Strangler backdrop: instead each side is bedecked with banners showing snapshots of all the albums.
The crowd start to fill the hall, although it's not packed, just fuller than I thought. Then the lights dim, and a culpable feeling of excitement grows. The opening strains of 'Waltzinblack' are met with cheers, growing in intensity as the Four Horsemen of the A-punk-alypse take to the stage. JJ and Baz wave and bow as they cross the stage to be handed their respective guitars. Behind - Dave and Jet ascend to their positions from behind the rise to crowd chants of, Jet Black - Jet Black – Jet Black! His familiar roll of the skins rings out in direct response. A quick check between JJ and the rest of the band – and they start with 'The Raven': fly straight with… fuck me! What an opener!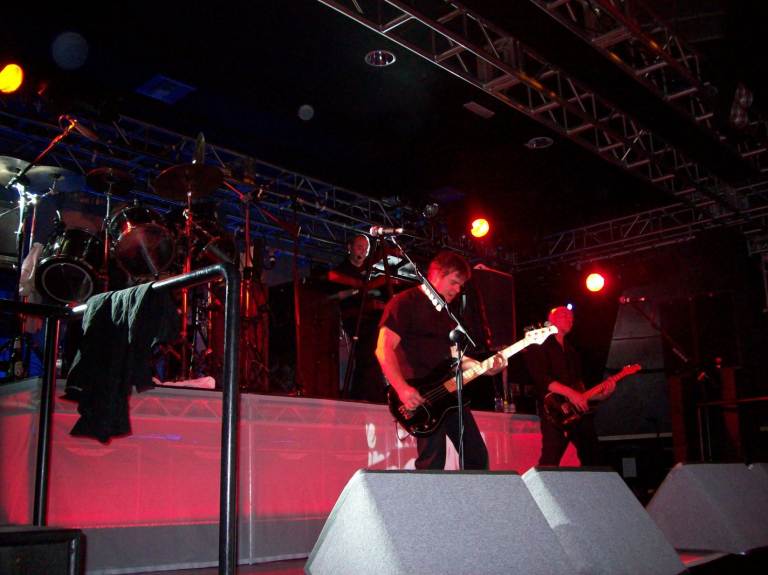 Backdrop images from 4240 synch with the songs – and then it's straight into 'Grip' – with JJ karate kicks. Baz acknowledges the return of the original grand statesman of punk:
"He's still alive - Sir Jet Black!"

More adoration from the throng followed by a polite and humble wave from the great man himself. Back in again – here we are battered by powerful melodies and mesmeric riffs – all remarkably fresh in this live arena. Songs are played with intensity, but fun too: they're here not only to entertain us but to enjoy the experience themselves. They also constantly interact with each other throughout: JJ slags off Baz after an off-key moment in the 'Spectre Of Love' solo! Baz introduces 'disco' track 'Thrown Away' – and JJ does a passable impression of John Travolta while Dave buzzes on the keyboards. And then the two front men displaying perfectly syncopated footwork for the rest of the track. Awesome. And 'No More Heroes' – I'll get to that later.

After over an hour of blistering hit after hit - with the odd surprise album track thrown in for good measure - the band take their first bow off the evening and exit the stage. Rather than the usual chants for Stranglers – Stranglers – Stranglers… it's now Jet Black – Jet Black – Jet Black! The band return for 'Toiler On The Sea' – a welcome return to the set - an amazing version with requisite keyboard sound effects, that pounding bass, rib-cracking drums and ringing guitar riffs. Memories…

BELFAST 14.10.08

RAVEN
GRIP
PEACHES
SLEAZY
SKIN
MERCY
SUN
SLUG
GOLDEN
THROWN
WALK
HANGING
STRAIGHTEN
BIG
ALL DAY
DUCHESS
TANK
TOILER

NUKE
SOMETHING
5 MINS
HEROES
It was 1979 when they last played Toiler as an encore in Belfast: it was during The Raven Tour - the closing number – and a red light emanated from the eye of the Raven backdrop. As it beamed back and forth across the audience, the band re-emerged and the sound of a fog horn burst out from Dave's synth. Burnel began the bassline, Jet's drumbeat kicked in and Hugh's intricate guitar solo carried us all off, retracing our steps back to the mothership.
As the track wound down - and Hugh and JJ were doing their twisting, swaying dance - first Hugh unstrapped his guitar, waved to the crowd and exited stage right. Dave flicked a switch on the keyboards and they continued to 'whoosh', replicating the sound of waves washing the shore, as he departed. Jet finished his sequence and also left the stage, leaving a cavorting, ambling JJ as he continued with the closing bassline. He crossed the stage, still playing and walking his rat-walk, as he proceeded to make his way up the side stairs and leaving through the stage door at the back of the hall just as the last note was struck. Dave's keyboards continued to echo the sound of the sea until the house lights went up.
A different ending, less drama, but I'm ecstatic all the same. Once again, they leave the stage. The house lights stay down – of course, its Heroes next isn't it? Their third emergence is greeted with rapturous applause. Then – it's 'Nuclear Device' and the old Bruce/Sheila crowd interface before 'No More Heroes'. For this, the crowd are treated to a sixth Dan extended bass intro from JJ-san just before the famous fast-fingered G-string rundown - JJ leans towards a bemused looking Baz standing up against the amp and both raise their pinkies to the side of their mouths (a la Dr. Evil in Austin Powers – and then the crowd erupt to the 'real' bass intro.
Leon Trotsky gets his ears burned, and so do we! And we are re-acquainted to 'empty glass football' as Dave's plastic pot is thrown following his solo onto Baz's bald pate as he pretends to be the new Makem No.11 to then header it into the crowd. Well, into the bouncer's rat-run between stage and crowd. The band leave the stage for the last time to rousing cheers and applause and the lights are switched on to 'Meninblack'. The end of another great Stranglers adventure. Sated, I seek out the English Boys to say farewell, wishing them a safe journey home. Now all that's left is for me to make my way homeward. Fly straight with… wow!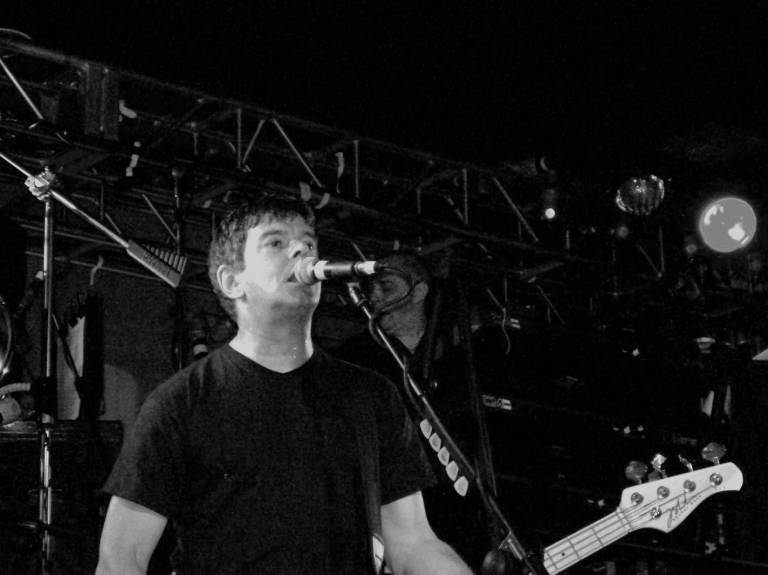 Belfast images courtesy of Patinblack ©
| | |
| --- | --- |
| Stranglers live: the Academy, Dublin, 13.10.08. Review by Alastair Graham. | Wednesday 15th October 2008 |
Opening night of the UK tour…

This first night bodes well for the remaining dates. Although it's a small and intimate venue, it's a good crowd considering it's Monday night; of course, Dubliners like their live music. The set starts slowly - with a bass heavy sound - preventing the band from engaging. However, by the time they reach 'Hanging Around', it all gelled, demonstrating The Stranglers' continued reputation as a superb live act. From here on in, it's top-notch, ending with, somewhat predictably, 'No More Heroes' (my 5 year son's favourite).

Baz Warne is born to be The Stranglers' front man: the absolute rightness of the four-man dynamic makes you wonder why they ever thought a line up of five might have worked. Crowd reaction to Jet is both touching and humorous, and repaid with a great performance including a somewhat jazzier (or should that be funkier, but certainly not jazz-funk!) version of 'Peaches'.

Given that it's billing as a Greatest Hits Tour, the lack of new material can't be cause for complaint. However, while 'Spectre of Love' and 'Big Thing Coming' sit easily beside 'Nice 'n' Sleazy' and 'Straighten Out' - and getting as just good a reaction - it would be great to know that new material was in the pipeline…if they are to avoid being pigeon-holed as a nostalgia act. On the evidence presented this evening – that would be an injustice.

YouTube: The Stranglers in Dublin 13.10.08 HERE
| | |
| --- | --- |
| The Stranglers live: Chelmsford V Festival 17.08.08 Review by Stubsinblack | Friday 12th September2008 |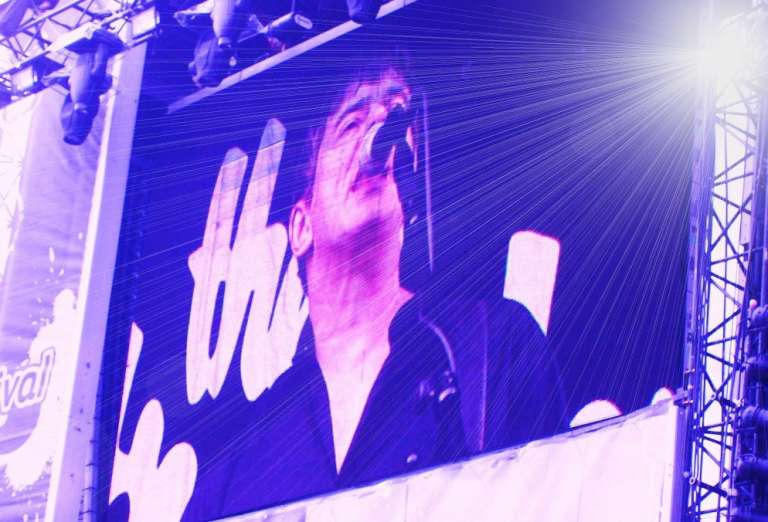 | | |
| --- | --- |
| | After a forty minute drive and a McDonalds - me and 13 year old son, Greg (who supplies us with the images) - start the Hyland's Park queue. It's 9.30am, and the rain is intermittent. "Just two and a half hours to wait for The Stranglers…" It's a far cry from sunny Hyde Park, but our spirits are still up. The gates open, the rain stops and we secure our spot at the foot of the stage where JJ's stands. Jet's kit is missing but Ian's one there, already set up. Of course, it's never the same without the legendary Jet, although Ian is a great stand-in. All the same, it's like going to a family party only to find that your favourite uncle is missing! It's 12.10 - and WaltzInBlack rings out as excitement rises. A steady drum beat belonging to Five Minutes with JJ singing, who has forsaken his customary Black Triumph T-shirt for a normal long sleeve shirt. His vocals take the audience by the throat Always The Sun – and a cheering of the wood block shows where the die-hards are! Peaches is just brilliant - summery and fresh – with Baz getting a huge cheer when he changes the lyrics to enquire whether the rain will hold off. Smiles are all around, onstage too. Golden Brown gets a loud cheer – and Something Better Change converts the uninitiated in the crowd. I guess many a Stranglers virgin has been deflowered this summer at the altar of the Meninblack. Our family-in-black is getting bigger! Although Baz ends up cajoling them after his breakneck solo falls on deaf ears in All Day & All Of The Night. But sing-along they do, clearly unaware rather than bored. Nonetheless, I'd like to see a new cover – like Quark, Strangeness and Charm, or perhaps Paint It Black? |
| | |
| --- | --- |
| | Duchess is fast and then, No More Heroes. Highlight is seeing Dave finish his solo and throw his cup towards Baz who heads it to JJ, who catches it beautifully on the volley to sail right over the drum rise to everyone's delight. It's a perfect moment in a virtually perfect performance and the band know it. Half an hour and eight songs surpasses the longer Hyde Park performance with a superior and clearer sound: keyboards are crisp and mixed well. And V 2008 sounds better than my last one three years back. After today's performance, I can't wait till Cambridge this autumn. We're in for real treat indeed! And while Jet is irreplaceable, Ian continues to play with assured confidence. |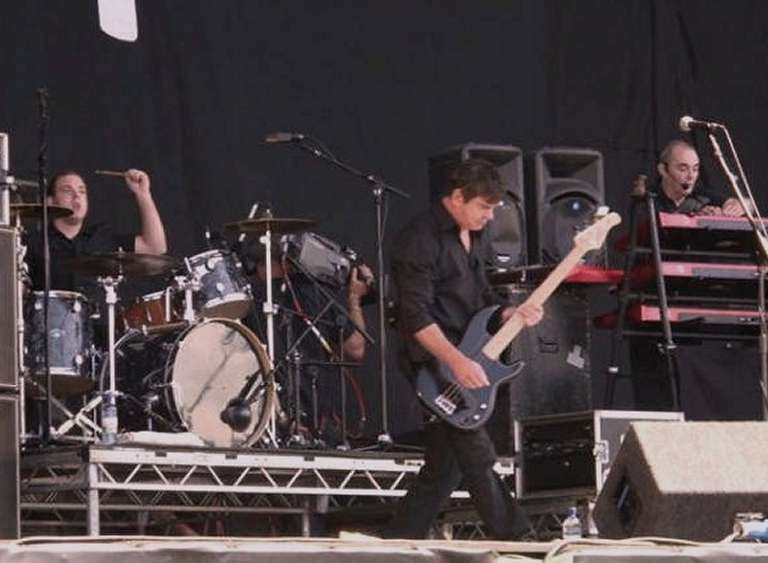 Stranglers live: Hyde Park Calling, 29.06.08.

Review by Owen Carne.

Wednesday 2nd July 2008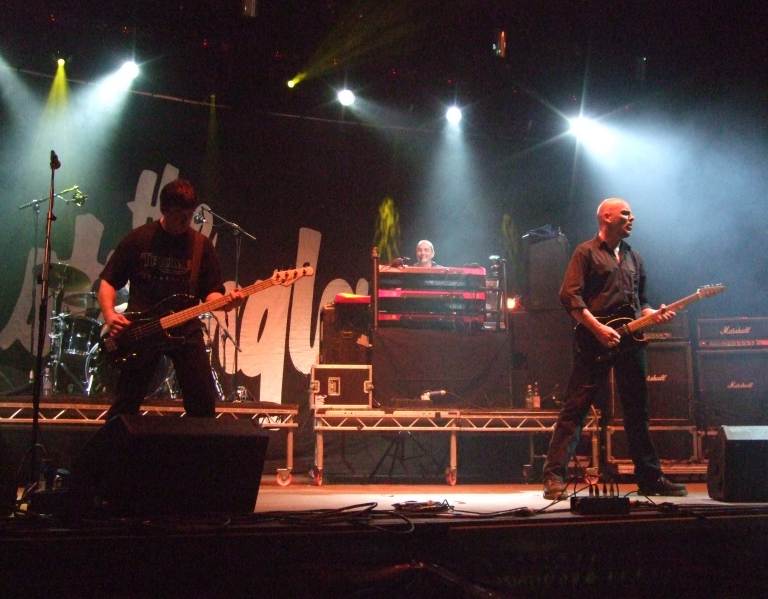 Hyde and seek!

The Hard Rock Café-sponsored Hyde Park Calling is the second of the summer's major festival appearances – and right in the centre of the capital. Following the glowing Stranglers reviews and positive feedback from last weekend's Isle of Wight gig, it's always going to be interesting seeing whether the band keep the momentum going with another audience-converting gig: no small wonder Hyde Park's promoter moves them up the bill to headline the second stage as a result.

Inside the 6 - 7,000 capacity tent, it's disappointingly hall-full when I arrive to see Mick Jones' Carbon/Silicon. Maybe the audience are lured by mainstagers Starsailor? Mmm. I dread this happening to The Stranglers due on after. As I move to the front of the crowd and meet familiar faces, something looks different up onstage: as The Stranglers rig gets shifted in position - it's not Jet's kit on the drum rise – a sign our band's elder statesman is missing. Hopefully Jet will return soon, despite the presence of stand-in Ian Barnard who performs admirably. But there's always that 'something' missing when Jet's not there.
HYDE PARK 29.06.08

5 MINUTES
GRIP
PEACHES
ALWAYS THE SUN
NICE N SLEAZY
SKIN DEEP
WALK ON BY
STRANGE LITTLE GIRL
GOLDEN BROWN
SPECTRE OF LOVE
SOMETHING BETTER
CHANGE
ALL DAY
DUCHESS
NO MORE HEROES


The band take the stage to Waltzinblack's familiar strains before going straight into Five Minutes. Grip follows – and then an apt anthem for the summer - Peaches. The hour-long Greatest Hits set is designed to grab the attention of floating-voters at this sort of gig. Midway through the set, we have the opening bars of punter-friendly Golden Brown – met with a massive cheer from the crowd – and even louder at the end. The tent is full to bursting point – and the band are aghast at yet another successful victory over a festival crowd. Nonetheless, band communication is minimal throughout, with little or no inter-song banter – and letting their back catalogue do the talking. Spectre of Love also goes down well – as does the omnipresent All Day & All Of The Night. The only low-ish point is Skin Deep. A stirring No More Heroes closes the set – with the crowd even more animated and vocal. Maybe they should kick off with Heroes to get the crowd going at the start? But then, maybe if that happened, the crowd wouldn't stop for the whole gig? Irrespective - The Stranglers leave the stage to great applause – and job done – because these summer festivals show the general public what we all already know: that The Stranglers are a great live band!!! They just need the access to these unaware audiences – and to convert them. On today's performance, ticket sales should bode well for this autumn's mammoth hits tour. Photos © Owen Carne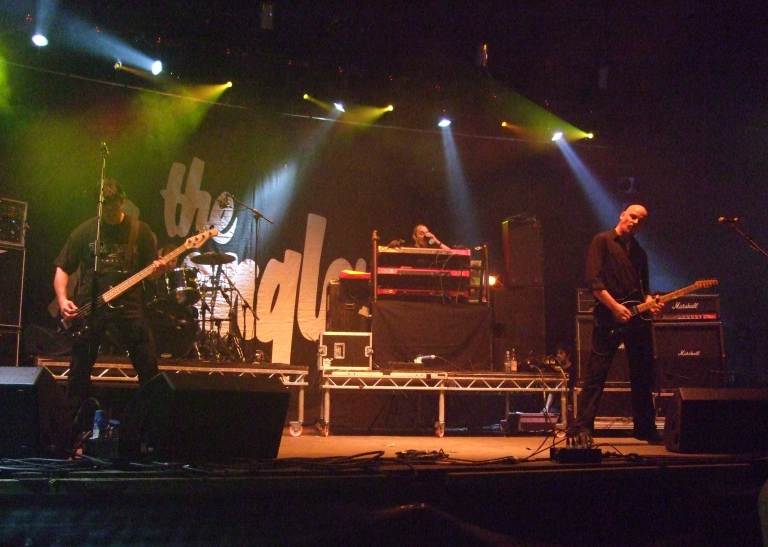 | | |
| --- | --- |
| V good live | Thursday 1st May 2008 |
It seems all the insider info we were getting a couple of months back about The Stranglers appearances at the big summer festivals have all come true – with the V Festival added on top of the recent confirmation of T in the Park and of course, Spain's Summercase. Lots to look forward to on the live front this year – and it continues this autumn: in one of the UK's colour supplements, the band are advertised to be performing a Greatest Hits set for the tour of the UK. Perhaps this coincides with another Greatest Hits? Rumour has it, another new compilation – with the snappy title of 'Forty Two Forty' - is due out September.

After Hugh's nationally-reported onstage bickering at his last acoustic gig in Motherwell – thoughts are turning to his future appearance at Kirkcudbright's Wickerman Festival this July: many of us are hoping for the return to the Horn in St. Albans, Hertforshire. After all, Hugh seems to favour the venue over the years for warm-ups to big gigs in the past. Watch this space.

| | |
| --- | --- |
| Stranglers London date... | Friday 28th March 2008 |
On Sunday 29th June, the band are due to play at Hard Rock Calling – the second of two days at the rebranded Hyde Park festival. Headlining are The Police - with KT Tunstall, Starsailor and Carbon Silicon (featuring Mick Jones of The Clash) also on the bill. Tickets for this date range from £65 to a whopping VIP-priced £245.
| | |
| --- | --- |
| Outside Tokyo - Spain - and more festival chat... | Wednesday 20th February 2008 |
JJ will be performing a couple of solo live dates in Japan: the Shinjuku Loft in Tokyo will host two acoustic nights in March. Brush up your Japanese for more details to be found on the band's official site: http://www.stranglers.net/glist.html
On top of The Stranglers Isle of Wight date in June, Spain's Summercase 08 has been mooted too – featuring Maximo Park, Mystery Jets and Pete & The Pirates. Back in the UK, it is rumoured The Stranglers are due to play T in the Park and the V Festivals too. Although not officially confirmed, organisers are expected to announce final line-ups imminently. As always, Stranglers dates are only confirmed when the official site posts them.
For Hugh Cornwell fans, the Wickerman Festival at Kirkcudbright in Scotland has announced he will appear at July's bash. Once again, confirmation is expected in due course at hugh's official site: http://www.hughcornwell.com/live.html
Back to now – and Sunday saw JJ and Baz performing in the intimate setting of a hotel in Doncaster - but the big gig of the weekend was…
The Stranglers at Buxton Opera House, 16.02.08 -

and PaulinLondon was there!

Wednesday 20th February 2008

Spa town heroes!

The hills are alive - to the sound of The Stranglers - soon! But first, we're standing in a hotel reception dressed in our Stranglers T-shirts attracting odd glances from the glib staff - Best Western - I can't help thinking about cowboys and Indians for some reason. Thank God they're only here for one night - is what's going through their minds as we check in. Little do they know we'll have the night porter busy with booze until half-three!
A beer and wine taster at the Queen's Head with Adrian, Pigeon and Saminblack is top priority, but a reccy of the venue leads to us spotting another familiar face:
"Gor, it's bloody cold here…." Says a chipper Jet Black on his way to the afternoon sound check.
Our pre-gig pub venue soon becomes a bulging throng of Stranglers fans, as the jukebox plays The Stranglers. The hapless locals appear amused - honoured perhaps - by this afternoon's invasion-in-black. Meanwhile, familiar names are put to faces from far and wide, and we catch up with Steve Tyas who we haven't met in years; he was with us on our infamous 1989 Car Tour. Ah, those were the days. But all too soon, the afternoon session dissolves into blackness, as we grab some fish and chips and head for our night at the Opera House: this stunning all-seater was built at the beginning of the last century and has been recently redecorated - and there is something endearing about seeing the band in such a classical setting. Folky support band, Amsterdam, receive hearty applause before the lights go down on Buxton… And Waltzinblack is back!
We stand – in a split second, a mosh develops at the front - as the crowd buckles to growling opener, 5 Minutes. JJ looks fabulous in a round necked T-shirt (as opposed to the V-shape of recent years) and sings with passion and aggression. The band look lean and mean and the locals around us clearly love the spectacle. The sound is first class and the songs are performed note perfect. The humour on stage is there and one gets the impression that this band still has a long way to go; the individual component parts each love being on stage despite JJ looking a little tired. But nothing deters him from jumping high in the air and Karate kicking at 45 degrees. The crowd lap it up - no ballet dancers or sopranos on stage at the Opera House tonight. Throughout the venue, there are people standing up and dancing about. At the mosh, several fans clamber onstage before being confronted by the two big and burly bouncers for subsequent eviction. I spot JJ casting his watchful eye over the proceedings, just in case, like.

It's a first class Stranglers show with songs performed to meticulous precision – with no real surprises in the set – and no new oldie from the awesome back catalogue. Nonetheless, the highlight is Nuclear Device: JJ comes right up to the front of the stage in between the two microphone stands and stands there - practically playing the entire middle eight to the front row. Amazing! At the end of No More Heroes - now half-naked - JJ flings his guitar pick into the crowd and the show is over. To the tune of Meninblack, we leave the heat for further sustenance nearby.

Thirty Stranglers fans make the ascent to the upstairs part of the India Palace restaurant, where we alter the seating plan to open-plan: very Roman orgyesque. We fit everyone in: Rodders, Ice Cube, Gizzard, Fendale, Billyinblack, Pigeon, The Strangler, Ladp, 50 Million Watches, Lucy, Elm, Saminblack, Radioactivity, Paul B, Adrian and Sancho Panza and myself... Rodders organises Stranglers songs to continue as we dine – but the speakers can't quite handle it. Mr. & Mrs. ThruBeingCool pop in for a quick hello – and we head back to the hotel for a nightcap or two!

Pix: © Colin Mace

Buxton Opera House

5 MINUTES
GRIP
SPECTRE OF LOVE
NICE 'N' SLEAZY
UNBROKEN
PEACHES
ALWAYS THE SUN
GOLDEN BROWN
I HATE YOU
SUMMAT OUTANOWT
WALK ON BY
STRAIGHTEN OUT
BURNING UP TIME
ALL DAY & ALL OF THE NIGHT
DUCHESS
LONDON LADY
*
NUCLEAR DEVICE
SOMETIMES
**
HANGING AROUND
NO MORE HEROES
| | |
| --- | --- |
| Sold out... | Saturday 2nd February 2008 |
Festival organisers have announced The Stranglers are added to this year's sell out Isle of Wight Festival. They will be performing in a new 5,000 capacity big top on opening night Friday 13th June. Also appearing are the Sugababes, and the Kaiser Chiefs, as well as The Police, Feeder, Sex Pistols, The Kooks, Ian Brown, Lily Allen and the Australian Pink Floyd Show.
The Stranglers' live year kicks off with another sold out concert - this time in the Peak District's spa town Buxton - despite tickets prices set at an eye-watering £27.50. The following night, JJ and Baz play in Doncaster (see below).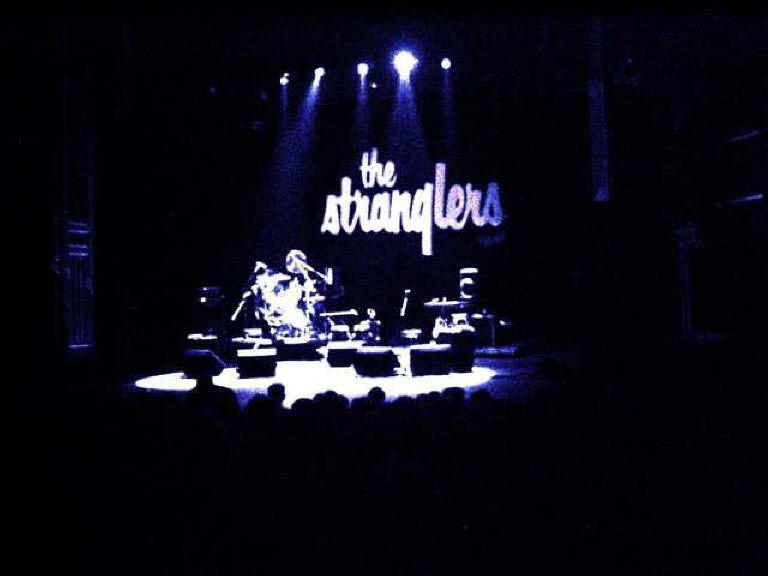 The Stranglers acoustic, St. Niklaas, Belgium 14.11.07

by Mark Van Dongen

Sunday 9th December 2007
Final outing for the Meninblack in 2007. Bruges photos courtesy of our Man From Bruges, Stef ©
Flemish moon
Not fancying watching the warm-up act, I get there at 8 - the time on my ticket. Then I realise there is no warm-up! Soon as I sit, the show starts. This is a 500 seater venue - in the pretty provincial town of St.Niklaas - 10 minutes down the road from where I live. My 8 year old daughter has performed here several times with her dance group. In years to come I'll be able to say she shared the same stage as my heroes, if not on the same night. It's a comforting thought. I'm not expecting much difference with the first acoustic gig I saw in Ghent, so I leave pen and paper at home. Sod's Law – there;s plenty of differences tonight!
'Instead of This', sung perfectly by JJ. His singing has really got better over the last two years post-Paul. After rapturous applause, JJ welcomes the audience to the show. Belgium still hasn't managed to form a government (175 days after the elections – see previous Gent review!) and much to the delight of the maestro himself: 'It really is a great honour for us to be performing here in Belgium where there is no government. Playing in an anarchist state is what we're all about. I never thought I'd see it in my time!'
Laughter all round as JJ goes on to point out to the Flemish members in the audience that they needn't be afraid of the numerous English fans who have made the trip from across the Channel. 'They may be a bit loud, but don't worry – they're completely harmless.' Up next is a stunning 'Long Black Veil'. This time it's Baz's turn to welcome the audience. One fan walks up to the front of the auditorium and asks Baz if he can ask him a question. 'I won't bore you with what he's just asked me, ladies and gentleman, but can I just take a minute to give him an answer?' Yes, we all shout. 'Right, I'll only say this once: FUCK - OFF!'
Lots of hoorays and clapping follows, after which, JJ gives us an introduction to 'Dutch Moon'. 'Seeing we're in Belgium, we had thought of changing the title of the next song to Flemish Moon, as we've heard the Flemish don't really like the Dutch.' (which is more or less true, it's bit like the relationship between Scotland and England). Cheers from half the audience, as the other half is made up of English and… Dutch fans! St.Niklaas is only 15 miles from the Dutch border. Baz duly changes the last chorus to '… a yellow Flemish moon' and when JJ finishes 'European Female', it's time for a JJ and Baz double act. Move over Morecambe and Wise:
JJ (turning to Baz): 'Why do you do that thing with your guitar?'
Baz, who has been shaking his guitar throughout the song: 'Shall I explain it to you? Do you think the audience wants to know?'
JJ: 'But I want to know.'
Baz (in pedantic mode): 'Well then, if I play these chords like this (i.e. with no movement), you hear this (i.e. just the chords). Whereas if I do it like this (shakes his guitar), you hear this (i.e. an echo effect).'
JJ: 'Oh, I see.'
Baz: 'So, let me explain again… Also it helps dissipate the smell of my farts.'
Top notch comedy which, incidentally, is also appreciated by the Flemish members of the audience.

'Princess of the Streets' contains a fantastic bit of harmonised singing between JJ, Baz and Dave at the end of the number. 'Strange Little Girl', 'Always the Sun' and 'Grip' complete part one of the show. The second part opens with 'Spectre of Love'. JJ treats us to another observational gem. 'Dankuwel' he says in accent-free Dutch. 'We speak many languages… No, not really. The fact is everyone in the Netherlands and Flanders speaks English so well, we don't need to learn to speak Dutch. And let's face it, no other fuckers are gonna learn Dutch, are they?' Quite. JJ's moving 'In the End' up next, which is preceded as follows:
JJ: 'I think we've come to a point in our relationship where we can be totally honest with each other. That is us, the band and you, the audience.'
Male member of the audience: 'I love you, JJ!'
JJ: 'Ooh, I'll see you later!'

What JJ actually wants to know is who in the audience has ever been divorced. Not many hands are raised, so JJ turns to his band members, all of whom have their hands in the air. Jet in the meantime has disappeared offstage. JJ: 'If Jet had been behind me, he'd have needed two hands to answer that question.' A wonderfully moody 'Southern Mountains' next, which Baz dedicates to 'JJ's admirer in the audience'. The band then throw up a surprise by playing 'English Towns' with Baz on lead vocals (Baz changes the very last line in camp fashion to: 'no love in a thousand …boys'). JJ follows this with what I can only put as a surreal English language class. He asks the audience if they have heard of rhyming slang. JJ then explains that this slang was used in the old days as a code language. The audience is invited to come up with examples, the best one being 'Mary Hinge'. Then all the band members are asked to have a go. Baz delivers the pick of the bunch: 'James Blunt'. Percussionist Neal gives us 'Berwick upon Tweed': speed. JJ: 'Ah, that brings us round nicely to the next song. Drugs also have their own slang. Charlie is cocaine, dope is any drug and Harry is heroine. This is an anti-drugs song by the way!' And thus we are treated to a dark version of 'Don't Bring Harry', swiftly followed by a rare live outing for 'North Winds', a song not played in the first acoustic gig in Ghent. 'Well, that was a happy song,' JJ sarcastically adds. 'Here's another happy one. It's dedicated to my ex-wife's lawyer.' Yep, it's time for 'I Hate You'!
Baz then wants to know who in the audience are 'miserable bastards'. House lights are switched on as Baz inspects I also raise my hand at this stage as I've been having to put up with a woman suffering from a severe bout of verbal diarrhoea all evening. Honestly, some people! Before 'Old Codger' starts Baz points out that he's been so busy being a miserable bastard he's forgotten to introduce Dave on the guitar. The lads then take the time to thank a number of people before a rousing 'Sanfta Kuss' blows the final whistle on the show. The next bit of comedy comes in the form of the encore. On walks Baz with a cap on and sits in percussionist Neal's seat, followed by Neal (who also has a Baz style shaven pate) and steps up to the mike: 'Hang on, I can't play the guitar.' Up gets Baz: 'And I'm no good on this.' 'That's the same joke from Mechelen (22nd November)!' shouts one of the crowd. 'Yeah well, we have to do the same thing every night. It's what we do!' replies Baz. 'OK then, especially for you…' and Baz gives us a neatly improvised guitar solo.
'Walk on By' and 'No More Heroes' end the festivities – the atmosphere is spot on. The band hangs around on stage to greet the fans personally, which is a nice touch.
The Stranglers' diary for 2008 is pretty empty so far. Surely this type of gig would go down a treat in the UK… However, if there are no takers, we're more than willing to have you back!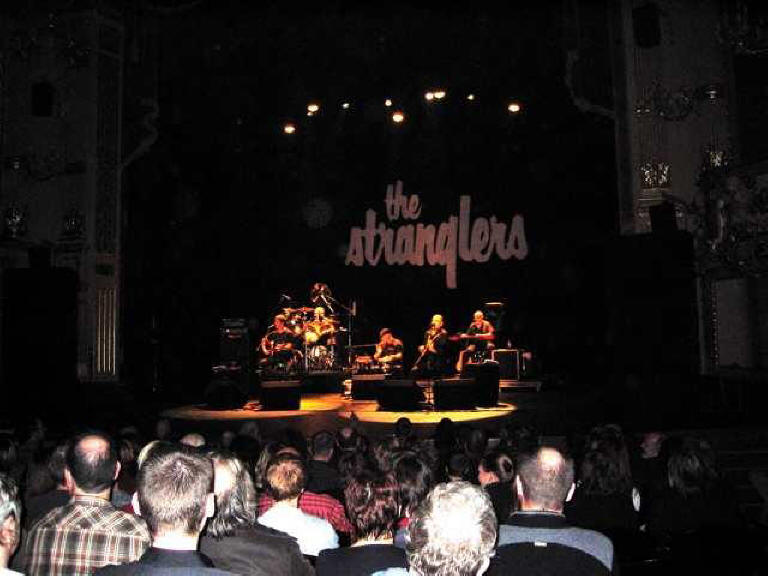 | | |
| --- | --- |
| | |
| | |
| --- | --- |
| | |
| | |
| --- | --- |
| The Stranglers at The Roundhouse by Joe Crass | Thursday 8th November 2007 |
Mothership returns to The Roundhouse
– but not without hardship!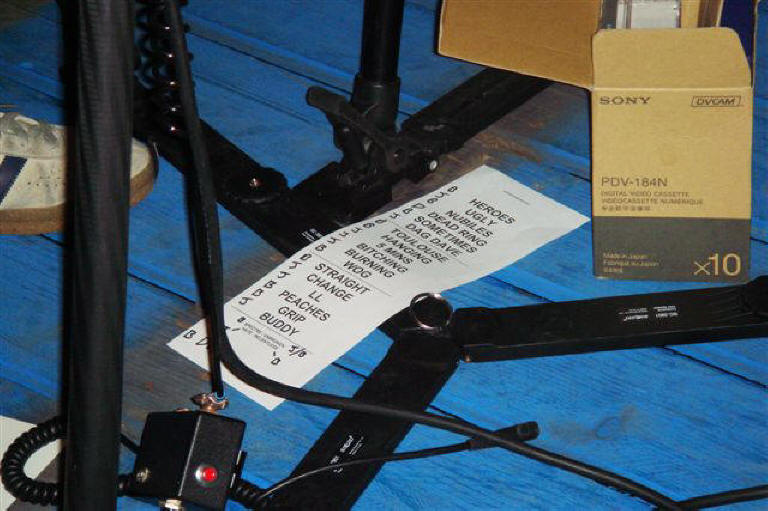 © Onstage photos: Calvin Brady
SADLY, A LOT of the juiciest footage from the forthcoming DVD of tonight's tumultuous concert will doubtlessly end up on the cutting room floor; eight songs into their 'Rattus at the Roundhouse' event, the band make a snap decision to entirely restart the gig from the top! Totally unprecedented as it sounds - it is understandable if you, err, hear the sounds: Dave Greenfield's keyboards cut-out continually, peppering the mighty 1977 Roundhouse set list with breakdowns and breaks in service. The band leave the stage as the crew fiddle. Priceless drama in north London's old theatre.
It all starts so impeccably, for the fans anyway: the day kicks off for this particular Stranglers fan swigging and munching and chatting on PaulinLondon's Finchley patio with an already nationwide throng, to the tunes of Stranglers' past glories before boarding the charabanc parked in the roadway for Camden Town. Organ Grinder and myself hop off at our hotel in Primrose Hill Road to dump bags and powder noses. It's a complete surprise, some thirty minutes later, to find ourselves in the company of JJ Burnel!

One moment we're strolling along (and minding our own business…) downhill towards Chalk Farm when a dark Renault pulls into a driveway in front of us. Inside sits a chipper JJ Burnel at some steel gates. I take the opportunity to pitch my set list concept:

Me: "Are you playing Down In The Sewer tonight?"
JJ: "No. The set will be the same as last night."
Me: "And Down In The Sewer?"
JJ: [LOL] "The set will be the same as last night!"
Me: "Okay. What about Down In The Sewer, then?"
JJ: "Um…"


We leave JJ to prepare, while Organ discovers there are no corners to piss in at The Roundhouse! An atmospheric amble through the Camden sunshine leads us to the Spread Eagle in Parkway where our Stranglers' buddies await. To be honest, it's hard to tell who are the local winos and who are the fans. But lovely Laura sorts out The Stranglers on the jukebox with Porlee, and... Okay. Look - there's no point trying to put this section into any prosaic semblance of meaning: you just have to be here to know what a fantastic time is being had. Roughly translated, that means we are horribly drunk. Well, not all of us get out that much!

The venue is awesome – inside, as it is outside. At the Roundhouse bars, beer choice is limited, to say the least, but I can do with a rest from the booze, I figure. But the omens are evident from the off: solo support act John Cooper Clark stumbles to centre stage in darkness and without introduction. At least, at first. I can't help recalling the first time I accidentally bump into Johnny at the side of Southwark Cathedral on my way to meet Jet at the Stranglers' HQ back in 1980. After an intro, as the lighting man struggles to catch up on events, the monotone Manc is good quality, and adept at heckler-thwarting to boot. Even so, his set is prematurely cut short when he mistakes a call-off from behind the scenes and exits - before returning for just a few more sharp-tongued minutes. I feel short-changed all the same. Spizzenergi could have cut the mustard better, and with a laugh.

Seventies DJ Andy Dunkley spins some hits of yesteryear, as well as a fairly recent ones, including a solo track from Hugh: "I won't faackin' be there!" said Hugh in Dingwall's next door a few weeks back. He lied! Anticipation can't get much higher, especially with those optimistic enough to (even) discuss Hugh's return tonight in light of JJ's BBC London News Friday evening interview where he bands about words such as 'special' and 'reunion', Curiouser and curiouser. And implausible.
Warm words from the DJ replaces Waltzinblack as the band take to the stage. You can almost touch the energy generating from this 3,000 capacity dome. Then technical blips throw the night into chaos. Cracks are temporarily and cheerfully covered with band banter, but it doesn't stop them taking a breather back in the dressing room while techy-types mend and make good as best they can. All the same, the night is thrown into complete confusion. Goodbye Toulouse, off the debut album, is an unlikely casualty in the re-run with more errant keys in Dagenham Dave. Is this further work of the Men In Black? Nothing fails to stop 'Stranglers IV' working like Trojans, though. These guys are troopers, and if this was any other band, the night would have been called off, dummies chucked from prams, and tickets rescheduled for the spring. So full marks for persistence, Stranglers! The original set from November 1977 featured the then new album, No More Heroes of which tonight's set draws from. In fact the band need no commemorative wreaths – just medals for bravery. The sound, when it's not faltering, is raw and urgent. The moshpit is massive and for some down the front, the crush is all too much as some are hurled beyond the barrier to safety and cool air.

I take my camera to the safety of the sides where I spot photographer Chris Gabrin. As one-time stage manager here, I wonder what he makes of tonight's shenanigans? Bad day at Black Rock for the Men In Black. Coming on, coming off…
Many might be forgiven for thinking The Stranglers play their own support slot nowadays! Mind you, I bet it is cheaper… and I expect the DVD product will paper over the cracks as it should do [the film editors will be doing some overtime, I reckon] so they can rightfully and respectfully portray the band as the potent outfit they clearly are, showcasing the feel and power of a quartet a quarter of their years – or more, in view of Jet's age! And then there's the final bow we expect from the Glasgow and Manchester warm-ups. Jet's the only one here who's as fresh as a daisy, but many are drawn to question: is this taking a bow a sign of the end of the band? Will Jet lay down those sticks? I say this - don't be fucking stupid! Tonight I witness a band who, in their 33rd year, will continue to go on interminably and relentlessly. Through thick and thin. Till death us do part. Shit, the cliché's are out in force tonight.
And talking of relentless – the encores feature Suite XVI's Relentless and Spectre [minus Unbroken and I Hate You, thanks to the keyboard Gremlins earlier] and are an inspired decision to bridge old and new – although marred by closing track Duchess. It's anachronistic [two years post-77] and needless. However, I can't help thinking Down in The Sewer would have commemorated not only the band's parting shot off Rattus, but aired an amazing end track to end all events. It also ties in with the parochial lyrics of first verse, eh? So many fans say this tonight…

Chalk Farm's Roundhouse is a heady mixture of success and [power] failure, frustration and joy, that is archetypal Stranglers, whether we like it or not.. Sure The Stranglers end up on a two-hour marathon tonight [as we all do for a post-gig kebab and sing-song in the Marathon until the wee small hours!] but… Down In The Sewer next time, eh lads? Or better still, Black And White at The Roundhouse!

© Camden photos: Joe Crass
| | |
| --- | --- |
| The Stranglers at The Roundhouse by Graeme Mullan | Thursday 8th November 2007 |
Ladies and gentlemen –

The Stranglers!

THIRTY YEARS TO the night, The Stranglers return to play the Roundhouse, blowing away the amassed throng with an incendiary performance. With songs of the original 1977 set-list, this is THE gig of the year/decade/century for any discerning Stranglophile - a must see show, in possibly London's most iconic concert venue and stunning architecture.

The venue itself is synonymous with the band since breaking the consecutive sell-out records set by The Stones and The Who. As for the band - like the venue – a recent face-lift is evident. The re-vamp appeals to both eye and ear - stripped down, rebuilt, refurbished and ready to ROCK. Queuing up pre-doors outside the decor is to be marveled, set off by subtle lighting: the air is electric. A frenzied rush leads to seats in the circle. Warnings of impaired viewing prove unfounded: it is spectacular, not just of the stage, but the whole shebang.

Original Roundhouse DJ, Andy Dunkley, spins vinyl and warms the crowd with Undertones, Ramones and Dictators interspersed with LCD Soundsystem, Pete Shelley and even Picked Up By The Wind by Hugh! [Anyone know the reaction backstage?] Then the infamous John Cooper-Clarke, Punk poet extraordinaire strides on with unmistakable black suit and trademark 'dragged through a hedge backwards' hair to crowd cheers. Speeding through his sardonic book of verse which includes Hire Car, Twat and the swear-box pension fund, Evidently Chickentown is mixed with jokes crowd banter. But his spot is over too soon, even after the encore of The Punk DJ. Talking of which, Andy Dunkley returns to the centre spot:
"Six months before this band played The Roundhouse thirty years ago, they supported Patti Smith at this very same venue. The crowd that night were not to appreciative but I informed them that, in the not too distant future, you will all be queuing around the block to see them - and I was proved right. Ladies and gentlemen - The Stranglers!"
In the cheers, the four figures in black take up positions after checking amps and other equipment with a glance to each other, saying they're set. Spine-tingling intro No More Heroes reverberates as an unexpected opener, heightening expectation and anticipation as a torrent of half-full beer glasses fill the air, soaking all and sundry in a sea of swaying bodies below. Straight into Ugly, with the first slip-up of the night by Baz, unusually, and then spoiled by a JJ's adlib near the end: "only the children of the fucking wealthy.." gets altered to "bald and deaf" – digging slightly at the shaven-headed Baz. Dead Ringer, Sometimes and Goodbye Toulouse blast out at breakneck speed until Hanging Around. The, everything comes to a halt……
A technical fault with Dave's keyboards, and then JJ aborts mid-song as Baz jokingly remonstrates it's best he's played that solo. Crew run on as JJ remarks it's "just like the old days…" while Baz entertains the baiting crowd with his northeast banter about Newcastle United and London clubs too. Realisation dawns as the techy problem remains unresolved, for JJ to call the band offstage for a five minute break.
With keys in place, the band return to rapturous cheers. JJ asks: "What should we do? Start from the top of Hanging Around or from the top of the whole thing?" The majority win and the band restart from the top of the night. What was the chance of that happening? As JJ fires up the bass riff intro to Heroes once more, the crowd go ballistic. Minus Goodbye Toulouse, the band retrace their steps – we all assume is for filming purposes. If anything, this unplanned interruption stokes up the band even more as they play out of their skins, even faster, tighter, with more venom. Each note and intonation hits perfectly. This, tonight, is The Stranglers at their prowess peak. But then disaster strikes: Dave's rig gives out once more, and for longer this time. JJ tells the crowd of a 5 hour fix of Dave's Hammond once in the US.
Pressure builds as the crew remedy the situation so the show can go on. From the top this time? Not likely - the band resume from where they end with more of the Roundhouse set including Bitching, I Feel Like A Wog, Bring On The Nubiles, Something Better Change, Peaches and Grip.
The band look like they are really enjoying themselves as JJ karate-kicks his way through many a bass-line, stressing the Shuker's power and precision [pun intended] with two-legged high jumps. Even Baz joins in with a few of his own star jumps. But his guitar work is still spot- on, riffing at 100 mph all the way. And despite Dave's tribulations is also on top form: the sound effects and keyboard runs perfectly supplement the musical soundscape. However, plaudits for the night go to Jet, who to his credit, played as solidly as ever - on this performance any signs of his recent illness are well behind him. Not only does he supply the perfect backbeat throughout, but he plays tonight faster and longer than ever.
Go Buddy Go explodes into the night and JJ is at the mike again: ""The Stranglers aren't renowned for saying thanks - but, thank you for your patience - for the last thirty years." The band exit, returning for an encore of recent offerings, Spectre Of Love, the classic to be, Relentless, and then a frenzied finale of Duchess.
With guitars back on stands, JJ and Baz take a bow alongside Jet and Dave. Jet gets the biggest applause, and the usual chorus of "Jet Black! Jet Black! Jet Black!". Ever the gent, he humbly accepts the accolade by assuming his 'unworthiness'. The faithful wave back and the band leave the stage to alien sounds advocating porky meat, echoing round the massed brigade-in-black, the house lights go up and it's all over.
With those rumours of the band calling it a day, this could be a fitting finale. Regarding the performance tonight – there's undoubtedly another few years in them. So how about Black And White in Buxton?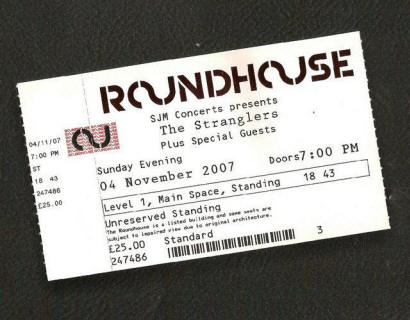 Now yer talkin'!
The Stranglers acoustic, Capitole Threatre, Ghent 05.10.07

by Mark Van Dongen

Friday 19th October 2007
Baz Warne quote: 'Who'd have thought it? The Stranglers sitting down!'
Belgium buns!
With a mix of excitement and trepidation, I arrive at the splendid Capitole Theatre to witness The Stranglers kick off their acoustic tour of Belgium and Holland. Obviously excitement stems from the fact that I was in for a musical treat: trepidation, from the fact The Meninblack are about to play to an audience mostly made up from a hospital charity foundation – not Stranglers' fans, per se. It's a full house, but my fears deepen when I look around: at 35 years of age, I'm usually one of the younger audience members, although tonight I'm virtually embryonic! And normally, Waltzinblack heralds the start of the show. Instead, introductions come from a dead ringer for Harry Potter's Uncle Vernon, who manages to mispronounce JJ's name as 'GG Burnel'! But it is great watching Jet walk on looking so well. Also, percussionist Neil Sparkes is brilliant for this acoustic setting, adding a whole new dimension to the sound.
Instead of this opens - surely the best Stranglers' song never to make an album. The audience take a while to catch up (not us true fans, of course) but when Baz and JJ thank them in Flemish with a 'dank u' - Baz looks around and adds: 'Who'd have thought it? The Stranglers sitting down!' to cheers and laughter all round.
An awesome version of Long Black Veil and Dutch Moon next, and then JJ gives us a magical European Female, where a hint of recognition ripples through the crowd – to be suddenly wrong-footed when a powerful and moody Princess of the Street comes next. Here, Baz gets sarcy, telling the audience he's always wanted to get some audience participation going on. 'You over there - clap, you lot over here…'. All very amusing. Always the Sun, and the crowd join in, albeit in a half-hearted fashion. More amusing banter: JJ asks the audience to raise their hands if they'd been divorced – and only the band members raise their hands!
'Only us four have actually been divorced?' An incredulous JJ responds. (Fact: Belgium has a divorce rate of 1 in 3 couples, so either the audience's English wasn't up to scratch or they were defying the statistics!) This leads into In the End, which at the end, Baz calls 'lovely'. After an amazing English Towns (Baz: 'there could be a thousand girls here tonight, ladies and gentlemen, and there would be no love in them at all'), another Mark II song got an unexpected airing - Southern Mountains. It was a real treat proving The Stranglers produced some great stuff in the 90s.
Golden Brown next, with jazzed-up drawn-out intro – impressive stuff! This was swiftly followed by Spectre of Love, Grip and a chilling Don't Bring Harry. Cruel Garden – and what a song! Yet another B-side not getting it's album status. Never to Look Back, then No More Heroes, and yes – this works brilliantly in an acoustic setting, when you've got musicians like Baz and JJ up onstage. And if all of this is not enough (I was secretly expecting Heroes to end…) Dave joined in on acoustic guitar for Old Codger! 'Not only does Dave have a swelling organ…1 says Baz – who in turn, provides some pretty damn good (mouth) organ on I Hate You. Beforehand, JJ does the song introduction:
'This song is dedicated to… a lot of people!' before finishing the song with 'I'll hate you forever, even longer than… the Belgian Constitutional Crisis'. Brilliant! For all you non-Belgians, the country hasn't had a government for over three months as the Flemish and the Walloons can't agree on… anything!
Sanfta Kuss finally signals the end of the set. More Baz quips:
'I've always wanted to say this - ladies and gentlemen, we've come to the end of our show. We hope you have enjoyed the evening. I had a great time. What about you lads?'
JJ (enthusiastically): 'Yeah, it was great...'
Jet (in drole fashion): 'Mmm. It wasn't too bad...'
Dave (still clutching his guitar): 'I've busted my fingers!'
The audience cheer loudly as the Meninblack exit the stage – testament to what a good night is had by all (even the geriatrics!). The band return for a stunning Walk On By, for 'Uncle Vernon' to appear and thank the event organisers. For those who can't wait for the acoustic set to return England, it's definitely worth the trip to either Holland or Belgium. As for me, the band are virtually playing in my back garden this November… I can't wait.
Set list: Instead of This, Dutch Moon, Long Black Veil, Strange Little Girl, European Female, Princess of the Streets, Always the Sun, In the End, English Towns, Southern Mountains, Golden Brown, Spectre of Love, Grip, Don't Bring Harry, Cruel Garden, Never to Look Back, No More Heroes, I Hate You, Old Codger, Sanfta Kuss and Walk On By.
| | |
| --- | --- |
| The Stranglers at The Engine Shed, Lincoln 28.09.07 by PaulinLondon | Thursday 4th October 2007 |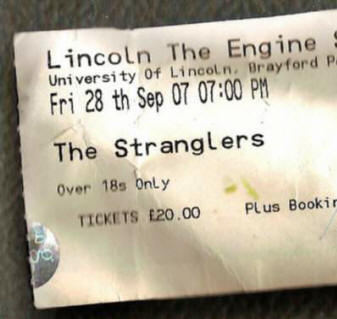 First class trip!
The Mothership lands in Lincoln as our chariot takes both Crass and myself to the centre of the citadel. It's late afternoon. The brooding grey sky is interrupted by menacing black clouds above The Engine Shed venue where tonight, The Meninblack will play. The setting is unique: situated on the picturesque Brayford, the following morning we are drawn to this leisurely pool as Crass and I muse the pleasure these sailors derive. Quite right too. In the drizzle, we meet Lord Justice Gizzard of Mitsubishi and proceed to the walking district of the town nearby. Clad in black, we three team up at the Cheltenham with the very fabulous Yellowcake UF6 who sports a black Suite XVI T-shirt and nasty cold. Lager and some mosh pit disco dancing will improve his health later on.
Everything proceeds as it should in any Mib and Wib get together as we are joined by 50MillionWatches, LadP, Homme en Noir, The Strangler, PaulB, John and BlackTania. The smiles and laughter say everything about how special these pre-gig gatherings are. Everyone is in high spirits and looking forward to the last electric UK Stranglers show before the band play Glasgow, Manchester and the highlight, The Roundhouse. We move to another watering hole closer to the venue, the Duke William, where pub diners are open-mouthed as we enter in our black garb, with ravens, nasty spiders and the odd rat emblazoned across our respective chests. The Real One! joins us for a G&T before heading for the Engine Shed to herald the advent of yet another aural sculpture.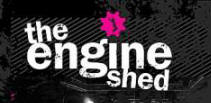 This venue is Lincoln's answer to the Roundhouse: in previous incarnations, they both housed steam locomotives. The only discernable difference is this one isn't round, or old. Two of our party are ASLEF members, as we file into the huge hall and we see many other new faces. The support band play and I ponder the percentage of fellow MiB Forumsters. The crowd size is already eminently respectable, and I sense anticipation and excitement in the air.
Ten to nine. Suddenly the house lights dim; showtime! Waltzinblack starts up after a weighty pause. The suspense is fabulous. But, a minute in to the intro, there's a surprise: the song segues into Longships! No it's not the CD jumping… and then in the fade, The Stranglers walk on, donning guitars. In my most humble opinion, Longships is a great hark back to the band's past, proving those roots are not forgotten. Sometimes opens and rocks the joint. All four Stranglers look on top form: JJ - mean and moody, ceiling-staring and then down at the crowd, perhaps picking someone out before nodding and shifting, acknowledging your presence like only JJ does. Its great to see him move about the stage, covering ground. Baz, meanwhile, is having a fine night and is up for Man of the Match. You can tell he is enjoying every second of tonight; his delivery of I Feel Like A Wog is stunning and full of passion and aggressive finesses. You can hear each word, and the roar from the crowd was the ultimate approval.
Ava appears in the crowd and says hello and I glance to a pensive Jet onstage, staring at the snare, concentration etched on his face, pounding out the beat. Dave is all smiles and engages in some great interaction with JJ; lots of laughing too, reinforcing the bond these Stranglers have for each other. And in Walk on By, Dave practically hangs over his top keyboard to watch a side-on Baz bash out guitar notes before they both move onto the next shift in the song. Totally live and thoroughly human. Great to see. The only thing that I miss with Dave's stage appearance is the black sheeting around his keyboard rig. Not that I have nothing against Dave's legs (ha!) but I miss that mysterious look of the Planet Greenfield spaceship workstation.
JJ is having a fine night - his playing and singing are superb - the only let down is the bass guitar is a bit flat, sound wise. I can assume his onstage monitor sound is okay, even though at one point mid-song, I saw him crouch before his rig for a while to check the sound from the right hand Ashdown speaker cab. I also see a Trace Elliott amp on top of the left hand side of his bass rig, so maybe it is a rare off night in terms of sound clarity. Who knows ? In the absence of a bright and tonal bass definition, JJ is relentless: In Relentless itself, the bass is spot on, and rib bending in all the right moments. The band go off briefly. Gig highlights include the crowd chants of 'Jet Black! Jet Black! Jet Black!' And when Jet returns to the stage for the encore, he syncopates his bass drum to form Five Minutes. Totally fabulous! A 'Jet moment' to stay with many of us for years to come. He really is the Master. May we have many more years with Jet Black.
Tonight really is first class: we're blessed with gems such as Sometimes, Wog and Bitching – which counteract the missing soundscapes like Toiler, Raven and Sewer (and the ever popular and mesmerising Nice 'n' Sleazy) – and it's a true testament to the bands' back catalogue of strength and depth in their compositions from the last 30 years. The only thing I want to see is the return of Norfolk Coast - a worthy member of the songs Toiler and Sewer are part of. A lot of us were right up front to the stage where ThruBeingCool appears, pogoing with glee to Bitching.
Lincoln set is as follows, in chronological order:
Sometimes, Grip, Peaches, Straighten Out, No More Heroes, Bitching, I Feel Like A Wog, Burning Up Time, Five Minutes, Walk On By, Duchess, Thrown Away, Golden Brown, Always The Sun, All Day & All Of The Night, Lost Control, Spectre Of Love, Unbroken, I Hate You and Relentless.
All good things come to an end - a statement I profoundly disagree with - but the lights are up, and very early too, thanks to University licensing regulations. As the crowd disperse, we congregate near the bar and I meet that fabulous time traveller, Mr. Freddie Laker with his usual post-gig smile. We leave, and have a couple of drinks in a nearby cavern of a bar. But now time to eat! We pile into the Light Of India and Paulb, Gizzard, 50MillionWatches, Homme en Noir, Ladp, The Strangler, Crass, me and Yellowcake UF6 all drink and be merry. And God, we are loud ! Stranglers' song after Stranglers' song are sung at top volume. Thankfully there aren't many diners there, but those who were, including the staff, are very happy to let us vent whatever it was we were needing to vent. [Tolerated, more like?! Ed.] Great table top drumming by Ladp, Homme en Noir with some master class vocal delivery from Yellowcake UF6. And then, the Man we Loved to Meet: irony of ironies – after being in the restaurant for just ten minutes, we're singing Nuclear Device when Helgy and his wife are sitting behind us. Of all the curry joints and eating emporiums in Lincoln, surely the work of the Meninblack?! Then someone called Sean, and his girlfriend, both local, both fresh from the gig joined in. Sean saw The Stranglers' at Lincoln's Drill Hall in 1978. Drunk he most certainly is, but a good addition for the singalongs and the evening's fun. Then it is literally: lights out, gentlemen! Before we pay and go, the restaurant suffers a power loss. The bill is then scrutinised by candle light.
It is great seeing everybody for both the pre-gig and post-gig meet-ups: the banter is superb. In summary, an excellent day is had by all. The band are surely pleased to have such great support from the assembled Mibs and Wibs. I have to say, it's another of those fabulous and unique family gatherings where the travelling fans are genuinely pleased to see each other. It's a very special Stranglers thing.
Until we all meet again!
Thanks to Sid (and Andy) for the pix
Hugh Cornwell warms up at the Horn reborn

Joe Ordinaire was there...

Wednesday 6th June 2007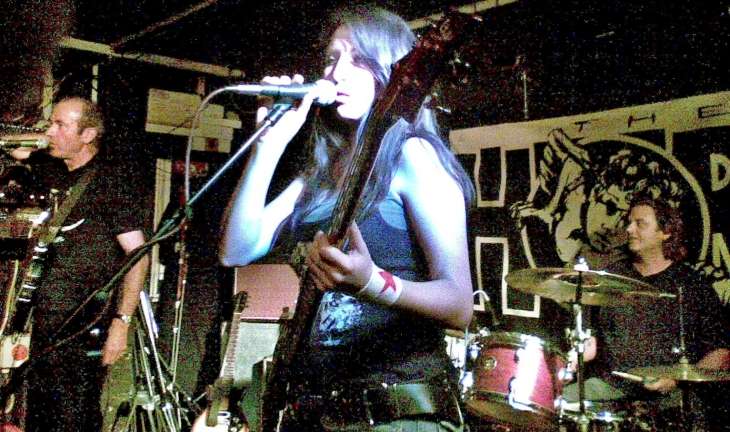 The St. Albans house-on-the-hill forms a handy stop-off for the M1 and Hugh's next gig – the headline slot at Strummercamp. So The Horn crowd might be excused for expecting a hidden gem within the warm-up set tonight, eh? Here just two years back before jetting off to Canada, the New York Dolls' Human Being came alive – but tonight it's a safe set – not even a paean to his old Clash buddy Joe in the process. Meanwhile, the DJ plays the same New Wave tunes he spun in 2005.

Normally the place to see tribute acts. the Horn is rammed with revellers from all over the country, most of them well bitten and smitten from the Hugh era-Stranglers with Hugh. Due on at nine, Hugh is late and audience eagerness sours into exasperation. They finally stroll on at half-past and Hugh halts to tune his Telecaster. The Scala revisted?
| | |
| --- | --- |
| | At last - back to 1977, Tank is scrapped for Grip – the more worthy opener. Hugh's laid back vocals are left behind in the blaze created by flawless bassist Caz and hard-hitting drummer Chris. With no signs of altering his old Stranglers v. solo strategy, Hugh coolly rejects the big two Stranglers hits for Always The Sun, No More Heroes, Hanging Around, Goodbye Toulouse and Sleazy, plus a cracking Bear Cage and a Walk On By. In 2005, Hugh's guitar soloing meandered during the Dionne Warwick cover – this time it's spot on and note perfect - replacing Greenfield's old arpeggio fills amply. Caz also assists by basslining out the organ intro to Nuclear Device: she plays a great gig, despite her recurrent grimaces aimed at an offending spotlight – but ably serving up a sexy mix of pout and sass in the set to substitute Burnel's broody bass. Hugh really has hit jackpot with Caz. For eye-candy alone! I wasn't gonna go on about Caz: she knows she's a babe! |

It's all too much for the bass amp: an overload causes a cut-out in between songs. But no one notices, bar ex-roadie Bri standing in the crowd taking pictures. Thankfully it happens between songs, and is quickly reparable. Full power resumed, and the show goes on. Drummer Chris from bears down on his snare harder all the time. "He doesn't really need to mic up those drums…" says Bri.

"Come July 1st you'll all have to fuck off outside…"
Dressed uncharacteristically in black, Hugh is relaxed and lean. His stagecraft is, as usual, measured and minimal. Inter song banter ranges from an initial: "Great… great," to a gripe about the smoke: "Come July the first, and you'll all have to fuck off outside… think about my voice…. I don't smoke, at least not in public." To the more abstract; "We were wondering what the term 'kite' means, as in 'cheque'…?" Maybe his backstage payment cued the quizzing of the crowd in line with his old teaching days? In the end, his wit cuts through: "St. Alban's – the home of Vera Lynn." Referring to the town's Roman roots. Geography and history rolled into one -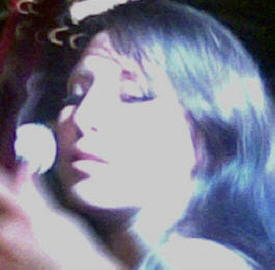 maybe 'School Mam' would have been a great inclusion at this point!
Solo songs don't come much catchier than the live version of Hot Cat On A Tin Roof and possibly Nerves of Steel and Black Eyes… with a solitary Elysian Fields song from 2004 – the 'almost' single, Picked Up By The Wind – while slow accomplices Harry Power, Under Her Spell and 24/7 are thankfully sidelined. Among the others played are First Bus To Babylon and Leave Me Alone. The Captain Quirk factor goes up to the max with Mothra – a song originally recorded on 1979's Nosferatu with Robert Williams – who will replace Chris on drums for the summer live dates in the States. The crowd are left in no doubt how spooky Nosferatu tracks are – and how we miss them. Once again we're in 1977, this time for the finale. Down In The Sewer is superlative – the crowd, tumultuous and the mosh surround the sole bouncer, who is helpless, as he is hapless. Perhaps you don't get all this punk-inspired energy when the tribute bands come to town? Hugh's one hour and three-quarter set might have lacked any real surprises or changes, but it definitely warmed up the audience on a cold wet Hertfordshire night in May.
Pix by Brian Johnson
| | |
| --- | --- |
| Black in Town gig: post-match report | Tuesday 13th March 2007 |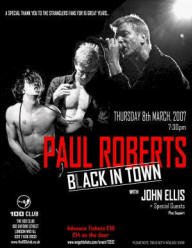 At the 100 Club, Paul rekindles Mk II Stranglers
for one night – Gaz Energi was there…
Strangers in the night
It's The Stranglers. But not as we know it. Erstwhile front man Paul Roberts is 'Black In Town' to thank the fans and celebrate 16 years service with the MiB – and John Ellis is also back on guitar to revive and relive the tracks they contributed to - with the odd Soulsec song thrown in for good measure. In footballing terms – you can say it's a testimonial!
The evening kicks off with a few jars in The Tottenham pub before uniting with the nearby 100 Club queue. Support band The Exorsisters pose and prance with hairstyles and not much more, although they are feisty, as I witness during their headliners set…
Paul, with his fourth solo CD End Games out online, defies his years, looking like a teenager, and incredibly fit-looking (check out all the swooning mums and daughters in the audience!) with hair longer and browner, and later minus his shirt. Even ex-Vibrator and Strangler for 10 years John looks spruced and fresh-faced for the occasion. Less than a week before, John was on BBC TV's Newsnight explaining his part in the Jimi Hendrix tape hoax. But the crowd are busy dissecting Paul's last show in Ruislip, west London where he bared his soul in the Q and A about his Stranglers departure in May 2006 (as revealed on these pages) and there's a distinct buzz in the air. By the bogs, photographers hog an enclave, clamouring unattended seats to stand atop to gain advantage. Onstage, a cameraman hoists a camcorder to his shoulder. Paul and John come on with Soulsec's Micky Sparrow (ex-Blue Zoo) on drums and bassist Brad Waissman (ex-Waterboys), together with keyboardist Tom Phelan. The Mk II post-Hugh pre-Baz era is dusted off, resuscitated and rejuvenated, exploding with 1992's non-charter Sugar Bullets, then Valley Of The Birds and Golden Boy - the opening gambits of their finest moments from Written In Red and About Time. In a pause, a heckler calls out something which includes the name of Paul's predecessor. Paul is quick to connect:
"…It's Corn-well, actually. Not Corn-wall…" Paul says, while John swigs from his lager, impassive. The heckler shuts up.
She Gave It All is next, and Paul tells the crowd: "This should have been on another album, but there you go…" but sadly Suite XVI's She's Slipping Away is missing from the set – with Sad Soft Lullaby sidelined once again; it was replaced with See Me Coming when Paul left. Desert Soul might have missed Suite XVI selection, but it is premiership material - it's anthemic, right? And this soul from the desert flourishes into a verdant oasis of catchiness... Am I hallucinating? A young girl collapses to the floor in front of me and I help her to safety and seat her. I have my uses, sometimes – and the crowd seem to think I'm the bouncer, although further help ensues from the kind-hearted throng.
Similarly, at Braintree Rock in September, I witnessed a resounding thud on the green behind me, followed by: "I can't breathe!" Although tonight I avoid the kiss of death and a glass of water arrives with an escort up into the fresh night air of Oxford Street. Thankfully, the girl recuperates. Heaven Or Hell and Still Life bumble and brood with a couple of solo tunes as Wet Afternoon (what a great black and white flick) reminds us how the jangly quirkiness knob can go to the max and In Heaven She Walks reinforces more missed chances for Stranglers Mk II in the pop charts.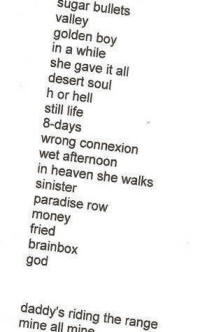 I must say, it is refreshing hearing these tracks again. Especially Paradise Row: I don't know if it's because I'm a Londoner, and in Leytonstone in my teens where John felt the force of the Highways Department – but this track makes the earth move for me every time. Tonight, it's deep and dominant, like the diggers their selves - as is Sinister, and even more so… "such a sad shag…"- is that, Paul?
Money and Fried would have been more suitable around the halfway mark instead of the final furlong, but Brainbox goes in some way to make up at the end. Many of these songs have been long-since mothballed in favour of the greatest hits and JJ or Baz-flavoured songs, accounting for the Coup de Grace void, and you all know why… Infinity Drive or Hoox in You next time, eh lads?
It's a fulsome sound for a tiny club, "Stadium-sounding…" my punk pal Spizz remarks, before adding: "is he a Bowie fan, by any chance?"- pointing at Paul. This God Is Mine – "a track we were going to record in the States for a single…" ends the night – with encores of Daddy's Riding The Range and a splendidly riotous Mine All Mine.
At the bar, one Exorsister (remember the support act poseurs?) picks a row with one of the biggest guys there – and it's his manager! The tussle culminates in a Premiership-style grapple with much flailing and arm-windmilling before it dissipates into a sea of Stella and mascara. Aah, youth of today. But it doesn't detract from the spirited Black In Town show - the boys done good! The Stranglers nowadays with Baz and JJ sharing front man status are throbbing menace, but in Paul and John's bygone era, as displayed so eloquently here tonight, was quite quirky and oddly melodic. More curators than inventors, it was good to see the duo reunite tonight, and celebrate the part of their lives they probably wish they could put to bed in some ways. But reward comes from a baying, paying crowd calling out for more, As the descent the stage, the crowd ceremoniously mob the pair. Word is, there will be another Black In Town in 6 months. – a tour perhaps? After the show I can't resist asking John why he isn't in Soulsec with Paul, and he explains away the logistics from around that time, but he was pleased with tonight's show:
"It seemed to go down very well. For me it was great to see some old friends - I was really amazed to see people who had come from as far away as the USA. It was only my 4th gig in 6 years. Now I want to do more. I was really pleased for Paul. He put a great deal of work into making it happen and I know he feels very strongly about his relationship with those fans that appreciate his work with The Stranglers. It was also great to revisit some old songs. I hope everybody had a great night."
The last word goes to Paul, who addresses the audience once more:
"I never had a chance to say thank you to you – I'm speaking for Johnny tonight… thank you!"
And Mr. Cornwell…?!
Thanx to John for his set list.
| | |
| --- | --- |
| The boys are Black in Town... | Saturday 24th February 2007 |
Paul Roberts performs at London's 100 Club on Thursday 8th March to celebrate the 16 years he played with The Stranglers. See gig flyer HERE. We catch up with erstwhile Strangler John Ellis, who will be providing guitar on the night: "The set will be 2/3 Stranglers material Paul and myself contributed to while we were members - and a 1/3 Paul material." Rehearsals are going ahead in town, and John is upbeat at the prospect of playing to a live audience once again: "I'm really looking forward to getting out there and performing. Hopefully, if this is successful, we might tour with it at some point. We'll have to wait and see." Word is, the event is already sold out.
LIVE REVIEWS: Hugh, here…
Monday 6th November 2006
As Hugh's 'Dirty Dozen' Tour leaves a trail across Germany, Austria, France and Greece, we review his last UK gig at the Scala, Kings Cross, as well as the first night - at Brighton's Komedia. There's also a recall of Hugh's fine solo performance and reading at the Brighton venue from 2005…
Fully booked
Gary Kent recalls an intimate evening in August 2005.
BRIGHTON'S KOMEDIA is a hot comedy spot, which seems to rub off on Hugh tonight:
"Anyone here heard of Bob Dylan? He's a bit like the Pope, 'cept he's alive - and he's a Jew, not Catholic!"
Fiery and wiry, suited and booted Hugh Cornwell sticks on his readers and pulls out a bookmarked copy of his autobiography to read out loud. The Gardner Street crowd are gripped at Stranglers scrapes with Holland's chapter of the Hell's Angels before Hugh sweetly segues into Nice 'n' Sleazy. Half playing, half reading, Hugh swaps guitar for glasses to reel in the onlookers, relaying each excerpt at a breezy comedy pace with great timing, leaving the crowd wanting more. He bangs out stoic solo versions of other Stranglers classics, like Get A Grip On Yourself, Strangle Little Girl, Always The Sun, Golden Brown, Hanging Around, No More Heroes and Duchess – and also some of his solo gems, such as: Beauty On The Beach, First Bus To Babylon, Picked Up By The Wind, 24/7, Henry Moore and Nerves Of Steel.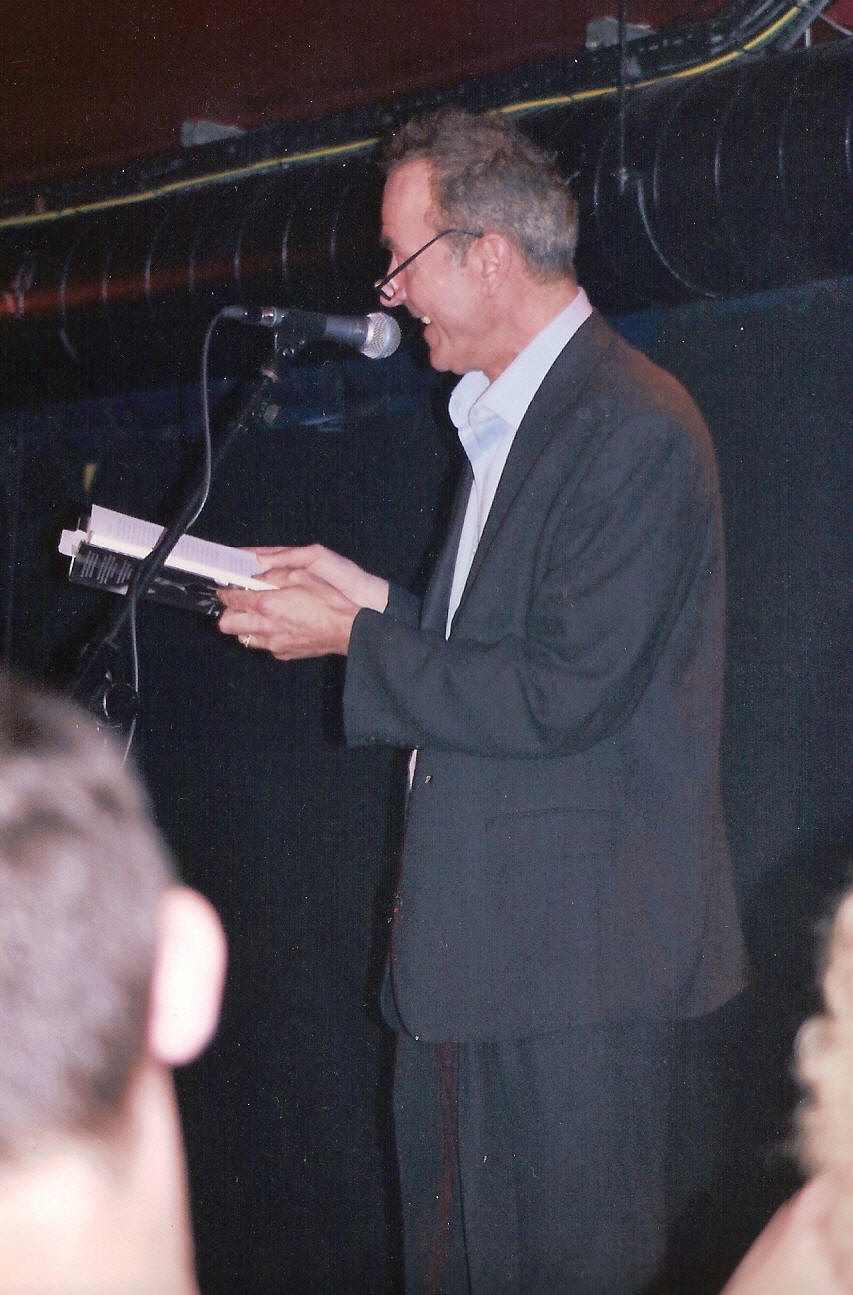 These book readings display Hugh's own steely nerve: standing up in front of a bunch of strangers in a room is a brave move. At least when you're in a band, you can fall back on the others to a degree. It doesn't take much to recall the sheer horror of being made to stand at the front of a schoolroom to read out a short passage from a book! Something that pragmatic teacher-like Virgo people like Mr. Cornwell take in their stride, while Jake Arnott, The Long Firm author, has been seen shaking and sweating at his own book readings. Here, Hugh is open, but eager to detect idle chit chat from down the front, a distraction Hugh does not tolerate, and gets caustic.
"Sorry – do you want to break for 5 minutes? A fag break, perhaps - or a pee break maybe..?"
He does have a point, and the chatters respond with mute gawps. Next came the ubiquitous snapping of a string, preceded by a resonant 'click' from the Godin acoustic: "Wow! Did you hear that?" He says, almost incredulous, as it then goes for good. Without a pause, Hugh darts inside his dressing room to retrieve a replacement E6, and threads it through quicker than any roadie. On two other occasions this year, Hugh prematurely cut short concerts due to broken strings; he is clearly lapping up the night. And it is reflected in his finest solo performance - topped only by his Horn gig two months ago when we last saw the whole band.
Backstage in jeans and top, Hugh was chilled and friendly. He takes the glasses from his nose and places them carefully on top of A Multitude of Sins, which in turn sits on today's Times newspaper. A crisp packet lies next to these, opened and half-eaten alongside a glass of Prosecco. Hugh is sharing his space with Adrian from Audioporn, who provides the support for the tour. Talk hops between Hazel O'Connor, Radio 2 presenter Rowland Rivron, the progress of the PDF and the upcoming cricket; Hugh was concerned the Aussies would return 100% match fit for the Third Test at Old Trafford – but confident of an England victory all the same. He was also excited after rehearsing with the full band earlier in the day – particularly with bassist Caz who had learned some new songs recently, naming Sewer and Walk On By… recent additions already in the live set.
The crowd are thoroughly appreciative and Hugh appears hugely energised, clearly enjoying the freedom of the cosy subterranean stage. But when he played the Big Chill a few days before in a multi media tent, things started off badly. Hugh: "I plugged in and played to just 4 people… all sitting on bean bags. I wondered to myself, what the hell am I doing here? But to my surprise, at the end, there was something like 400 people watching! It was great."
I can't imagine much phasing the mettle of our erstwhile Strangler:
"Reading from a book? Oh, that's a doddle! It doesn't come much easier than that, for me. It's all written there, right in front of you. Writing a book is a lot harder!"
A Multitude of Tunes…. Hugh's autobiography comes alive with tonight's rampant quick-fire delivery. His opening gambit is the gripping chapter on the Dutch Chapter, leading into Sleazy, Beauty and the very well received Grip. Next up was the 1980 (not '82..!) drug bust trial and subsequent spell in Pentonville, and a melodic triptych of Babylon, Strange Little Girl and Picked Up By The Wind. Early Strangling days, and tales of playing to a solitary audience member at Islington's Hope & Anchor, name checking Joe Strummer and Iggy Pop and the Rock Goes To College walkout. Always The Sun, Nerves Of Steel (ironically, Hugh's sixth string snaps here!) and Golden Brown, and Hugh tells us about Sweden. Then it's Henry Moore… Hanging Around… "and another couple of numbers and we'll call it quits…" 24/7 and No More Heroes. Duchess was the encore. A splendid gig.
Pix: Hugh at the Komedia 10.08.05. © Gary Kent
Mike Cobley's 2006 Hugh Cornwell Komedia review HERE
LIVE REVIEWS: Hugh Cornwell

Sunday 29th October 2006

To infinity, and beyond!

Gary Kent sees Hugh play the Scala, London 26.10.06.



TONIGHT IN a former porn picture house (once closed for screening Clockwork Orange) I watched the Good, the Bad and the Gorgeous tonight! All we need is a whistling Morricone soundtrack and tumbleweed - as Hugh appears in his Toy Story Woody's tan-colour tassled suede cowboy coat! Alongside is bad-ass drummer Chris Bell in place of Windsor and Hugh's cute bassist, the gorgeous Caz Campbell - deputising for Steve Lawrence for what seems to be for good. She's a welcome inclusion since spotting her at The Horn at St. Albans in June 2005. And just like then, tonight the cat-calls and eye-gazes are torn between the ex-Stranglers singing legend on the left - and the sexy, smiling young bassist on the right!

But cowboy outfit, this is not. The King's Cross crowd will witness a fluent performance from a fine voiced Hugh, backed by the best rhythm section to date. But as he plugs in his Fender Telecaster, the crowd's exuberance is seemingly falling on deaf ears. Maintaining indifference and ignorance in his two-sizes-too-big suede epidermis, momentum becomes inertia while Hugh tunes, tunes, and tunes again… Measured and metered, he's oblivious to the warm cheers - even when they turn to perplexed stony silence. There's even time to do a total recall of some of the darker moments from one drab gig from the not-so-distant past - Cut to the Ashdown Theatre in March 2005 when Hugh, Steve and Windsor walk on stage, and then gawp at each other; you can hear that pin drop. Words get muttered before eventually immersing themselves into an extremely average performance, pedestrian and flaccid, with Hugh finally taking it out on the audience halfway though the show to berate us for not cheering enough:

"Is that the best you can do? Is that what they do in Croydon? Zzzzzzzz… Boring."

Duchess
Leave Me Alone
Nice 'n' Sleazy
First Bus To Babylon
Goodbye Toulouse
Picked Up By The Wind
Hanging Around
Hot Cat On A Tin Roof
Bear Cage
Black Hair Black Eyes…
Always The Sun
Nerves Of Steel
Nuclear Device
Putting You In The Shade
Walk On By
No More Heroes
Dark Side of the Room
Down In The Sewer

Cut to the Scala... When it finally gets going, Duchess is the opener, the set is urgent and smooth, with not a moment lost. Hugh, Chris and Caz flawlessly flick between Stranglers and solo stuff; for the most part, it's a reshuffle of The Horn's set. No More Heroes, Sleazy, Walk On By, Nuclear Device and Duchess are - and should be - Stranglers staples. Even Always The Sun sounds fresh and current. Thankfully, Golden Brown is still sidelined to the bench, as well as his Cadiz, Under Her Spell, Harry Power and 24/7: the acoustic stayed at home tonight. Picked Up By The Wind - the mooted single that wasn't - is the sole track off the last album, Beyond Elysian Fields. Leave Me Alone, Putting You In The Shade and Dark Side Of The Room from 2000's Hi-Fi sound cool, the latter aided by harmonica man John Dominic. Hugh kept the baiting mob at bay:

"Can you all hear what we're playing? He can't, down there - he must be deaf. And there's someone over here who can't see a thing. But he's blind..."

A little thinner on top, a tad greyer at the sides, he is his usual wiry self, rocking out and leading the charge with sporadic head nodding to the other two using muso's nous, or side to side, when things are not ready to end right now, not yet. Part impassive, part fettered ardour perhaps, at least I'd like to THINK Hugh enjoys these nights, going about his business whether there's a 3,000 strong crowd to perform to like in the golden days - or the 300 or so like here tonight. Nonetheless, his vocal timbre is rich and effective and his playing is crisp and clear.

Hugh, West London, November 2005 © Gary Kent

Then came something I certainly won't forget. An unlimited version of Bear Cage - it went on for an eternity. absolutely awesome, it was worth the entrance fee alone! Some knew from the Internet Hugh had played it on this tour, but nothing prepared the amazed audience for the extended onslaught in store. It was blissful. Hugh occasionally pulls one out of the bag like this, like at the Mean Fiddler in November 2004 when he played a mesmerising extended version of I Feel Like A Wog complete with psychedelic e-bow soloing… Dead Loss Angeles too, at the Islington Academy in April 2005… and Walk On By… I could go on.

The Bear Cage rhythm section throb was pulsatile and perpetual, Hugh studiously banging out those three chords, aided by Aural Sculpture brass stalwart Hillary Kops who ably fills in the missing keyboard pads with wicked trumpet scats, all drenched in hypnotic reverb and delay that bounce off the walls to the crowds obvious approval. In all these years, this was also the first time I witnessed Hugh singing it: previously I was left to watch Ian Dury et al. maul it at the Rainbow in April 1980! What an inspired choice tonight - a song The Stranglers must have clearly overlooked, for Hugh to get in there first. Unbelievable!

Sure, both Hugh and The Stranglers draw from the same song book, but comparing the two camps is fruitless. Recently, when both The Stranglers and Hugh played Preston's 53 Degrees within days of each other, Hugh told the local rag: "the audience should be offered the two tickets for a slight reduction so they can compare how they perform and how I perform and make a direct comparison."


A stark contrast to a time not long ago when Hugh refused point blank to play the songs that got him well known, and well paid. Thankfully, that's changed.

For many fans, it's simple: Hugh and The Stranglers are, and should be, two separate entities. Hugh is Hugh, and The Stranglers are The Stranglers. Never the twain… With Baz and JJ as dual front men looking more like The Stranglers were way back when, barring Steve Lawrence, bass players in Hugh's band have all been female (Michelle Marti, Midus and our luscious Caz), which could be a conscious step for Hugh to distance himself from the erstwhile image, keeping him remote. Just as much as binning his keyboard players ("having keyboards is like pouring glue on top of a song," he once said, which may allude to his Strangling days?) …and just as much as avoiding wearing the colour black. Is that why he dons the tan tassled suede thing? But, lo and behold! What do I spot en route to the bogs? A brand new selection of Hugh Cornwell T-shirts hanging up with the moniker written in same font as The Stranglers. Maybe Hugh wants the comparison after all? And the competition.

Bear Cage is a tough act to beat: a tour de force. Walk On By and Down In The Sewer (…yes!) came incredibly close. The trio's musicianship throughout was superb, fluent… and Sewer was probably the best version I've witnessed by either camp. There I go now, comparing. Whatever… I want more!
LIVE REVIEWS: The Stranglers at Cambridge and London
Monday 9th October 2006
No frills!
Crass reports from The Junction, 05.10.06
THEY PLAYED with vim and vigour reserved for a band half their age! 32 years on, their live set is better than ever. Tonight, the black-clad quartet rocked the rammed Junction and their onstage satisfaction is apparent. Baz and JJ maintain a solid front line attack, fluid and faultless, filling the gap left by their energetic former front man, Paul. Jet sweats it out on the backdrop, tub-thumping, brush-wielding, cymbal bashing and paradiddling like he always does while Dave beams from ear to ear during his gorgeous arpeggios and intricate synth work.
JJ stands upright and relaxed, quick to banter and chuckle at the antics of the Cambridge mini-mosh. In Unbroken, when Baz sings "I'll wear these suspenders if it gets you high…" the crowd have recently been known to indulge in frilly lingerie-lobbing onto the stage… but tonight, none of that is evident. Perhaps Anne Summers was half-day closing? Even so, JJ takes no chances and steps backward, just in case – but I suspect it's business as usual in the capital tomorrow!
I Hate You (ear-marked for the next single, as is Unbroken) is sheer unadulterated class, delivered with black humour and blues-type pathos to superb effect. This will be in the set for years to come, mark my words. Underperforming single, Spectre Of Love is so catchy tonight, but Relentless is absolutely awesome - right from the surf-picked intro and bass plod to Jet's subtle hi-hat ride and Dave's plinky-plonk synth solo - mesmeric and magical stuff.
Overall, the band's set didn't sway much from previous nights on the Suite XVI tour, but that's not a bad thing. It means they've finally settled on a collection that covers all bases. Just how refreshing it is catching all these early nuggets; London Lady, Dagenham Dave, and Grip - alongside 5 Minutes, Threatened, Death & Night & Blood, Peaches, Duchess, Nuclear Device, Thrown Away, Always The Sun, All Day & All Of The Night, Lost Control and the big crowd-pleasing closer, No More Heroes. It really is, pretty much, a fulsome set. Almost. Tonight's teasing highlight is Relentless, although I can't help wishing the likes of Toiler On The Sea or The Raven will rear their beautiful heads too. Maybe one of these tracks will make a surprise appearance at Shepherd's Bush tomorrow..?
Along with all the front row frillies!
5 Minutes - Grip - Spectre Of Love - Nice 'n' Sleazy - Death & Night & Blood - Peaches – Unbroken – Peaches - Always The Sun - Golden Brown - I Hate You - Lost Control - Summat Outanowt - Walk On By – Relentless – Threatened - Burning Up Time - All Day & All Of The Night - Thrown Away – Duchess - London Lady - Nuclear Device - Dagenham Dave - No More Heroes.
Chemical brothers
Crass is at Shepherds Bush Empire, 06.10.06
THE SUITE XVI tour rolls on… and following last nights note-perfect gig at Cambridge, I'm now in West London at the Shepherds Bush Empire, spiritual home to The Stranglers. The new Rainbow even!
Pre-gig meeting point, The Green, is chock-a-block with faces old and new. You could sense the excitement in the air, but safe in the knowledge that The Stranglers are truly and finally back on form - at the top of their game. And there hasn't been one bad review of Suite XVI yet, which seems a far cry from days of old!
The Empire is heaving, sweaty and sold out. Waltzinblack fades as 5 Minutes ignites the evening's entertainment, forming the strongest opener this side of Shah Shah… You can see just how much the band are into it, just like the animated moshers down the front. Two women in black find their way onto the stage to gently girate their curves during Nice 'n' Sleazy - as JJ looks on, impassive. The crowd bay for more – for a redo of the Battersea strip, perhaps? But the WiBs stay clothed and as the song disappears, so do our brace of femmes fatales as they get shown the stageside curtains. Death & Night & Blood continues the Black & White theme – Walk On By comes later – with Yukio's song forming a regular zenith among the stalwarts. Unbroken is the cue for the naughty knicker chucking competition, while Thrown Away becomes 'disco-time' according to Mr. Burnel who enjoys the evening to the extent of thanking the audience for coming not once, but twice. Young or old, it's apparent all are blown away by The Stranglers tonight. The set list is similar to Cambridge, only with the welcome return of Hanging Around, which sounds resonant and urgent with Baz doing vocals.
For many, this is the first viewing of the new line-up following the cabinet re-shuffle. Strapping Paul performances of Lost Control and Summat Outanowt are now ably handled by Baz and JJ respectively, with the space now filled with a dark, poignant and totally fitting fluency not seen since the halcyon era of the late 70's. JJ, with his low-slung bass shoots from the hip, sloping back and forth at the mic, grungelike and cool. Meanwhile Baz tilts his head with defiant arrogance and sullied aggression while stamping on Hugh and Paul in the process with guitar finesse and lucid vocal timbre. The knock-on effect is that JJ now sounds better vocally than he has ever done as he twangs away at the best bass lines imaginable.
So why are they sooo good now? The honest, bare bones interrelation of the four cardinal points is fundamental in spite of the four complex individuals in The Stranglers. They're writing the best songs for over 20 years. Carrying on like they have simply endorses the four horsemen's recent decision to continue as a foursome, while passionately firing on all four cylinders. It's no small coincidence all the best bands are a four- piece - just think Kinks, Small Faces, The Beatles, the Pistols, The Who…
The Stranglers are having fun. The chemistry is here.
Maybe they were born to be IV after all?
5 Minutes - Grip - Spectre Of Love - Nice 'n' Sleazy - Death & Night & Blood - Peaches – Unbroken – Peaches - Always The Sun - Golden Brown - I Hate You - Lost Control - Summat Outanowt - Walk On By – Relentless – Threatened - Burning Up Time - All Day & All Of The Night - Thrown Away – Duchess - London Lady - Nuclear Device - Dagenham Dave - Hanging Around - No More Heroes.
Do The European! Postcard from St. Pölten

Thursday 27th July 2006

Christof emailed us from the Austrian festival…
"The Stranglers play St. Pölten. It's the Lovely Days Festival - and it's certainly a lovely day; it's also 34ºC! Same set as Guilfest (give or take a few songs) with 5 Minutes kicking off… and ending on Something Better Change and No More Heroes. Just before the encores, JJ addressed the crowd:


"We are The Stranglers and you're not…"

But the crowd seemed only partially pleased by their performance; was this due to the inclusion of the newer, lesser known songs? Or the lack of interaction between band and crowd? Perhaps European audiences tend to like bands talking and joking? I think so, although that will never be a strength of The Stranglers! On a positive note, JJ's new bass guitar sounded great to me, even though sound problems littered the set (Dave appeared a little nervous too). Something Outanowt was very powerful, but I'm left wondering if this new track lacks sophistication,.. and Spectre of Love cries out for Hugh in the band! Sorry! .. leaving me hoping for better songs on Suite XVI. Baz fits very well as a Strangler and he's clearly got potential to be a great front man. And JJ looks so confident. Have a look at JJ and Baz pix here:

http://www.joynt.at/static/foto/060721ld/index2.html

Cheers and keep up the good work… Long live The Stranglers! Christof"

LIVE REVIEWS: The Stranglers at Bilston 30.06.06 Friday 7th July 2006

Bilston saw the official unveiling of the new four-piece Stranglers. But did the band come up with the goods?
Three roving reporters provide us with exclusive takes of the big night in Wolverhampton.


Photos courtesy of Alan Perry at www.concertphotos.uk.com


Reborn 4 At the Robin 2!

by Rob Haynes, Gold Blade

The heat and humidity are thick in the air, but an even more potent expectation is even greater around Bilston. It's another sixteen years on in the great Stranglers' singer cycle, and after the surprise appearance at Weston of the new Paul-less four piece - this is the first official appearance of the new line-up. As Gold Blade's drummer I'm in an extremely privileged position, and I get a front row revelation at a gig I would willingly pay to see.

We get to the venue, but The Stranglers are running late in the Friday afternoon gridlock. The crew have already set up. We sit outside taking in the sun until the MiB arrive and warm greetings are exchanged. I find JJ calm and positive as Baz cheerfully confesses how nervous he is. I assure him support and goodwill is immense.

The sound check begins as the doors shut. Are we in or out? We all cram inside to see our own private Stranglers performance. Up onstage, JJ casually picks out a rolling bass line. At first we assume he's tuning up, but this is the swaggering introduction to Princess of the Streets! It's immaculate, as is JJ's voice, sounding like it's come fresh from sleazy 1977. I look round at the others and we exchange smiles. This is good, very good. Next, a rising swirl from Dave's keyboards - Goodbye Toulouse - possibly my favourite Rattus track of all. Baz is singing and any doubts we had - and to be honest, we didn't really have any - are put to rest. This sounds - and looks - right.

A lumbering, insistent bass-line strikes up. Dead Loss Angeles, I think. But our guitarist Pete says it's Bring On The Nubiles. We grin with child-like enthusiasm, and find we're both wrong! It's a new track - Something Outta Nothing - and it sounds fantastic. JJ is spitting out the verses with a genuine edge of aggression that Paul, for all his technique, never matched. Then, after Time To Die, they're ready to finish when Jet, God bless him, decides they should play some of The Raven. It's a perfect version which raises the hairs on my arms and when they stop it after one verse we all start shouting for more. JJ smiles and apologises for taking for so long. He thinks we're joking. We're not!

That evening the gig can't really fail, and, as you would expect, it doesn't. Only the oppressive heat of the venue takes anything away. We enjoy our support set, buoyed by the enjoyment of playing before so many friends and fellow fans, and by the general intoxicating expectation. After frantically rushing to pack away my drum kit (roadies - who needs them?) making sure I'm out front for the main event. Of course, it's a great Stranglers performance.

The set list has finally been given the much-needed revamp - London Lady, Burning Up Time, Dagenham Dave, Death & Night & Blood, etc - and just as importantly the band look in better shape, complete with much onstage grinning and obvious enjoyment. Norfolk Coast songs come alive totally refreshed, and sung by the people who actually wrote them. Meanwhile, the old material is not dated at all. When JJ sings London Lady - the way he sneers out the 'Have you ever been to Liverpool?' line - you get a feel of the decades simply stripping away. Baz copes excellently with his new vocal duties, and even when he forgets the second verse to Peaches - with JJ laughing and pointing delightedly (without, of course, dropping a note) - he simply carries on playing until the words come back to him. He may lack that unique Cornwell snarl but no-one sounds like Hugh Cornwell in 1978 (not even Hugh Cornwell in 2006). Most importantly Baz looks like a Strangler and, crucially, slimmed back down to that elemental quartet, The Stranglers look like The Stranglers again.

Let it be stressed that none of this is meant to denigrate Paul's contribution, but what must surely be conceded is that The Stranglers are not a 'frontman' band. Paul's undoubted professionalism and enthusiasm were admirable and fully deserving of our thanks, but his character made an uneven fit for The Stranglers, who were never about showbiz and flash, but surliness and a deep, unique otherness. The gig's conclusion reveals a haze of sweat and dazed, beatific smiles. Forget 1991 - here comes the real deal - the second coming.




Bilston is a gas gas gas!

by Crass!

Bilston is a sad, fly-blown town. It's British Steel works disappeared more than 20 years ago. But tonight, all that matters is the town's 700-capacity Robin 2 venue - and it's this balmy Friday evening that I was lucky enough to witness the sheer mettle of the Meninblack return - now as a new improved 4 piece - and what an amazing night it was!

The evening kicks off with pre-gig drinks at Ye Olde White Rose where Stranglers doods meet, some for the first time: Zigo, Andy Ladpinblack… as well as Accrington Paul and his brother and mate and the irascible rascal Grayo - who has the beer garden in stitches with his ovine-related confessions (he's from Wales, you see!) I spot several members of Gold Blade around town trying to keep cool as we move onto the airless Woody's Bar where eerie portraits of hairy ex-Wizzard Roy Wood adorn walls like holograms from hell. But drinks are cheap, more to the point. I catch Golden Blades John Robb and Rob Haynes by the fire exit and on fine form, both looking forward to the gig, but most of all seeing the new 4 piece Stranglers Mk 4 incarnation - even spilling the beans on eavesdropping the sound check earlier. "They did Princess Of The Streets, and The Raven…" Suddenly it's half-eight, and Gold Blade set the stage ablaze. John even recreates the infamous Battersea Park stripper-thon by inviting front row nubiles up to dance. I coax Rob into drumming the Nice 'N' Sleazy intro and then Peasant In The Big Shitty, and my night is already near complete!

The social circle widens with the warmth of gizzard Simon, Nickinblack, The Strangler, Johnsa, Eurochick and loads more. Grayo falls in lust with Little Miss Mish! Who could blame him? How to find true love and happiness at a Stranglers gig! But what happened next can be succinctly described at the best Stranglers gig ever: the concise quartet blew even the most seasoned of middle-aged fans - and turned the likes of me into teenage sweat-drenched punk moshers! Socially, Bilston surpasses 2004's open-air gig at Kings Lynn. For energy and sheer unfettered zest, it was on par with another open-air outing - yes, Battersea Park in 1978!

The Raven kicks off the set… Big Thing Coming and Long Black Veil are there, but All Day & All Of The Night and Peaches seem lost nowadays. Death & Night & Blood grabs the baton, sounding as fresh and as urgent as 1978… Toiler is classic perfection… Baz's guitar is crisp and tasty too… Then Golden Brown, and a pause. Suddenly I recall Rob's mention of the sound check. So I shout out to the band: "Princess Of The Streets!" And JJ applies his plectrum high up the Shuker neck to pluck the doleful intro. Twenty-odd people in the crowd crane their necks to ask me how did I know?!

Never To Look Back… Toulouse… The scrum gets even more infectious as The Stranglers bash out their wall of sound from the beer-strewn stage - even giving Gold Blade a run for their money in the process. Rob comes down the front. Something Outta Nothing… Walk On By… I've Been Wild… Lost Control… Duchess… Burning Up Time… London Lady… Time To Die… Taking it in turns singing between Baz and JJ really worked well. The absolute energy of the musicianship, galvanised in synchrony as a band clearly at their zenith, make tonight a totally unforgettable experience. The mic-swinging has gone, so has the finger-clicking. Paul's leaving is the fillip they needed. For the lean, mean fighting machine of the new, improved quartet-in-black, this was their first proper gig: unless you count the recent alfresco shindig in sleepy Somerset! Here, The Stranglers are relentless, turning the power up to 11. JJ rips off his Triumph shirt in the sweat like a Wold Cup scorer… and this formation plays better than any of Sven's dream teams. We are all over the moon, to coin a well-worn football phrase.

Speaking afterwards, JJ confessed it was the hottest and sweatiest gig he's ever done in thirty years - with the heat forcing him throw up afterwards in a bucket backstage. (Sick as a parrot - Ed) His soaked trousers stood up on their own in the changing room too! The Stranglers are hot - and firing on all 4 cylinders. They just need to bin All Day & All Of The Night and Peaches to unleash the new songs from the forthcoming Suite XVI. You won't see them coming!

Bilston is just the ticket!

by Simon Kent


So at last it's come around. The Stranglers as a four piece. Having missed the Weston Super Mare gig, I could hardly wait. Picked up my mate Greg and sat in traffic on the M5, reaching Bilston at 7. Swapped driving trainers for my beloved Doc Martens and bumped into John and Rob from the mighty Gold Blade for a chat, where they tell us about The Stranglers sound check. Then I noticed a couple walking towards us. I recognised the man as the legend who is Crass. We shook hands and I met his lovely wife too. We arranged to hook up afterwards as I left them talking to the Gold Blade boys. Then it was round the corner to Woody's for a much needed drink where the black-clad multitudes commandeered the bar.


The Robin 2 doors are open, and we go in: it's great venue, and without a barrier at the front, so I lean on the stage for a great view. I was getting really excited. But why was it so hot, I wonder? And this was before Gold Blade came on! Where does John Robb get his energy from? Their set ends far too quickly, but it is now time for the main event.


Waltzinblack booms out over the PA and the Meninblack walk on and go straight into The Raven. The crowd are singing so loud that you can't hear JJ at all! It still sounds stunning. The two front men either side look so right. But JJ looks a little quiet at first, before perking up several songs in as the band storm through a stunning set, sounding as fresh as the first time. JJ and Baz are soon dripping in sweat, playing with anger and conviction I haven't witnessed for a long while. No one could have any doubts about their vocal abilities, especially in these hot and humid conditions. My own voice was cracking just singing along. Meanwhile Dave and Jet do what they do best with minimum fuss.


In Big Thing Coming, JJ stumbles on the words to Baz's amusement. But when Baz messes up in Peaches, JJ punches the air with delight! But there is no between-song chat as the songs come thick and fast, except Baz saying what he said at Weston; 'and then there were four'. Highlights are Toiler which is my all time favourite track, Princess Of The Streets (minus the end bit, thankfully), Never To Look Back, Something Out Of Nothing - which JJ sings and plays with total anger on his new bass - and Time To Die, first encore. The crowd chant 'Jet Black, Jet Black…' and JJ comes on to tell us they're not the Jet black band. Before the second encore, JJ said they are now 'Jet Black and his backing singers!'


At the end, we were all soaked with sweat and totally knackered. At the bar, fans all agree tonight was something really special, The Stranglers are sparkling again and a force to be reckoned with. After a long chat with Crass about tonight and other things I claim the actual set list! This was a brilliant, superb, fantastic gig from the best band in the world who have been a major part of my life since 1978 and I hope, a few more years yet. Thanks to all the fans I met both new and old. It was great meeting you all - you really are a special bunch of people.

Bilston Blitzkrieg! Hey ho, let's go! Friday 9th June 2006
Following their successful sans Paul debut at Weston-Super-Mare, JJ Burnel is eager to tell The Burning Up Times how much he felt the fans enjoyed seeing The Stranglers return to a four-piece set-up: "Weston went down a storm – feedback has been fantastic. People started blogging on forums about two in the morning after seeing us play saying how great it was, and how much better we are as a four-piece. For us, it felt right. It was great!"
The gig saw the return of set list favourites, The Raven, Death & Night & Blood and Never To Look Back – all sung by JJ – with the welcome addition of London Lady and Burning Up Time. We asked JJ if there will be any changes for the sold out Bilston gig in three weeks time: "We're working on doing some others, like Curfew and Threatened. Jet loved your first PDF on Black And White by the way… when's the next one due?"
JJ is about to leave his London base on his blue Triumph RS Sport for some interviews in the West End. He says the suits in the music biz have already voiced their approval: "Record companies and promoters have been coming out of the woodwork, saying we should never have strayed from being a four-piece… it's the right image, the right perception. It's The Stranglers. They're right, although had it not been for Paul, I doubt if we would have continued when Hugh left."
Back on the subject of songs, JJ was sanguine: "We've got quite a pool of songs to pick from. Of course, we've got the new songs, but now we're looking at the more atmospheric ones from the past. We can do atmospheric now!" Fleetingly mentioned are North Winds, Was It You and Time To Die, and we asked if this means the end of the "greatest hits" set. "Well, we've dropped Always The Sun – that's gone. Why? I never really liked the wood blocks!" [LOL] "Seriously, it's been played to death. And it's time to move on. We just want to be a wall of sound – a blitzkrieg… a total power machine."
We were keen to find out how the new dynamics worked onstage: "Well there will be less chat in between songs. At Weston, we didn't say anything, only what Baz said, you know – 'and then there were four…' That's how we want it – two power horses at the back and two movers at the front. But we'll let the music do the talking."

Let me introduce you to the new lead vocalist! Monday 5th June 2006
By all accounts, The Stranglers IV debut gig at the Hornet's Ground was a real buzz.
Here's the cool set list (and singer)
"Ladies and gentlemen… and then there were four."
Baz Warne, Weston-Super-Mare, 3rd June 2006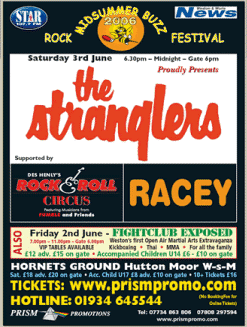 The Raven (JJ)
Big Thing Coming (JJ)
All Day & All Of The Night (Baz)
Peaches (Baz)
Long Black Veil (Baz)
Death & Night & Blood (JJ)
Toiler On The Sea (Baz)
Golden Brown (Baz)
Never To Look Back (JJ)
Goodbye Toulouse (Baz)
Something Outta Nothing (JJ)
Walk On By (Baz)
I've Been Wild (Baz)
Lost Control (Baz)
Duchess (Baz)
Burning Up Time (JJ)
London Lady (JJ)

Dagenham Dave (JJ)
No More Heroes (Baz)

And here's Sam Holliday's review of the gig (aka Saminblack)
It's 1.15 in the morning - and I have just got back from one of the most amazing Stranglers gigs I have ever seen! And that's no small statement, considering it's my 50th Stranglers gig!
There are two amazing things about tonight – firstly, how great it is, and secondly, they are minus Paul Roberts! Yes, I had also heard rumours of Paul leaving prior to the gig. In fact, even when the band are about to come on, I spot just two mic stands onstage, and I still imagine Paul emerging with a radio mic.
Suddenly, Waltzinblack pipes up – and Jet appears, then Baz, then JJ and Dave. And no Paul. The first song is the wonderful Raven (yes, The Raven!!!), and JJ steps up to sing it… that's when I get proof of Paul leaving. But even then I wonder whether JJ's just thinking he'll open up the show for a change. When Big Thing Coming starts up, and JJ sings it - now I know for sure The Stranglers are changed forever. And for the better!
But this isn't just the JJ vocal show - this is like The Stranglers of old – where JJ shares the vocal duties – with Baz. In fact, Baz sings more than JJ, and I have to say the big man has an excellent voice: he handles his new role magnificently – and onstage talk is minimal. Baz just says: 'Ladies and gentleman - and then there were four...' I think Baz is brilliant. What I like about him is that he sings the songs as they should be sung - and with real craft and style; I think Paul always thought he had to put his own interpretation these songs, and I never liked Paul's Golden Brown. Tonight it sounded great – and with an immaculate guitar solo to boot! It was wonderful. Not only that, JJ surprised us with a splendid version of Never To Look Back - one truly under-rated song, plus Dagenham Dave (I kid you not) and a blistering Toiler. Weston is stunning – and The Stranglers are a born-again band. The sound is brilliant, and the crowd love every second.
Ladies and gentlemen, The Stranglers Mk 3 are dead. Long live Mk 4 - the incarnation I suspect we will love the most after Mk 1.
Many thanks for sharing your night, Sam!

Hugh Cornwell 2006 live dates - update Thursday 25th May 2006
As Hugh revealed to The Burning Up Times on the final night of the Song By Song tour, there's a 13-date solo tour in Aus planned for June, followed a handful of UK dates. LATEST NEWS!!! Hugh is confirmed in this year's Guilfest line-up – along with The Stranglers… although on a different day. Go here for details: www.hughcornwell.com/live.html where you will also see information on a live Hugh Cornwell release expected this September.
<![if !vml]><![endif]>
Hugh returns to his north London roots…
Manor Machine
Gary Kent
"I'm actually really, really tired." Hugh confessed after blasting out Stranglers hits. "Even my guitar had had enough – at one point I think it was calling out to me – why do you have to keep hitting me!?"
By contrast, Hugh looked relaxed back in his jeans and T-shirt, as he swigged a post-gig glass of chilled Prosecco. Earlier, his guitar strings seemed at odds with the venue's ventilation: "When the air con went on, my guitar went out of tune... unless I was hallucinating!"
Photo: © Gary Kent
HE MILLFIELD THEATRE in Edmonton is not far from Hugh's Tufnell Park birthplace; it is also proximal to where he first met Jet Black in Camden in 1974 to start up a fledgling Stranglers - a stone's throw from Pentonville were he first went to jail in 1980 for drugs possession - and near to Ally Pally where in 1990 he last performed as singer, guitarist and songwriter of one of the biggest selling acts from the punk era. Tonight is another final curtain: the end of the tour promoting his book 'The Stranglers: Song By Song' co-authored with writer Jim Drury, who is here to co-host the Q&A.
The crowd had already gone in by the time I reached the counter. That's when I spotted a reserved ticket for Hugh's brother-in-law - the head of art who came up with the supersize ear on the front of 'Aural Sculpture'. Meanwhile, in the darkened auditorium, Hugh and Jim's Q&A was under way as a hand-held camera filmed. But it wasn't long before Hugh vacated his seat and returned suited and booted to strap on, plug in and tune up.
"Good evening… I'm gonna be alternating between Stranglers songs and solo songs - " and with ironic tone, added, "so as you don't get too bored."
Hugh's 'Beyond Elysian Fields' songs are a-plenty tonight - but the biggest crowd pleasers exist in his previous heritage; Golden Brown, naturally – as well as the grittier No More Heroes, Hanging Around, Nice 'n' Sleazy and Duchess. Selected pickings from the glossiest Stranglers' LP's, 'Dreamtime' and 'Aural Sculpture' prove, in a stripped-down, no nonsense fashion, that you don't need layers of sequencers and production, just bloody good songs. Similarly, honed-down honest renditions of Tramp and Golden Brown from 'La Folie' go down a storm, as does Strange Little Girl:
"I wrote Strange Little Girl with our original keyboard player, who died in a boating accident. But it's a song I've always been fond of. Golden Brown I love too because it's so quirky. It's also the only song Dave wrote all the music for from start to finish – I just love its quirkiness! And lyrically it was easy to write too – it all came very quickly."
The anoraks were gripped when Hugh revealed his simple song writing formula:
"I tend to start off with a title, usually. It may come from a conversation overheard, or even when someone slips up. For instance, once I was seeing this American girl, who asked me one day: 'Are we going to see Shakespeare's Midnight Summer's Dream? And I said to her – 'No – it's Midsummer… wait! That's a great title for a song!' I write things like that down until I get a musical idea I can fit it to, but it's a bit hit and miss, sometimes. I recently went away for a week and wrote half a dozen songs from previous undeveloped ideas like that. I get out my list of titles and see what fits best."
Hugh referred, albeit in brief, to the period of his jail sentence for drugs possession: "Who Wants The World is another favourite of mine and we recorded that just before I went to prison. I always think of that as the hit that escaped – it escaped being a hit. After that we laid down the Meninblack album, of course – which happens to be my favourite Stranglers album because it was such great fun to make. You see, recording can be painting by numbers sometimes – laying down the drums, the bass, the guitars and the keyboards, but those sessions formed part of an extremely creative time, and at the end of each day we'd be saying: "My God – we did that!"
There was no shortage of questions from the throng: 'Why did you leave the Stranglers?' Hugh's wrinkled frown in the spotlight showed this wasn't the first time he'd been asked this. But he picked up the thread, probably knowing that this will always be a recurrent theme in the minds of Stranglers fans throughout the world, even though they probably suspect there is more to it than Hugh cares to reveal:
"One day I just realised I didn't know who these people were… I had nothing in common with them any more, especially when we weren't touring or recording - there was just nothing between us… we were disparate people. We weren't the text book rock band. The reason I left was purely emotional. Dave said to me: 'why don't you leave the band after we've signed that big publishing deal…?' Which I thought was kind of funny. Are they bitter towards me? Well, they never say anything nice about me. Perhaps it's because I left them at very short notice - but if they said something nice about me, then… I mean, I heard their first album – a fan sent me it just after it came out, and I did listen to it… But since then, I deliberately choose not to listen to them so I don't have to have to have an opinion of them. I heard Jet read 'A Multitude of Sins' though - and he apparently said it was a good laugh…"
"Why didn't you play Peaches, Hugh?" Probed one fruity punter: "…Peaches? What - in an acoustic set? No. I mean, it doesn't fit in, does it? It's not appropriate, is it?" Another asked why The Stranglers never gained more kudos than the Pistols or the Clash, and Hugh was analytical in his response: "Well, probably because we had a keyboard player with a moustache – and a drummer that looked like everyone's dad!"
We weren't the text book rock band…
we had a keyboard player with a moustache –
and a drummer that looked like everyone's dad!
ITH THE CLOSING refrain of 'No More Heroes anymore' still ringing in our heads, the three-quarters full theatre was undoubtedly sated by the time the 11 o'clock curfew came, and many hung around the foyer where Hugh cheerfully signed books and CDs with his permanent pen. As the hand-held camera soaked up the afterglow, I hooked up with Jim Drury, who toasted the success of the tour: "It's been fantastic. Tremendous, in fact. Glasgow was the best…" Although, also according to Jim, one Glaswegian fan was keen to rule out mistaken identity almost thirty years before:
Jock: "Hugh – do you remember being in the queue at the Wimpy Bar around 1977 in Glasgow?
Hugh: "Err – no."
Jock: "Do you think it was you then?"
Hugh: "I have no idea."
Jock: "But do you think it could have been you?"
As we chatted, a woman in her fifties came over. She was quite short, with dark hair and rosy cheeks, and in a peculiar way I sensed a familiarity, but I didn't know how or where. Was it her eyes, or the eyebrows, even? Or maybe it was just another case of mistaken identity? In a hiatus in conversation, I was introduced; this was Vicky, Hugh's sister, and spouse of the Aural Sculpture supersize ear maker. She also enjoyed the night: "You know there were about 200 people here tonight? Hugh's coming over at the weekend, but I thought I'd pop along tonight to see him play."
In the foyer, Hugh was upbeat and optimistic: "I've got an acoustic tour of Australia and New Zealand coming up. It would have been as a band, but there were problems getting visas, so I'm going out there on my own, and I'm really looking forward to it. But first, I'm gonna have a rest."
All the singing and talking on the Song By Song tour might have been the reason Hugh's voice was heard to crack slightly, right at the end of Big In America. "It was probably the air con."
At the time, Hugh quickly reached into his pocket to take something before going into Harry Power.
"What was that?" I asked.
"Heroin," he replied.
In the forthcoming issue of The Burning Up Times PDF, Second Coming, Hugh reveals a little something about his drug taking. Oh, in case you were wondering, Hugh produced a tube of Lockets from his jeans at that point.
Set List:
Nice 'n' Sleazy, Land of a 1000 Kisses, Hanging Around, Picked Up By The Wind, Duchess, Do Right Bayou, Tramp, Cadiz, Big In America, Harry Power, Golden Brown, Hot Cat On A Tin Roof, Souls, Lay Back On Me Pal, Shakin' Like A Leaf, Under Her Spell, Goodbye Toulouse, 24/7, Strange Little Girl, The Story of He & She and No More Heroes.

A Night with JJ Burnel & Baz Warne
Saturday 15th April 2006
Charity event held in a beautiful former church in Glasgow
Review by Chris Balden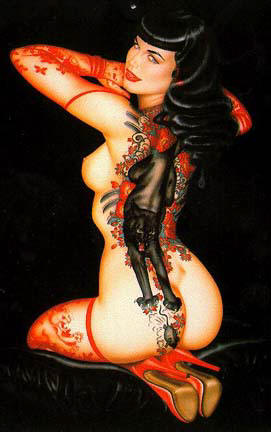 Organiser Chris is up early to phone us with his take on the previous night's events:
"I picked up Baz and a suited JJ, from Glasgow Airport at 5pm in my Rat Cab – JJ was well impressed me calling it that, and as we drove out of the airport, he soon sussed I was not only his cab driver – but also the organiser of the gig! I was like a bag of nerves when I took them to the soundcheck at Oran Moor – but when we got there, they were instantly taken with the venue: gorgeous stained glass windows and painted ceilings, very Gothic. They set up and played several numbers – Baz played a Wreckless Eric song and JJ did The Beast and a bit of Skin Deep before I took them off to their hotel. Baz was cracking jokes most of the way. JJ, well… I'd always had immense respect for him as a bass guitarist – but meeting him… he is an absolute gentleman.
Oran Moor is a great venue – ideally suited to an acoustic event like this. The local radio station had been pumping the event up all week, to sell the last remaining tickets. Night time came and JJ and Baz arrived. Baz came on first and then JJ after which they both performed together. The encore was Go Buddy Go, and the place was bouncing! Everyone was singing – it was amazing!
Everyone got a chat and a handshake from the guys. But it gets better – we raised £900 for charity: JJ sold his tie for £20, we auctioned off a Stranglers parka jacket, as well as a signed acoustic guitar. JJ was very complementary throughout. In fact, people were coming up to me saying you'd done us proud. I'd like to thank everyone who helped make this event such a success – JJ and Baz, of course, John Buchanan of Soundcheck, Shel, Alias, Sil, the Oran Moor staff and everyone who turned up. It was a very stressful night for me – I was sweating, even though it wasn't that hot, (if you'd stuck a pin in me I would have burst!) but all in all, I'm just glad the whole thing was such a success - it was excellent. Do it again? Phwerrr.."
Oran Moor set list:
Baz: Nice 'n' Sleazy, Walk On By, Whole Wide World, Long Black Veil;
JJ: Un Jour Parfait, The Beast, Where I Live, Skin Deep, Fred & George;
JJ and Baz: European Female, Strangle Little Girl, Dutch Moon, Never To Look Back, Quark, Strangeness & Charm, I Hate You, We Were Lovers, Dagenham Dave, Go Buddy Go.

Stranglers Shepherds Bush Empire gig: Hot gossip! Tuesday 13th December 2005
Another mystery solved… The Burning Up Times has managed to get to the bottom of the missing 5 Minutes mystery. Spies report that the official set list, written by JJ, contained the extra encore 5 Minutes to follow Tank. After the rip roaring Tank was played on the night, JJ was clearly seen motioning to Jet and Dave frantically that they should leave the stage…Dave looked bemused, JJ looked adamant. Jet just trudged off after a few moments debate. Most observers put it down to a time thing… but it was in fact an on the spot decision by JJ. "I just thought, you can't follow Tank. We were meant to play 5 Minutes, but at the end I thought, no. We've got to go off now, so I was shouting to Dave and Jet to say 'we can't do 5 Minutes now!' It happens that way. You plan the set and sometimes when it comes to it doesn't work. You can open with Tank or you can end with it. Sewer's like that as well. You can't follow it. We did a warm up gig in Peterborough and we were SHIT. At I totally re-wrote the set. It just didn't work." So now you know. You heard it here.
Stranglers Shepherds Bush Empire gig: "Hello JJ –
Goodbye Toulouse!"
Sunday 11th December 2005
JJ has revealed that the reason he stopped playing in Goodbye Toulouse was not because of a technical fault but because he had lost it with the cameraman, who had been "in his face" all evening. "I had to tell him fuck off. In a nice polite way of course. Cos you have to concentrate playing these songs live and entertaining and everything, and this guy, who was the main cameraman for the Norfolk coast film, was just getting too close all the time, and I just lost it. Everything. I didn't know where the hell I was for a few bars!"
He also managed to watch some of the movie from the wings, and was amused to hear some of the heckles coming from the audience: "Lynsey Baxter, my wife in the film, was in the audience. And the bit where I put the gun in my mouth some wag shouted: 'She's not worth it!'"
Stranglers Shepherds Bush Empire gig: Gary's review
Saturday 3rd December 2005
Wow!!! What a night! The Stranglers played a blinder at the Empire!
But first we hooked up with all the 'usual suspects' in The Green – it's like a ritual innit? The world was put to rights momentarily in chilly, wet West London as the pub filled with black clad bodies jostling for the bar. With alcoholic prophylaxis in mind – just in case the air was a bit dry in the venue - I decided to lubricate my vocal chords liberally with lots of beers, white wines and "two pints of cider, ice in the cider…" Once inside, I sang my socks off, and gave Pavarotti a run for his Euros! As we hopped the puddles to the venue, I recalled previous talk from the bucca equus about Peasant In The Big Shitty being in the set… That proved to be not so much a mooing cow, but more a red herring.
The evening got going with a cool acoustic set featuring Paul and his brace of bongos and JJ on vocals and thumbed bass for an amazing Instead Of This. "I don't wanna talk about it…" But I will! Mr. Greenfield sat on a bar stool with an axe on his lap for Santfe Kuss: I bet no one's seen DG play guitar since the Purple Helmet gigs!? Southern Mountains plodded a little, but Dutch Moon shone bright. Still Life sounded majestic, and closed this part beautifully.
A huge white screen was hauled into place as the lights went down for the premiere of Norfolk Coast - the mini-film-noir featuring JJ, as exclusively revealed on these very pages. Jean Jacques Burnel – film star! It was good, very dark, although sound-wise, it suffered up at Level One. It looked good though, and no one held up their hands to do rabbit shapes, or threw popcorn. Incidentally, the whole show was recorded for DVD release in (sometime) 2006, and the Norfolk Coast film will be included in the package. Ian pointed out JJ's co-star actress Susannah York sitting beneath us while Dom looked on, concentrating, taking it all in. I was gradually getting pickled as a raw Norfolk Coast kicked off the electric set as the cameras almost decapitated the front row! Hope you had your teeth in for the cameras, all you old 'uns! But the biggest surprise was hearing a Black And White track – Death & Night & Blood – sung by JJ, and backed by Dave's laconic keys and Baz's Telecaster strumming away at Hugh's riffs and stabs - evoking memories of the ground breaking Battersea Park gig in 1978!
Keen to maintain maximum oesophageal lubricity I was busy getting the next round in when I chanced upon The Stranglers charming manager in the upstairs bar. He was insistent they were dropping the old stuff to move forward, so as not to be retro, although I swear I could hear Always The Sun coming from the auditorium at the time… Did you know his other band - The Worzels - were playing Glastonbury that very night? Equally fascinating, The Stranglers drop Golden Brown the same time Hugh goes sans GB (see the Brighton Centre gig review below) and they also want us to do a PDF based on the present. As always, we aim to please, as I indeed attempted when I visited the Gents before resuming my Pavarotti impersonation next to the lot from Leeds.
I've Been Wild
is such a strong track – surely it could have been a contender for to follow-up Big Thing Coming last year? But I am so not sure about Something Out Of Nothing – Nothing, being the key word. The only new song - and as far as song writing goes… a decent B-side, at best. But the B-side to what, we wonder? Time To Die had all the der-der-ders from the throng like Morse coding gone wrong. Triffic! Tank was awesome and last track No More Heroes kicked (I think. The lubricant was taking its toll by now) before a curry-flavour nightcap at the Ajanta for an 'editorial'… Highlights: Burning Up Time, Toiler, Walk On By… but I still can't get over JJ's stupendous Instead Of This and Death & Night & Blood! GK
Acoustic:
Instead Of This - Southern Mountains - Dutch Moon - Tuckers Grave - Strange Little Girl - Santfe Kuss (featuring Dave on 2nd acoustic) - Still Life.
Electric:
Norfolk Coast - All Day & All Of The Night - Death & Night and Blood - Big thing Coming - Peaches (Paul's mic packed up) - Skin Deep - Always The Sun - Long Black Veil – I've Been Wild - Lost Control - Goodbye Toulouse - Something Out Of Nothing - Walk On By - Duchess - Burning Up Time - Toiler On The Sea.





Encores:
Time To Die – Tank... 5 Minutes (only on the set list – it wasn't played) - Mine All Mine - No More Heroes.




Stranglers Shepherds Bush Empire gig: Dom's review
Saturday 3rd December 2005
02/12/05 Shepherds Bush: Zone 2
Where do The Stranglers go from here? They've spent the last two years riding a wave of press and fan base adulation in the wake of the Norfolk Coast CD, they've starred in a none-too-cheap short film, their music is popping up all over the place on TV and in advertisements. When is Joe Public going to take notice? With nights like tonight's three-pronged assault on the senses, attended closely by a welter of press, and attendant cameramen for a planned DVD, the answer may be: who cares?
The gig sold out ages ago. You can still get tickets for Blondie and their support act at the same venue a couple of weeks away. On the subject, being your own support band is a conceit these guys have pulled off before. The Two Shades of Black gig back in March 2002 was a popular success. Tonight the band had a movie in place of a second support band, truncating the acoustic hors d'oeuvre to a mere seven numbers and half an hour. The opening Instead Of This is a song worthy of inclusion in any set they do these days. The sentiments could apply to any number of situations The Stranglers have faced over their career. It could be a paean to lost chances, lost opportunities, bridges burnt, and success spurned. But they want to move on. And only in these acoustic trips do we ever get to hear the Mark II, or "forgotten years", material. Southern Mountains and Still Life shimmered through the smoky haze like mini-masterpieces which were, well, forgotten. Dave played guitar, and he even spoke. Couldn't make out what he said, or what language, but it was definitely communication as we know it.
The movie was black. In every sense. It was sumptuously shot and the use of Tucker's Grave complemented the main score. JJ will certainly get a job in any film where the casting director needs "a miserable cunt". Although not required to do too much onscreen talking and emoting, one scene with JJ and his wife contained a moment, a look from the man, of serious emotion and remembered hurt. At that time he looked both bone fide character and actor.
The efficient evening moved on apace; there was hardly ever a moment for a piss or a bar trip. The only people who got to see the whole show beginning to end must have been anyone with a catheter in a wheelchair with a servant fetching the drinks. They didn't even give us the respite of playing Golden Brown for fuck's sake. The electric set was just so. It whizzed by with barely a hitch, apart from the usual mike problems for lithe-looking Paul Roberts. Apart from a few blatant set ups, him dragging cameramen onto the stage to get a well-timed leap or dramatic close-up in Walk On By, he was very restrained and vocally in fine form. Baz Warne simply makes John Ellis look like a gay ballerina with flat feet. He exudes presence and menace, without ever trying. Surely the future is safe while he is on board. Dave Greenfield danced around the keyboard like Yoda on the sauce, and Jet, hidden behind a barrage of cymbals, banged away like a man who still pays for public transport.
JJ kicked his way through the early numbers, sang a glorious Death & Night & Blood, developed a relationship with a cameraman not unlike two prisoners locked in a cell who like farting a lot. But it was the cameraman on the egg sandwiches that night. Methane aside, the atmosphere was charged. Maybe with the promise of a "few surprises" in the set. It was certainly a change from the Norfolk Coast tour 2004 and summer festival sets, which had long turned brown and fusty in the set list fridge of life. Burning Up Time hadn't been aired for six years or so, but disappointingly, it was the only song Baz hadn't played before this winter set of gigs. All the others had been aired in the last three years or so.
Consistently tight and energetic, any executive in the audience should have been impressed with the package, but for a lot of fans there was a void (Down In The Sewer anyone?). The gig certainly never reached the poignant heights of JJ's emotional "thank you" speech of the year before. But that was an amazing celebration of a huge upturn in their profile, the chart position and the sheer quality of the then new album.
Now we return to the opening gambit. So where now? One new song (a very good one mind), the rest in the bin. A conservatively modified set. As more new material starts to come, and the band build on the new religion fanned by Norfolk Coast, their choice of "old" material will become critical to their success. For surely gigging is as key to the balance sheet as CD sales.
To call the shots they really do have to pull something superior to Norfolk Coast out of the bag. The success of the Mk II songs in the acoustic set point to a strange reality. It is not just a hankering for the "old" songs, it's just a hankering for hearing the best of all their music at some time, and occasionally getting a genuine surprise. Tonight was good, no doubt, but the gig was a couple of voids short of the Zone. DP
Harry Power!
Hugh Cornwell at the Brighton Centre: review
Sunday 20th November 2005
As much as I love Brighton, the Brighton Conference Centre is really odd. True, it's due for demolition, because even Britain's political parties find it anachronistic and awkward. The bar was no place to seek solace either: Lager (not very cold) came in a plastic bottle, as did white wine (very warm) and red wine (really warm).
Bar man: "If you want proper beer, you'll have to go downstairs."
Me: "What bitters do you have downstairs?"
Bar man: "Err. Boddingtons…" and wait for it, "Murphys…"
It's a good job I love Brighton eh? And Hugh Cornwell. In support of Blondie, Hugh and his cohorts played the big stage once more, but the crowd were a little tepid. At least, at first.
Tonight's demographic was wide spectrum: largely late middle aged couples and teenage kids texting till their thumbs burned. Hugh strode on in total pin-dropping silence. No introduction, no cheer. Draped in tan suede coat and suede tassels, Hugh hoisted on his guitar – followed by cute, cool-looking Caz in her miniskirt and big black boots with the young 'Picked up By The' Wins. Undeterred by the crowd's tepid reception, Blondie's 'Special Guests' soldiered on regardless, playing superbly and faultlessly throughout. Tonight proved how well Caz has gelled with the band too, while giving us welcome eye candy and a glimpse of glamour. Hugh's voice was a sweet as ever, rarely sounding this good. The set was safe, reflecting Hugh's CD Live It Breathe It - available in the foyer. Under Her Spell might have lacked some magic, but Walk On By went in some way to compensate. The Stranglers Black And White album once again came to the rescue with Sleazy and Sweden - the token wacky one… a tribute, perhaps, to issue one of The Burning Up Times? Mmm… although anything more adventurous or psychedelic as say, Mothra, or I Feel Like A Wog, would have frightened the Blondie crowd off. Faultlessly performed, to did anyone really take note? The only surprise from the set list was the omission of Golden Brown. But then, Hugh's I Don't Mind from Beyond Elysian Fields and Leave Me Alone from Hi-Fi were cruelly left out too.
A well-deserved cheer rippled through the emotionally stunted venue before Blondie came out, where I discovered the best sound was saved – together with the luxury of flashing lights and strobe effects - while all Hugh and co. had was static red and blue hue. Having said that, three or four times, the white lights flashed during Sleazy… but ceased a second later: it must have been the Blondie lighting man testing them out in Hugh's set. Thoughtful. GK
The set:
Duchess - Beauty On The Beach – Sleazy - Picked Up By The Wind - Hanging Around – Cadiz - Always The Sun - Black Hair – Sweden - Under Her Spell - No More Heroes - Walk On By.