HOME NEWS FEATURES LIVE SPIKED BOOKS SHOP SPECIAL GUESTS LINKS CONTACT US MAGAZINES
Three decades of the Meninblack – what more is there to wish for? You'll be surprised…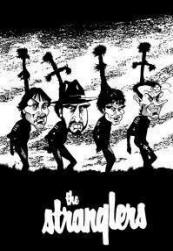 Old Strangleds update…
Stranglers fan Jon the Impaler emailed us some time back about collating the various volumes of Strangled magazine into book format. See 'Strangled holed' below. "I had an idea – or a wish. A few years back I picked up a book in London. It was a compilation of the old Punk fanzine Sniffin' Glue. Every issue was contained inside. So wouldn't it be lovely if every issue of Strangled magazine was done in the same way? I've got loads of Strangleds, most of which are in mint condition. I'd jump at the chance to own this."
Last year, through a lead, there was some interest from a sympathetic book publisher. So we duly sent some archival samples off – and had it then gone to the next stage - we would have put them in touch with the SIS. Unfortunately, we didn't hear any more from the publisher. We're still waiting to get our Strangleds back!
Fare enough…
Might as well add this here – as we're still waiting for news about the bus trip Owen's planned to catch The Stranglers at a gig in Northern Europe, ideally. With 100 places pencilled in, we were wondering if it might be worthwhile for the band to slot in a date during the autumn tour? On the subject of where we'd like to see the band play - BUT readers Spyros and Dave have already logged their concerns on this page a while back as to why The Stranglers never play in Brighton. Now Paul Sloots has got in on the act – and quite rightly so:
Brighton breezy (part three)
"Just to add to the debate going on about playing in Brighton, the last time I saw them there was 22 years ago! In the meantime they have played what used to be Crawley Leisure Centre – but that was back in January 1990. Is there a chance a venue in Brighton might be added to the November tour? Also – a word or two on Stranglers T-shirts. I've got an absolutely superb Heroes one with the wreath in red and white with the sleeve log which a friend bought some years ago now - but now it seems to have been discontinued. Do any of you know if I can pick one up anywhere, because I've looked around the web, in London and Brighton shops and markets, but to no avail? Hope you might be able to help. By the way, keep up the good work."
Paul Sloots.
We can't help with either, sadly. Maybe the powers-that-be will get to read this?
Whatever happened to… all the footage? (part two)
When we researched the Black And White era for Issue One of The Burning Up Times - we enquired about the missing Battersea Park live footage from 1978. You may recall the SIS released an abridged version on video sometime in the early 90s – and that the whole gig was recorded on the day using Super-8 by pals of Hugh Cornwell – although he didn't have a clue what happened to it when we quizzed him in 2005:
"It was all filmed, but nobody's got a copy of it. It's unbelievable." He said.
Surely someone, somewhere has a copy in their loft? Peteinblack has just emailed us with his Wish List requests – and reiterates the need for those errant Battersea Park tracks, among others:
"Does anybody know anything about a DVD copy of the whole of the Battersea Park Gig? I only have the SIS-released version – and few of the songs aren't on there. Also, I'm after a DVD copy of the electric gig at the Stranglers Convention of 1996. The band were great that night and played a stunning instrumental intro that has never been heard before or since. What was it? And finally - on the video of 'No Mercy' – there's some 1970's live footage interspersed with the actual video. What is it – and is this available anywhere?
Cheers, Peteinblack."
If anyone knows anything, they can get in touch with us here.

When the editors are bored, what do they do? Check emails, of course. It has to be said the Strangled Inbox rarely lacks entertainment: beyond the odd spam and the occasional psychopath demanding more of, well, just about everything from us… more band interviews… more PDFs… you name it, and then there are the ones from cool Stranglers fans who know their onions – always welcome here. Several recent emails stem from the aftermath of November's 30 year bash at the Roundhouse: following on from celebrating Rattus / Heroes, fans believe it's the turn of Black And White to get the three decade accolade in 2008. What do you think? We selected Stubs-in-black's email which sums up the mini-groundswell:
Strangled WISH LIST SPECIAL
Battersea: To be or not to be?

"Just a quick note to say that after the sheer brilliance of The Roundhouse gig why don't we now start a campaign to get the boys to do a 30th Anniversary of Battersea next year so we can see some favourites from Black And White that haven't been aired for ages. Even if they can't get Battersea park an open air gig on the same day to celebrate it or the weekend nearest to it would be great especially if they again got strippers and Spizz to play. I think personally it would be good for an outdoor gig - to make it more like a festival – and also to make up for not having had a convention for so long…"

We have to agree with you, Stubs. We did once mention a B&W 2008 gig to management. Spizz was well up for providing the support act, and Spizzenergi are available around the September. It's also probable another friend of the site, Glyn Havard – former frontman of another Battersea act, The Edge - would come down from Wales to do a slot with his latest outfit. So that's Spizzoil, The Edge… that just leaves The Skids, Peter Gabriel and Johnny Rubbish. Plus DJ Andy Dunkley. A piece of cake!

Battersea – to be or not to be, that is the question. What do other fans think? Alpha males would if there were more strippers! The next question is; where for arty thou play?
Open-air option is a very slim possibility. Playing at the park itself could be costly, taking more time and work to achieve what can easily be done at a ready made hall. The Roundhouse was a superb setting for the Heroes set. Butthat's north London… Shepherds Bush Empire was always popular, but west… At just under 5,000 capacity, Brixton Academy might be too big, unless you are the Pistols recently reformed. Burning Up Times reader Manna Machine says the venue should be The Grand at Clapham Junction, proximal to Battersea by a mile or so. It's a refurbed Victorian theatre, and according to the spec, capacity is quite flexible: it is tiered on three floors – ground floor 650; circle 450; and gallery 300. Stubs-in-black has another idea;
"I just saw The Buzzcocks play Indigo2 and what a wonderful venue it is - transport links to it are fantastic. The venue is ideal for The Stranglers to play a one-off special show. It could be advertised as 30 years on from Black and White, by the Thames… and at north Greenwich, it's close to Battersea! I'll be back there seeing Gary Numan in March and I see loads of other acts will be there in the next few months."
Black And White becomes…
The Stranglers Live in 2008: a 30 year celebration of Black And White. Indigo2 is a popular new venue in London… not to be confused with the neighbouring O2 Arena, the old Millennium Dome, Indigo2 is an intimate 2,000 capacity venue where a broad spectrum of acts are keen to play in an intimate setting, with cutting edge technology, according the site's blurb:
"Indigo2 has top quality lighting and sound. Part-standing and part-amphitheatre seating, the venue is truly sumptuous with superb air conditioning and plush lounge areas to chill in. An extremely useful "fast pour" system has also been installed in each bar so you're only ever 7 seconds away from the perfectly chilled pint between songs. The state of the art indigo venue is part of the multi-million pound redevelopment of The O2 (Millennium Dome). Located in the heart of London with travel links via Thames Clippers on The O2 Express service or 7 stops on the Jubilee Line from Westminster Tube Station. This new 2,350 capacity venue with superior facilities is set to be the jewel in the crown of London's already vibrant live music scene. As a purpose-built music venue, Indigo has been designed with perfect acoustics and has installed a top-of-the-range JBL sound system plus comprehensive, intelligent moving Vari-Lite lighting with follow spots. And for maximum audience enjoyment Indigo features: faultless sightlines, "7 second pint" fast-pour technology at its two large bars, cool air conditioning, and the luxury of more toilets per audience member than any other venue of comparable size, ensuring a comfortable atmosphere, fantastic view and no long queues for the bar or toilet!"

Photo © Eric
JJ says in Curfew; "Is it true what they say?" but he had yet to discover the great transport links and 'fast pour' beer! Here we can picture the ads already:

Black And White @ Indigo;

London south of the Thames is invaded; or

Grey becomes… Indigo!

Wherever the possibilities lay, any celebratory gig for Black And White would provide a brilliant showcase for a fantastic, innovative album – and another great Live DVD opportunity to follow Rattus At The Roundhouse. We've included the Battersea set list to help whet appetites, in the absence of strippers, of course! And how about Tank - Mean To Me - and Walk On By this time round?

Let us know what you think: editors@strangled.co.uk

The Stranglers

Battersea Park 16.09.78

GRIP

LONDON LADY

GO BUDDY GO

PEACHES

HANGING AROUND

BRING ON THE NUBILES

SOMETHING BETTER CHANGE

NO MORE HEROES

CURFEW

DO YOU WANNA?

DEATH & NIGHT & BLOOD

THREATENED

NICE 'N' SLEAZY

TOILER ON THE SEA
Stranglers acoustic set list
"The other thing I wanted to raise with you was now that you have got the perfect electric set list suggestion on your site what about the acoustic set? Personally I think Heroes should be dropped from the acoustic along with Walk on By and some of the others tracks that they always seem to play - with Never Say Goodbye, Ships that Pass in The night, together with songs that they did on the acoustic set at Kings Cross being brought back: Outside Tokyo and You'll Always Reap What You Sow spring immediately to mind. Plus acoustic versions of La Folie tracks, Vietnamerica and Souls too, or even Too Precious. What do you think? Cheers, Stubs."

Set list gallery coming soon: Strangled FEATURES
Last resort to play; Nice 'n' CD gigs
"Firstly, I know it's been raised before, but I'm hoping maybe band and management will take on board Stranglers fans wishes for 2008. I live near the south coast of England, and it has been years since the band played at Brighton. What's wrong with the Brighton Dome? Or the Brighton Centre? The last time they played the latter, well, it's too long to remember! Hugh supporting Blondie last year was great, and before that. I've seen Paul Weller, who always plays here each UK tour… so why not The Stranglers? Come on guys!
My second point is about archive live stuff. How come there's a void in decent official live recordings – and DVDs for that matter – from the earlier years, namely '77-'79? The Apollo CD was great, but surely there are others from, say The Raven Tour, or the MiB Tour? And that San Francisco DVD from 1978 was short and fairly low in quality - surely there exists decent footage of the band other than that in 1978? Digging out the entire Battersea gig would be a step in the right direction. Someone has it. I think Hugh got his friends to film it, so how comes he doesn't know where it is? Come on EMI – get your finger out and get down the vaults!!! Thanks for listening. Spyros in black."
Light the Dutch paper
"Just a quick note to let you know that yes, Golden Brown was indeed a Top 10 hit in Europe – and reached number 8 in the Netherlands… As for "The Holy Strangled Magazine" collection (see below) – what a splendid idea, and since I am in the publishing business, I will give the idea to some UK based colleagues of mine. Will keep you posted. All the best. Eric Vonx."

Strangled holed
Stranglers fan and forumster 'Jon the Impaler' has come up with a good one: "I had an idea – or a wish. A few years back I picked up a book in London. It was a compilation of the old Punk fanzine Sniffin' Glue. Every issue was contained inside. So wouldn't it be lovely if every issue of Strangled magazine was done in the same way? I've got loads of Strangleds, most of which are in mint condition. I'd jump at the chance to own this."

We agree, Jon. It would be nice to read the old issues without ring-binder hole-punches on the left. Impaled, even! Perhaps it can be called 'The Holy Strangled Magazine'? Maybe there's an interested publisher reading this?

Mass debating can be harmful… and other clichés!
The Burning Up Times sets out to settle set list upsets
With many Stranglers fan stalwarts planning to hop across the Channel for the upcoming 2007 European dates, there are the inevitable online discussions concerning future LIVE SETS.
Witnesses to last years all-new, slim-line Stranglers will recall the revelatory onstage chemistry between our Four Horsemen of the gigs-in-black. Although in this new post-Paul chapter, many aficionados reckon it's time the band dropped the likes of All Day & All Of The Night, and Always The Sun - and even Golden Brown, for that matter – their biggest hit. What do you think? All Day… is seen by many as stale nowadays, compared to the depth and breadth of quality material available.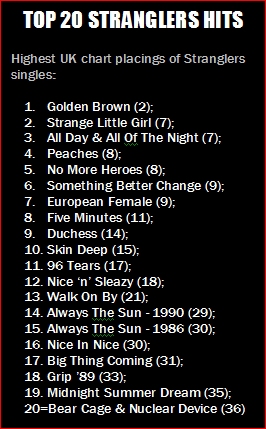 Some even believe the live version of GB never quite matches the 1981 vinyl offering, and should be left out. We all know the band have an obligation to perform the hits that made them what they are today – and GB achieved No. 2 in the UK charts, didn't it? But in the light of the European dates – one or two wonder whether GB was ever a hit there… was it?
On the plus side, most fans applaud the band for maintaining a healthy balance of old songs and new in last year's set – while some consider themselves a trifle short-changed in not hearing enough of the newest material: only Summat Outanowt, Unbroken, I Hate You, Spectre of Love and Relentless were aired – and this was the Suite XVI Tour. What happened to A Soldier's Diary, Anything Can Happen, Barbara or She's Slipping Away? JJ confided to The Burning Up Times in the lead up to the tour about the difficulties of time and having to re-learn the dual role of player and vocalist following Paul's departure, which may account for absent Suite XVI numbers. Or maybe The Stranglers were just employing the well-worn show-biz maxim; always leave 'em wanting more..?
Of course, some can hark back to the halcyon era of 1979, when the band supported The Who at Wembley and performed almost the entirety of The Raven, Others suggest the band should now perform a whole album, although that wouldn't be enough songs, as a gig contains more than ten. Unless of course, they include a second, or even a third album, perhaps? The likelihood of that ever becoming reality is remote – although The Cure did just that with the release of their Trilogy DVD, which features three studio albums played live (Pornography, Disintegration and Bloodflowers). Which three Stranglers albums would you fantasize watching them perform? The Raven seems to be top choice, followed by Rattus and Black & White.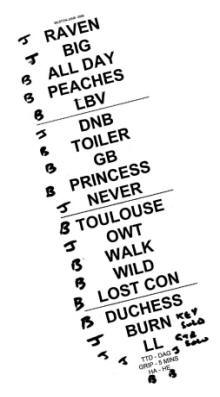 Robin 2 Bilston set, July 2006
Threesomes aside, in the definitive set, there are some things that are inevitable: the band walk on to the creepy sounds of Waltzinblack – and close with an explosive No More Heroes. Add a smorgasbord of old songs and new, Hanging Around and Duchess too - top with cheese and simmer for an hour and a bit. The result? One of the best live outings you'll ever likely see by any band, young or old. As far as staples of the set go - whatever opener they kick off with is cool for most of us, although the slow, brooding Time To Die just never came off when trialled in 2004; even JJ admits that. On paper, it looks fine, oddly enough. With the benefit of Harry Hindsight, we can all be wise after the event. But Five Minutes always works, doesn't it? It also serves the purpose of settling the band in nicely with the space of the song to get over the initial adrenaline rush. A straight 4/4 time signature, that's upbeat and hard-hitting with a bass drum 4 to the floor. And where the band come in one by one, not having to rely on synchrony in the first few bars. The same might apply to Threatened, which is a little slower. Or The Man They Love To Hate, perhaps? The jury is out!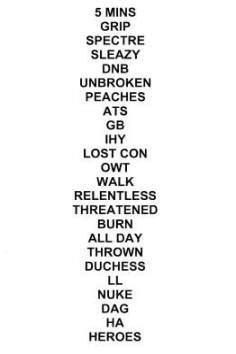 That's why The Raven also worked at the start, when they debuted the new four-piece line-up. Moving on to the rest of the set, there are other epics to consider, like Toiler – and Time To Die again - all going down extremely well. So too, do the very appetising Death & Night & Blood and Summat Outanowt – born to be played live – and a JJ theme starts to develop, especially with Never To Look Back, Burning Up Time, Threatened and Five Minutes in the equation. JJ's vocal chords will be knackered after that lot!
What about the cracking songs off Norfolk Coast? The steaming mosh love Big Thing Coming, I've Been Wild and Lost Control – all going down a storm whenever played. But why was the eponymous track missing from the last tour, we wonder? It is also another ideal opening gambit to boot the night into orbit. Maybe Europe will get lucky? Nous voulons entendre Norfolk Coast!
Shepherds Bush Empire set, October 2006
So, if GB is included (through gritted teeth), then All Day is definitely excluded. Some believe the other cover version, Walk On By should do one too. Strange Little Girl could make a comeback, and Always The Sun might be worthy of keeping – even if it is to hear Dave's take on the 'glock' noise in the wake of Paul's onstage wood black antics. Maybe Dag Dave can be traded for Bring On The Nubiles? Or Something Better Change? A Top 10 single, pop-pickers… and not aired for yonks. The same can be said of Sewer. Though, would that be too many of those 'epic' tunes to digest?
Who Wants The World and Thrown Away are the quirky inclusions many want to hear – but none more so than Shah Shah A Go Go, and 'buy-one-get-one-free' Ice - the delicious segue that out surpasses Midnight Summer Dream/European Female within our fondest of gig highlights. On the 10 Tour, they cruelly chipped away Ice, going straight into I Feel Like A Wog instead. Talking of 10, what about Never To Look Back, eh? More work for JJ's throat!
Following Hugh's amazing stomping Deutsche-disco plod of Bear Cage, (performed on his last tour), isn't it time The Stranglers showed us what they can do with it? Especially considering the song has the distinction of being the only Stranglers track not to be sung live by a member of The Stranglers. (Ian Dury sang it when Hugh was inside, didn't he?) The way Hugh arranged the track (with Hilary Kops on heavily delayed trumpet) at October's Scala gig was mesmerising. Or maybe The Stranglers can top that with another gem – their 10 minute mix of All Roads Lead To Rome? Just imagine the "inside the walls of the citadel" harmony with spine-tingling mandolin-style guitar and Dave's synthesizations peppering the track. Yes, we have a dream! Other Feline album contenders are Ships That Pass… and Small World. Hardcore aficionados of the years 1983 to 1986 put Feline in their Top 5 Stranglers albums, and yearn for Feline inspired gigs - a no brainer for acoustic outings, surely? Or are there other reasons this era has been ignored? All Roads… to be the Bear Cage for The Stranglers: they can reinvent that song to make it so NOW!
Already this set list is beyond its A4 boundaries! And we've yet to even think about obscure B-sides… In chronological order:
From 1977: Grip, Peaches, Hanging Around, Sewer, Something Better Change, Heroes, Burning Up Time; from 1978: Five Minutes, Toiler, Threatened, D&N&B; from 1979: The Raven, Duchess, Shah Shah/Ice; from 1980: Bear Cage, Who Wants The World; from 1981: Thrown Away, Golden Brown; from 1982: Strange Little Girl, Midnight Summer Dream/European Female, All Roads Lead To Rome; from 1986: Always The Sun; from 1990: Never To Look Back; from 1991: Time To Die; from 2004: Norfolk Coast. Lost Control, Big Thing Coming, I've Been Wild; and from 2006: Spectre Of Love, Unbroken, I Hate You, Barbara, A Soldier's Diary, She's Slipping Away and Relentless. 37 songs – and nearly three hours of playing. with stacks of tracks we haven't eve mentioned - like, Genetix… by which time Jet's arms would have no doubt exploded!
With the exception of the John Ellis years, or MkII as it's known - the permutations of The Stranglers line-up are represented, but our set list cuppeth already overfloweth. Perhaps we have reached a natural conclusion here, in that you can't always have everything you want… and you can't please ALL the people ALL of the time! Also, you can have too much of a good thing…
That's enough clichés for one article!
Photo: © Alan Perry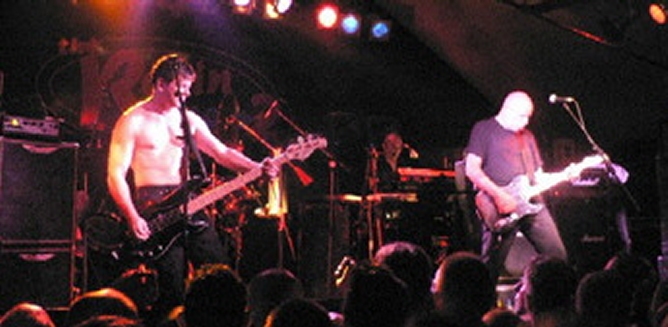 Four to the floor…
Forum talk over recent years - on the subject of The Stranglers live set - has been dominated by groans about the overplayed 'greatest hits' set. Weston surprised everyone with new inclusions of some old live favourites – hopefully this will continue. For many, it came close to the perfect set. Or did it? …Is Peaches a trifle past its ripest? Has it seen fruitier times? …Has All Day & All Of The Night lost some of its kink? Should Walk On By take a stroll in the trees? Is Golden Brown all burnt out..? As we approach the summer festivals, with a brand new studio album just around the corner, we carried out a quick straw poll – and with a little help from the hardcore – we came up with the set the fans want to hear from Mk4… and with the newly adopted banter-free stance, The Burning Up Times is hoping for some interesting segues between songs…
For example: The Raven---Big Thing Coming---Norfolk Coast… D&N&B---Lost Control… we could go on! What about the DJ? What about the ideal Stranglers songs to precede the fearsome Waltzinblack? How about Meninblack (Waiting For 'Em) followed by Yellowcake UF6 … and Meninblack to close with? How cool is that!
Brighton breezy!
Dave C is just one of several readers who have asked us why the band have ignored his home town in the upcoming tour. "There is MiB-life south of London, you know." Says Dave. "We are crying out for a Stranglers gig in Brighton. Why not play Preston Park or Brighton Race Course? Or on the beach at Blackrock? Come on down - the band are really missed down here." (Dear Stranglers… 1st week in August is fine by me – Ed!) The last time Brighton folk were lucky enough to hear Stranglers songs was when Hugh Cornwell played at Komedia last August.
Bush, bush - in the Bush!
In the run-up to the mooted DVD release of last December's Shepherds Bush Empire gig – along with the Norfolk Coast film – some readers recall a seminal gig at the Bush back in March 2002; Two Shades Of The Meninblack showcased the acoustic and electric set for the first time – and fans still talk about it... It was quality! But was it filmed fo r posterity, we wonder? Anyone know? Maybe there's an audio of it, perhaps? We'd love to know…
Paperback writer?
Is the time right for another Strangler to put pen to paper? In the light of Hugh Cornwell's self-penned autobiography , 'A Multitude of Sins' The Burning Up Times asked JJ Burnel if he was also planning one. His wrinkled expression indicated this was not the first time he'd been asked. He says there are no plans for one right now, but if he did it would be "full of sex . And gore. And violence." He seemed to think it might be a bit hardcore for mainstream publishers. To which Burning Up Times replied: "That's exactly the kind of book that sells!" JJ remained skeptical. Although it has obviously crossed his mind… We also asked Hugh if he was planning writing any more books. "There's a lot of stuff I've since remembered that isn't actually in the book, but that doesn't necessarily mean I was going to write another book like that. Maybe I'll fictionalise it. I wouldn't mind trying a bit of fiction at some stage." Watch this space…
Raven Mad!
We at The Burning Up Times often reflect on the absence of high quality recordings from The Raven tour. But just imagine a high quality DVD of one of those shows? Night after night you'd be glued to the set, reliving classic moments - like that amazing segue from Shah Shah A Go Go into Ice, or Hugh strapping on the second bass for Dead Loss Angeles, and the amazing final synthesizer washes of the eponymous track as the band walk offstage into the darkness one by one. Or something from the mighty Meninblack tour? Only this time Shah going into Hallow To Our Men… enough already! The Burning Up Times prays that one day, someone unearths some decent footage from those days, audio or visual, something us fans would willingly splash our cash at.
Whatever happened to… all the footage?
In the early stages of The Burning Up Times issue one - In The Shadows - we were keen to get our hands on the whole Battersea Park Stranglers gig from 1978. Up until now, SIS released an abridged version on video in the early 90s, but fans may also recall on the day, it was Hugh's film making friends who recorded it on Super 8 in its entirety. So we put it to Mr. Cornwell: "I don't have the answer." He told us. "I mean that no one's got it. It was all filmed, but nobody's got a copy of it. It's unbelievable." Hugh fans may also remember his 2002 collaboration with poet Sex W. Johnston on the Sons of Shiva album (Track Records TRK1018CD) . Consequently a concert at Brighton's Concorde 2 was recorded that September for future DVD release. So where is it? Hugh was once again mystified: "God knows. Although I think the tape recording is sorted out... Perhaps it's just a lack of funds… we'll just have to wait and see."
Want to add to the WISH LIST? editors@strangled.co.uk
Copyright © 2005-2011 – Planet Earth, www.strangled.co.uk All Rights Reserved